If you pull the Eight of Cups in a career tarot reading, the card is all about contemplation. Especially when it comes to getting a job or going to school, you are considering all your options. You want to see if you have what it takes to do this particular role. If you are considering changing jobs or a career path, this card tells you, by and large, that you will be able to. It may be a sign that you will need to really contemplate your options though. Look at everything from every angle before you take the leap. The same goes for making any new professional connections. If you have looked at the people involved, their qualities and potential, you may have come to the realization that you do want to work with them. Now is when you are going to start the process of taking the next step and making things happen.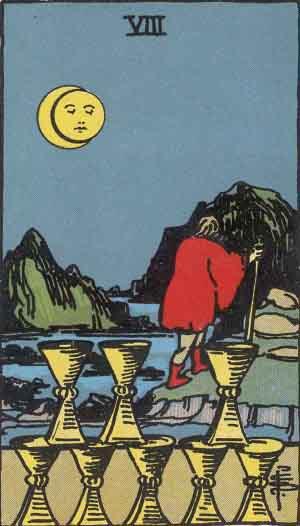 What Eight of Cups Reveals About Your Dream Job: What Is The Most Fulfilling Career For You?
If you pull the Eight of Cups in your career reading while asking what would be the most fulfilling career for you, the card illustrates that your career will make you feel ecstatic. The card signals that you will have a new and stimulating position where you can put your abilities to good use. The time you spend at your job will be a great learning experience for you and will help you understand the kind of changes you would have to make to move forward in your life. The card represents that you have recognized the flaws in your current job and are looking to leave it behind in search of a new opportunity. This might take you away from the familiar and comfort zone but will lead you to all that you want.
In fact, this card shows that you have recognized the flaws and feel motivated to seek change by leaving behind the comfort zone. You always had the feeling that you have not put your best effort into your work. But, the time has come now when you have realized that your time spent in your current job is not worth it and moving on to something else will be liberating for you.
What Eight of Cups Discloses About Starting A New Job
If you have just started a new job, Eight of Cups signals a promotion or new job. It's also about starting a new life in a new place overseas. There is no looking back in this situation, so make sure your heart is in the right place. Eight of cups can also mean you are considering switching jobs or careers. Don't make this decision yet. Instead, spend some time getting to know the job you have. See if you have the drive and passion to stay in this current work environment. You may be ready to venture out and do something different. If so, get ready to walk away. This time may be a bit of a struggle, but the result will be worth it.
What Eight of Cups Says About Improving Your Current Job Position
When you are asking Tarot how to improve your current job position, Eight of Cups reveals that you'll need to look at new options. But don't be afraid to try something new. Sometimes this means leaving your current safe environment to pursue new possibilities. The Eight of Cups can also indicate that you are feeling stuck in your current career position. Whether you are a business owner, a manager, or an employee, you might be feeling dissatisfied with this current position. This is a good time to take an honest look at your options and determine which route is best for you. You might decide to look for a job that better suits your needs.
What Eight of Cups Reveals About Your Career Strengths
Eight of Cups suggests that your career strengths and talents may be in the service sector. Now is an excellent time to move into a career that suits your personality the best. You will advance in this field quickly. If you stay in your current position for a long period of time, you could lose interest in it. Your work should be making you happy, since this is the most important thing in life. You may also notice that you are happier and more productive now than you were in the past. The Eight of Cups in a career reading may be encouraging you to examine your options for switching careers or companies. You have the right attitude and mindset to make this happen.
What Eight of Cups Discloses About Your Career Weaknesses
If you need advice on your career weaknesses, Eight of Cups reveals that you need to go where no one knows you. This card suggests that you are looking for new jobs and positions and you are restless to explore new things. You are ready to leave your comfort zone and explore unknown territories. You might be searching for a new job or office where there is no one from your past and where you would be comfortable with your skills. This search is also an indication of your search for a new job.
You are also ready to start something new. You want to make significant changes in your life and want to explore new career paths. If you are bored in your current job, this is the best time to quit and explore other opportunities. The Eight of Cups is also an indication of a new beginning for you in terms of your career. If you were thinking of changing your job, the time is now. The new beginning may be a new job or a new position, but in either case, you are looking for a new situation where you can use your skills to the fullest.
What Eight of Cups Suggests About Improving Communication At Your Workplace
If you would like to know what Eight of Cups reveals about improving communication at your workplace, and when connected to financial decisions, this is what the messenger is telling you. As mentioned in the other aspect of the Eight of cups, this card signifies leaving something behind. It is important to remember that not everything is meant to remain the same. Whether that means leaving something behind like a job, profession, or the general public that once supported you. Eight of cups is also linked to learning new things. Have you been considering learning or taking some sort of training course that aligns with your goals? If so, the Eight of cups tarot reading tells you that this is an excellent time to do so. If you are unsure on where to begin, ask for help. This card often brings people and services to reach out to you since it is a call for inner-searching, self-reflection, and understanding.
What Eight of Cups Suggests Regarding Career Change
If you want to know if you should change your career, Eight of Cups is a signal that you should look for a new one. Your current career has lost its luster and is becoming mundane. The only thing that will not change about this situation is that. You can't run away from a situation you have created. Take an honest look at everything, and search for constructive ways to make yourself feel satisfied with your job. Take time to explore new career options.
What Eight of Cups Reveals About Balancing Your Career With Your Personal Life
If you would like to know what Eight of Cups reveals about balancing your career and personal life, then look no further. The Eight of Cups suggests that you look for a way to be happy with all that you do. Maybe your job has been sucking the life out of you? Is your work so consuming that you don't spend time with friends and family or live your hobbies? If so, you may need to reevaluate your priorities. The Eight of Cups can also be a call to start your own business. This Minor Arcana card can also signal that you are considering leaving your job altogether and taking the leap to explore your personal development and creative interests. The Eight of Cups cautions you against just jumping right in, however. You may not be ready to strike out on your own just yet. Take your time and reflect on what it is you want to accomplish. It could take a lot of courage and bravery to leave a comfortable nest, but if your career is stifling you and you know that you need to change your circumstances, you can do it.