Through a perspective of career questions, Six of Swords reversed reveals that your career is making you feel like your work is a giant burden. You are currently feeling trapped as a result of your job, and can't see a way out. This feeling of being restricted might be making you feel even more stuck at work than you did before. This card's reversed meaning can serve as a warning that your emotions and feelings right now may be causing you to misunderstand the situation and make worse decisions. You must think more rationally if you want to get out of this situation.
Another tarot card interpretation of the Six of Swords in reverse is that you have reached the point where your work is no longer fulfilling you, and you want to leave. It's possible that you've changed your career path in the meantime, but you're waiting for the right moment to leave. Now is that moment if you feel stuck in this dead-end job. It may be time to start questioning your career path in a broader sense. Now is the time to start searching for a new job.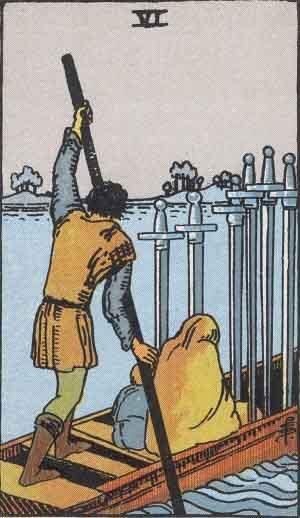 What Six of Swords Reversed Reveals About Your Dream Job: What Is The Most Fulfilling Career For You?
If you pull the Six of Swords reversed in your career reading while asking what would be the most fulfilling career for you, the card illustrates that you will make strides in your career, as you have been going through a rough patch. This may cause others to view you as a leader. If you have been on a professional journey, you should be happy to make strides right now. It's likely that your workplace has become a welcoming one for you right now. You could also be making changes when it comes to working. You can still be nervous about how this will affect you, but these are about to be resolved.
The Six of Swords reversed in a career Tarot reading indicates that you are being offered jobs that you weren't expecting and that you have a new and better position in your career. Since the deck is mainly about personal and professional change, the reversed Six of Swords points to the latter and therefore it is a positive card. Despite the fact that you are still on the path to finding that better employment, you may be hesitant to take it, as you fear that this will make you too dependent on this job.
What Six of Swords Reversed Discloses About Starting A New Job
If you're in the process of starting a new job, Six of Swords reversed illustrates that you are still in the initial stages of transition. You might be struggling to settle there and are feeling as if you are not entirely comfortable with your work environment. The Six of Swords reversed in a career Tarot reading can be an indication of a change in career path or a new job that you were hoping would be easy but are learning to appreciate the trials and tribulations that come with the profession. This card can also indicate returning to work after being away for some time.
In reverse, the Six of Swords, when associated with your career, can indicate a difficult time at work. Your feelings of frustration could be building because you believe that one situation is not improving, and there are no signs of things becoming better. You may be struggling to make your current workplace a better and more suitable environment for yourself. Be patient and try to take everything as it comes with it.
What Six of Swords Reversed Says About Improving Your Current Job Position
If you want to improve your current job position, Six of Swords reversed signals slow movement. Be patient in an environment where people around you will have lot of experience and might leave you alone in a situation where you can also help others. This card is a sign of stress relief and peace in your professional life.
What Six of Swords Reversed Reveals About Your Career Strengths
If you need advice on your career strengths, Six of Swords reversed reveals that you are neglecting what is important to you. Your career may be putting your personal relationship and family life in jeopardy. Whatever you are doing is not working for you. Change is inevitable for us all, which is why we must learn to adapt. We must also learn to deal with the issues we confront. This is where courage and flexibility come in play. The best route is simply moving forward with adaptability.
What Six of Swords Reversed Discloses About Your Career Weaknesses
If you want to know what are your career weaknesses, Six of Swords reversed signals those concerns. This card represents your inner self-criticism or self-doubt. This self-doubt may be your internal critic and critic of your actions. This card is a sign of insecurity and a lack of trust in your capabilities. The problems you are currently facing in your career may be because of these issues. Other cards appearing in a reading matter more importance as they indicate a significant change.
What Six of Swords Reversed Suggests About Improving Communication At Your Workplace
Six of Swords reversed reveals that if you would like to improve communication at your workplace, you might find your words not being heard; this could discourage you even more. You might find that there is no one to support you, and your projects can suffer as a result. Six of swords reversed also signifies feeling alone and isolated. It is not suggested that you quit your job, but be aware of the other people who will support you; otherwise, you might suffer emotionally. You must remember that there is an advantage to standing alone: no one can steal your knowledge and ideas.
What Six of Swords Reversed Suggests Regarding Career Change
When you are asking Tarot whether you should change your career or not, Six of Swords reversed reveals that you may have to delay the making of the decision. As we are at the crossroads of our profession's change, we may not be aware of everything that is required to execute the change. This situation can change because it can be seen in your career that the obstacles are too much, and you may not be able to overcome them. You may be experiencing unhappiness in your work life.
Six of Swords (reversed), on the other hand, might also mean that even if you want to change your profession, you may not be ready to do it. You are holding back on the change because you are still in shock over what happened. You are still trying to understand the consequences of the change, which is delaying your progress. So, when we have this card, try to understand the situation and take a decision.
What Six of Swords Reversed Reveals About Balancing Your Career With Your Personal Life
Six of Swords reversed reveals that if you would like to balance your career and personal life, you are failing. You might not be doing enough to care for yourself and your health. Alternatively, your problems could be getting worse. It is possible that your workplace has become particularly hostile to you, or that old tensions at work continue to fester. It may be time for you to consider leaving the job that you detest. The Six of Swords reversed does not typically portend a positive career, but rather one that is particularly toxic.
It can be challenging to navigate a career path that is not in keeping with your values, wishes, and interests. The Six of Swords reversed suggests that you consider your career choices carefully, since it can be difficult to see all the options available to you. On the other hand, this card might imply that you are overly preoccupied with your past, which is impacting your ability to choose your best future. If this resonates, examine your career options, your ambitions, and your goals. You might need to leave your professional situation, or the problems with your profession may require the cooperation of your colleagues.