Through a perspective of career questions, The Wheel of Fortune reversed reveals that you may be frustrated with luck with your current job role. You also believe that your work is not going as per what you want it to be. However, the reality is that you have to accept that there are consequences of your actions. If you are not having trouble in your job, you may have to take the responsibility for that. If your job is not going as per your expectations, you have to look for solutions. You have to make yourself aware of what actions you have been performing in the past that are preventing your current job from going as per your expectations.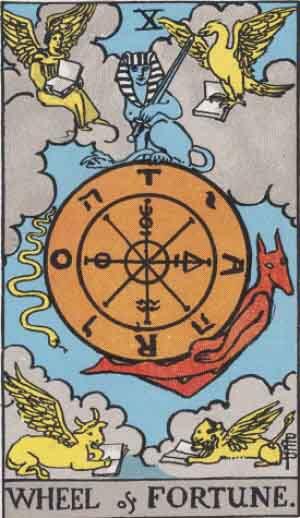 What The Wheel of Fortune Reversed Reveals About Your Dream Job: What Is The Most Fulfilling Career For You?
The Wheel of Fortune reversed suggests that the most fulfilling career for you is still ahead. As life may change drastically at this moment, if you've been planning to change your career path, don't do it just yet. There are no harm done waiting. Take some time to reflect on the things you have faced in the past and what you need to do to keep going after this phase. This cycle of life will keep changing, and you will make new and better decisions, one by one. But, be aware of your surrounding situation at that time.
What The Wheel of Fortune Reversed Discloses About Starting A New Job
The Wheel of Fortune reversed suggests that if you are starting a new job, you have to adapt to change a lot this time. This can be difficult, and it can be hard to deal with unexpected changes at work. There is no guarantee that this time will pass quickly, so you'll need to adapt your plans. If your career has been going through a significant change lately, this time can be especially challenging or frustrating. It may be that your current position is no longer suitable or that there are more qualified applicants for the position you wanted to take. In this case, you can't control these things- the only things to do are deal with it. This period can be stressful, but just try to look at it as a learning experience. Make the best of it, and don't allow yourself to focus all your energy on resentment.
What The Wheel of Fortune Reversed Says About Improving Your Current Job Position
If you want to improve your current job position, The Wheel of Fortune reversed is a signal for change. It could mean that you're feeling unhappy at work, and that your career might be heading in the wrong direction. If you find that you don't like the direction your job is headed in, it's time to look for a new one. Try to search for your own career future. You might try changing the company to get closer to your best ambitions. Alternatively, you can also look for other career opportunities.
When it comes to business, The Wheel of Fortune (reversed) indicates a time of hard work. Although there are always ups and downs in business, the constant turmoil is slowing you down and making it hard to achieve your desired results. Thus, ensure that all your projects are well-organised and you are making every effort not to waste the time.
What The Wheel of Fortune Reversed Reveals About Your Career Strengths
If you need advice on your career strengths, The Wheel of Fortune reversed reveals that you'll need to be more proactive about the choices that are presented to you. Have you been putting in the consistent effort to advance your career, only to have no progress as a result? Have you been laid off or your job canceled? It might seem that your fate is out of your control. But remember your work is your responsibility. While this card never tells you where your next job will come from, it stresses the importance of making a conscious choice about what you create. By not doing so, you send a message to your current and future colleagues that you don't care about your job, and you won't be ready for the next one. Instead, embrace opportunities that you didn't anticipate in your life.
What The Wheel of Fortune Reversed Discloses About Your Career Weaknesses
When you are asking Tarot what are your career weaknesses, The Wheel of Fortune reversed reveals that you are probably not the person to hold a consistent routine. It is not uncommon for people to quit their work unexpectedly. Your career advancement and job prospects may be thrown out of balance at this time. You might not be prepared to handle the situations that arise once you get there, so you can be feeling trapped. Give yourself some time to get a handle on the situations that are happening because they are not under your control. You will slowly get back on track.
What The Wheel of Fortune Reversed Suggests About Improving Communication At Your Workplace
If you pull the The Wheel of Fortune reversed in a career tarot reading and you're wondering how to improve communication at your workplace, the card is all about change. When it comes to working, it may seem like nothing ever changes, but there are always changes afoot. Things will not remain the same, and you should expect this. Keep your eyes and ears open for any changes at work, like an employee leaving, or new rules or regulations coming into play. A change can either be positive or negative depending on how you respond to it. Accept the changes that the Universe brings into your life and embrace the opportunities that arise.
What The Wheel of Fortune Reversed Suggests Regarding Career Change
If you want to know if you should change your career, The Wheel of Fortune reversed is a signal that now is not your time to make the change. However, if you decide to do so, be prepared because it might be a bit difficult right now, and it might take a good part of your life to get out of this rut that you are in. Sometimes, it is better to just accept a difficult situation, and get the change you need; otherwise, your patience will get exhausted and you'll have to make a big decision. You might feel stuck in between different choices, and every decision you make will have bad consequences.
The best way to get through a career transition is to approach it calmly and with an understanding of what things may stay the same. If things are not going the way you had hoped, it can be difficult to accept. Try to accept it, and give yourself a break. The most important thing is to learn from these experiences.
What The Wheel of Fortune Reversed Reveals About Balancing Your Career With Your Personal Life
When you are asking Tarot about balancing your career and personal life, The Wheel of Fortune reversed reveals that maybe your professional life's balance is out of sync again, and things are not going as they should. This imbalance is taking a toll on your mental health. Your career may be frustrating, and the obstacles in your path may not be going the way you expected. The setbacks can make you feel helpless and unable to control your life's circumstances. You are feeling stuck in your career, and if you keep this attitude, then nothing is going to change. So, try to adapt to the situation and make the best out of everything. It would help if you found a way to make yourself feel more motivated.