When you draw the TTwo of Cups in your career reading, the card signals happiness and contentment. This is a positive omen because it symbolizes partnerships and unions that are both supportive and mutually beneficial. If you've been considering starting your own profession, this card indicates that you will do so in the right environment. If you are still in the job search process or are looking to relocate, this card predicts that the transition to a new position or location will be smooth and trouble-free. This card serves as a reminder that you should keep your eye on any promotions or raises that may be coming your way. This can serve as a wonderful motivator for you.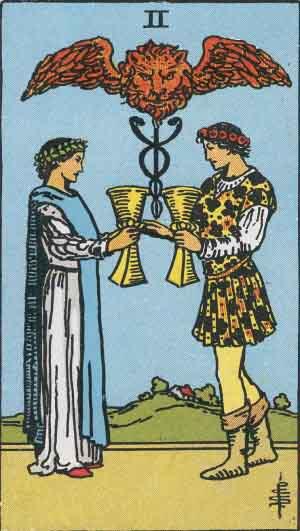 What Two of Cups Reveals About Your Dream Job: What Is The Most Fulfilling Career For You?
When you are asking Tarot what would be the most fulfilling career for you, Two of Cups reveals that you are destined for a career in business, especially where there is communication and collaboration. This could be in business, the health sector, or even a creative field such as music, writing, or web design. If you have been interested in working with someone else for some time, this card says you two will connect in a powerful and beautiful way, and you might even find a long-lasting partnership. The same applies to your relationships, for when Two of Cups appears in a reading it often signifies long-lasting friendships and partnerships. These are likely to thrive, and you will work together for the greater good of all of humanity. Have you been trying to form a connection with someone you met at work or school? This might be that person.
What Two of Cups Discloses About Starting A New Job
If you pull the Two of Cups in a career tarot reading and you're just starting a new job, the card is all about building relationships and making connections. Now is the time to connect with your coworkers, find common ground and build a solid base. The relationships you start at work can be carried over into your personal life, as well. In a relationship reading you can find out whether your partner is single or in a relationship, and if not, who the person is that your partner is already in a relationship with. It tells you that you will have a colleague at work with whom you can build a strong friendship with.
What Two of Cups Says About Improving Your Current Job Position
If you want to improve your current job position, Two of Cups signals that you have all the credentials you need. Your connections or other sources of influence you may have are in high demand for the next level. You may have to use more of your social skills and not your business skills. The Two of Cups is also about collaborations, partnerships, and teamwork. Put your individuality aside for the good of the team. Connections are forming between coworkers, friends, or business partners alike. The connections will bring both good and bad things to your life.
What Two of Cups Reveals About Your Career Strengths
When you are asking Tarot what are your career strengths, Two of Cups reveals that you have excellent communication and collaborative skills. You are able to work well with others, putting aside personal disagreements to make sure your projects are completed successfully. This is essential because you need to work with many people to achieve your goals. This card is also a great indicator of partnership and collaboration. If you have been looking to start such a project, two of cups will tell you that it is there if you cooperate with colleagues on a business or professional level. Your relationships will improve and strengthen with this card surrounding you.
What Two of Cups Discloses About Your Career Weaknesses
Two of Cups reveals that your career weaknesses are affecting the quality of your relationship. You may be in a business partnership, or a romantic relationship, where things are not going well and you and your partner do not get along well. This imbalance can come from a variety of things, including lack of communication and misalignment in your goals or expectations. The goal with this card is to make sure that you are both on the same page, and that your relationship is working towards your common goals and not just for your own benefit. This is particularly true if you are in a creative or intellectual job where much of the success depends upon cooperation, or with another person.
What Two of Cups Suggests About Improving Communication At Your Workplace
If you would like to know how to improve communication at your workplace, Two of Cups illustrates that you should strengthen your connection with important clients. It indicates that your business or organization will enjoy excellent opportunities if you have a plan to start new business relationships. If you have been looking for a chance to move on from your job, or your career is on stress or the other way, this card comes as a relief. Two of Cups suggest that you should be frank while communicating your thoughts with colleagues or friends.
What Two of Cups Suggests Regarding Career Change
Two of Cups suggests that if you would like to change your career path, or work for someone else, you'll be able to do so with mutual respect and harmony. Collaboration between coworkers can be easy right now, as can starting new professional relationships, especially in your industry. You may find that you're feeling more connected to others, and you may be able to better empathize with the needs of your coworkers. If you're looking for work, there are likely to be many positive opportunities in your future. Two of Cups in a tarot for business can be telling you that you are now able to put your financial resources towards something that will expand and increase your potential for success.
What Two of Cups Reveals About Balancing Your Career With Your Personal Life
Two of Cups suggests that if you would like to know more about balance your career and personal life, look at your contracts and readings. It's time to make a better decision if you are going through a job interview. You need to make your intentions clear about something if you have several offers to choose from. This card advises you to give attention to business partnerships because your professional growth will improve with a significant connection. It will also increase your chances of becoming a successful business owner if you have a business. Keep everything cordial. You will achieve a great balance if you go along with the group.