The Ace of Swords card is all about your mental clarity. This means your mind is crystal clear and you are free from all your mental barriers that were preventing you from accomplishing your goals in the past. You have a vast vision, and you are planning to take every step to fulfill it. You have clarity in your goals, and your determination is unstoppable. The Ace of Swords in the tarot reading also shows your intellectual power. You possess intelligence and can solve any problem you are dealing with. You are very clever and sharp at your work.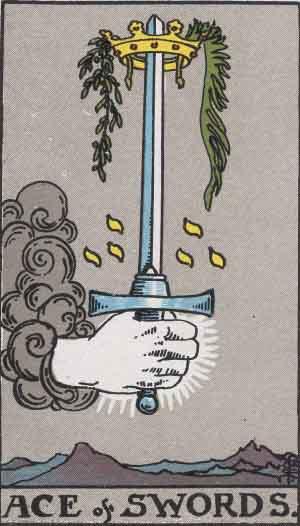 What Ace of Swords Card Reveals About How Someone In a Platonic Relationship Feels About You?
The Ace of Swords card signals that your friend feels a strong connection with you. This feeling of connection may be intense and can be taken in two ways. First, that they admire your character and qualities. Second, they look up to you as a friend. If you feel this connection, go on and grab it.
For Those Who Are Single: What Ace of Swords Card Reveals About How Someone Feels About You?
The Ace of Swords as feelings is all about clarity and intellect for those who are single. There is a solution, but it will take effort and communication to come to fruition. The Ace of Swords suggests that if you are single, you are feeling excited about the prospect of finding your soulmate in your life. The Ace of Swords in a love tarot card reading indicates that your love life is currently at a high, because it is a time of learning and developing your romantic ideas and understanding them.
The Ace of Swords upright card also suggests that you will find your soulmate quickly and will probably already know who your lover is. This is a time when you can move with your plans to find your loved one. This card also suggests that you should not get distracted by anything in your love life and keep your head clear of all the unwanted thoughts. If you are not in a relationship, this moment suggests that you must be focused on developing your ideas and plans for your future.
If you are single, this card can indicate a new romance that will feel like a breath of fresh air, especially if you have been feeling drained or dissatisfied with the past. The passion will be new, exciting, and real. However, make sure to use this new spark to communicate. If you can't talk, think. This is when intuition will help you. Try to make the most of this new connection by focusing on truth and clarity. Avoid being too blunt or too reserved at this stage. The moment is not the time to say things that you might regret.
For Those Who Are Just Starting a New Relationship: What Ace of Swords Card Reveals About How Your Lover Feels About You?
The Ace of Swords through the perspective of feelings reveals that you might be feeling the spark and attraction in your love life – your partner is more appreciative of you and feels motivated around you. This is particularly true, if you are only starting a new relationships and you want to know what your lover feels about you.
For Those Who Are In a Relationship: What Ace of Swords Card Reveals About Your Partner's Feelings About You And What Energy Surrounds Your Relationship?
Feelings that surround the Ace of Swords signal a level of passion, as well as mental clarity and sharpness. If you are in a relationship, this card suggests that you and your partner may have to take your love to the next level if you want it to be successful – try and communicate with them. The more you communicate, the closer you will be together. Make sure, though, that this communication is real. There are times when the person of your dreams may just want to use you for your money and power or as a means of getting into the good life.
It is the moment when you and your partner are being encouraged to make a stand. Instead of ignoring the fact that there are problems in your relationship, you and your partner have the chance now to take a close look at your partnership and either solve the problems or consider your future independently. This Minor Arcana card also signals your relationship's potential to move forward.
The Ace of Swords tarot love meaning indicates that now is an excellent time to take your love life to a new level. This may take you and your partner to a new level in terms of intellectual power. You two are very much into discussing love, feelings, and different types of situations and are now ready to move forward with these discussions. If this is you and your partner, make a plan to go beyond intellectual power, try to express your feelings to each other, and make emotional connections in the coming days.
What Ace of Swords Reveals For Those Who Want to Know If Their Relationship Is Advancing Into More Serious Commitment Or Marriage?
With the Ace of Swords your partner will be the intellectual equal you have always looked for, especially if you are wondering, if your relationship is progressing into more serious commitment, such as marriage or engagement. Your partner will be smart, witty, and very much in alignment with your values. The Ace of Swords represents wisdom, and this is especially true when it comes to romantic relationships. Be true to yourself and hold onto what is important to you. You may need to cut out some of the superficial desires we all seem to fall prey to, and focus on what you really value.
Communication is very important right now as will being upfront and open about your desires and feelings. In the relationship reading or a love reading, this card illustrates a difficult time at home, whether the source of stress is external or internal. It's important to sort this out before things get worse, and communication can help. With the Ace of Swords tarot love meaning, love can be expected but, like the card itself, it won't come easily.
The relationship will be full of communication and may last as long as the Swords, which is very long. Whatever issues you are dealing with right now won't be able to be ignored. The only way through this difficult time is to work together and communicate. Be prepared to argue, even if your lover doesn't always like it!
What Ace of Swords Reveals About Your Ex's Feelings About You?
When you pull the Ace of Swords on feelings position and you want to know what your ex partner feels about you, the card signals that your ex will feel relieved and joyful to see you. They will feel grateful and appreciative towards you. This person will feel very friendly and comfortable with you. This time can be very romantic for your ex.