The Eight of Pentacles illustrates that you are highly committed to achieving your aspirations. Although you have a general idea of what you want as far as what you want to achieve in your life, you might need to make some adjustments. You are committed to achieving your highest potential and have learned a lot about yourself in the process of becoming who you are today. You are self-aware, consistent, and tenacious. Regardless of what is thrown your way, you keep on pushing forward.
Now is the time to put yourself out there and make your aspirations a reality. You need to learn a lot by yourself especially when you draw this card. You need to be a self-starter. Make a plan and go for it. You can achieve anything if you are consistent and relentless. Achieving your aspirations is possible with the help of your inner teacher, which will guide you and show you the right path to success.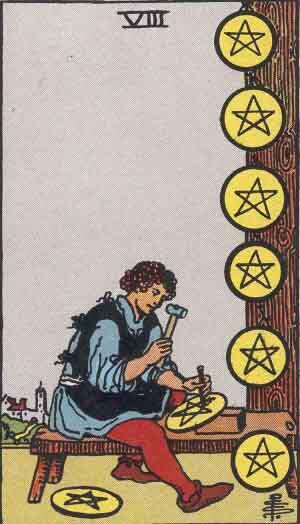 What Eight of Pentacles Card Reveals About How Someone In a Platonic Relationship Feels About You?
The Eight of Pentacles discloses that your friend is giving you the warm and supportive feeling you have always desired. The person's efforts come with you, suggesting that you should put in some work to keep your connection going. This card suggests that you should put extra effort into learning new things. Doing something you're passionate about is going to help the two of you bond together. If you are currently single, the upright Eight of Pentacles indicates that you are on the right track with the things you are doing for your love life. Love takes time to manifest, so you should not be afraid to be patient.
For Those Who Are Single: What Eight of Pentacles Card Reveals About Your Future Love Life?
The Eight of Pentacles as feelings signals a time when you will be in the process of working on your personal goals, making preparations for the future, and nurturing yourself too. Your potential companion or lover will appreciate your determination, commitment, and self-development. It may not be an ideal time to leap into a relationship if you are single, but you are ready to take the journey.
The Eight of Pentacles in a love Tarot spread represents developing your skills and attaining proficiency in a specific area. You could be learning a new language or how to exercise, which will allow you to have greater self-confidence and prepare yourself for a love life. You'll need to be more focused in order to land a prospective spouse – you need to devote yourself to learning more about yourself and your aspirations before you find love. This doesn't rule out someone who is in the same boat; if you are willing to be vulnerable, a new relationship can result.
For Those Who Are Just Starting a New Relationship: What Eight of Pentacles Card Reveals About How Your Lover Feels About You?
The Eight of Pentacles as feelings reveals that your partner is satisfied with the relationship and wants it to grow and succeed. This aim is important when you are at the very start of a relationship and want to know what are your lover's feelings about you.
Your lover gives you a lot of love and care and want you to succeed, they also wants the relationship to grow and be in a healthy and strong relationship. But sometimes, this card also shows that your partner feels insecure about their relationship and wants to make sure that your feelings towards them stay always positive.
If the question is about the status of the relationship and how it is progressing, the Eight of Pentacles suggests that even if you and your partner have a very strong relationship and feel like you are very compatible with each other, but you have to be careful about things around you which may make you feel worried. You and your partner may fight with issues and misunderstandings which may break your bond. So, this card suggests you both start working together to understand each other better and find solutions to the misunderstandings.
For Those Who Are In a Relationship: What Eight of Pentacles Card Reveals About Your Partner's Feelings About You And What Energy Surrounds Your Relationship?
The Eight of Pentacles as feelings illustrates your efforts to make your partnership successful. You have worked hard to develop your connection, and the dedication you've put in to the relationship may finally be rewarding you. If you have been working on making the relationship stronger and more stable, you will notice that the effort will pay off in the future. It may feel as if any problems that had originally appeared were beginning to disappear. It could also suggest that you and your partner have put in the required effort to make sure that your partnership is succeeding. When you take the time to think about your life together, you may also find that you are able to put effort into it more.
The Eight of Pentacles in a love Tarot spread may also simply serve as a gentle reminder to make sure that any efforts you put into your relationship are genuine ones; you wouldn't do the same for a stranger on the street. You may be attempting to create a more loving, stable environment with your partner. That could include making more time for one another, going on romantic getaways, establishing firm boundaries, or simply doing more for your partner.
What Eight of Pentacles Reveals For Those Who Want to Know If Their Relationship Is Advancing Into More Serious Commitment Or Marriage?
The Eight of Pentacles is all about progress and developing yourself both as a person and as a partner, therefore your relationship is progressing into a serious commitment. This card can also suggest that while you may have been working hard on other aspects of your life, you may be neglecting your relationship in the process. Now is the time to work on your love life instead of focusing on everything else.
Communication is an important part of a happy relationship; it is crucial that you and your partner are on the same page when it comes to big decisions. You may also have been putting in a lot of extra effort into your romantic endeavors. Your partner may be more appreciative of your efforts and support you more because they recognize your hard work.
What Eight of Pentacles Reveals About Your Ex's Feelings About You?
The Eight of Pentacles signals that your ex partner isn't feeling too positively about you right now. If you are still in a relationship with your ex partner, this card suggests that you may have to work extra hard on yourself to change how your ex feels about you.