The Queen of Pentacles is a person who is highly competent, practical, and dependable. She works steadily, is dedicated to accomplishing her goals, and pushes herself to be successful. She has a clear vision of her own and goes after it with fierce determination.
The Queen of Pentacles Tarot card is a sure sign of success and abundance when it comes to career, business, and economic endeavors. She is a woman who takes care of others and others take care of her. She exemplifies the saying "behind every great man is his woman" and is a strong woman who is self-assured and knows exactly where she is heading. Although she lives a happy and healthy life, she is hardworking and focused on manifesting the kind of life that she desires.
Unlike the other Queens of the Minor Arcana deck, the Queen of Pentacles is not the bearer of curses or evil. Instead, her main characteristic is the ability to manifest the things that she desires. She is all about planning and working.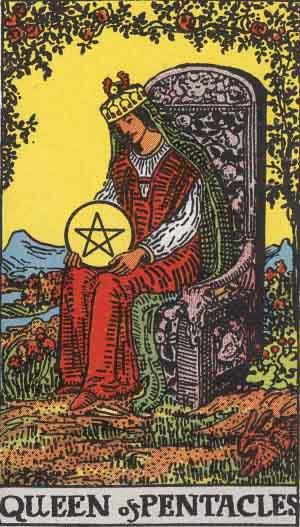 What Queen of Pentacles Card Reveals About How Someone In a Platonic Relationship Feels About You?
If you're single, this card indicates a friendship and/or a romantic relationship with a colleague or a friend of the family. The Queen is a supportive woman, and you two are likely to be or become very close. The Queen is a good partner, a good mother, and someone who wants to care for and nurture those close to her.
Even though she is successful and confident on the outside, the Queen of Pentacles truly loves the simplest things. In her company, you'll find a warm, supportive spirit and a genuine love for the ordinary things in life. She spends most of her time taking care of her family because she feels they are the most important thing in the world. When she ventures out, she enjoys spending time with her relatives, friends, and clients; she's there to help anyone in need.
You are sure to have a friend at your side who loves you dearly and is always there for you. If you're interested romantically, you may find yourself with a partner who is kind, giving, and supportive of your development. The person Queen of Pentacles represents will always be there for you, and if you continue down this path, you will be in a healthy, happy relationship.
For Those Who Are Single: What Queen of Pentacles Card Reveals About Your Future Love Life?
The card reveals that you are your authentic self and that you are the most generous and loving person in your life. You are not only a successful and self-sufficient person but also a good-hearted person. Be that person. People in your life love being with you. This is a card of warmth and a home-body who lives to nurture others. It may also be a sign of your success in business. If you are romantically interested in someone, this Queen can be a welcome indication that you are being who you are.
When the Queen of Pentacles appears, it is a positive sign that someone you have met through work or otherwise may have something to offer. You'll probably find that this newcomer is as kind and generous as the Queen herself. You may also discover that she is very mature and has great love for you.
For Those Who Are Just Starting a New Relationship: What Queen of Pentacles Card Reveals About How Your Lover Feels About You?
If you are just starting a new romance and are interested what your lover feels about you, the Queen of Pentacles as feelings signals a loving relationship with an earthy, sensual, and feminine woman. This person loves their home and family, and they might prefer to spend more time with them instead of hanging out with friends and new people. They love their life to the fullest extent and are highly protective and nurturing by nature. They are the traditional partner of a wealthy and successful man.
The Queen of Pentacles as feelings signals a time of appreciation. As a sign of their love, your partner has been showing you their respect and is working very hard to make you feel comfortable and happy. The same thing applies if you are single and looking for your soulmate. If you have met your soulmate, you will find everything you need for your relationship at one place. If you haven't found that person, you might have to look outside your comfort zone for a partner.
For Those Who Are In a Relationship: What Queen of Pentacles Card Reveals About Your Partner's Feelings About You And What Energy Surrounds Your Relationship?
The Queen of Pentacles as feelings is all about being practical and reliable when you are in a relationship. Your partner may be the rock in your life, and you are doing everything in your power to make your union stable. The Queen of Pentacles is not shallow, and she will find a spouse who shares her values and is there to love her as an equal, not as a trophy. However, if you are not yet ready to settle down, this card is a reminder to take your time and enjoy your freedom right now. This is no time to rush into a serious commitment.
What Queen of Pentacles Reveals For Those Who Want to Know If Their Relationship Is Advancing Into More Serious Commitment Or Marriage?
If you are wondering whether your relationship is progressing into more serious commitment, the Queen of Pentacles is all about marriage. A romantic proposal is coming soon. Be patient.
What Queen of Pentacles Reveals About Your Ex's Feelings About You?
Your ex partner is feeling protective about you, but also a bit alone. The Queen of Pentacles tarot love meaning can signal that you feel you need to take care of yourself first and then it will be much easier to give your love to someone.