If you pull the Four of Wands reversed in your career reading, the card illustrates that your workplace is extremely stressful at the moment. You have not left the feeling of satisfaction, and you are not getting the motivation from your workplace. This feeling of dissatisfaction can be the reason for your downfall. The feeling of insecurity and instability is also there, as you are not getting support from your teammates and friends.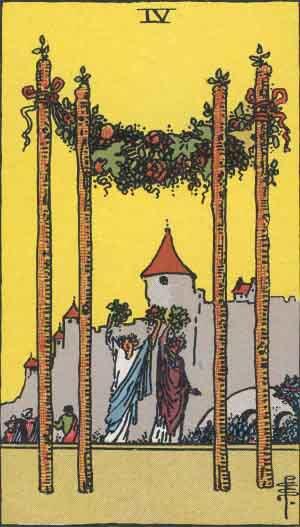 What Four of Wands Reversed Reveals About Your Dream Job: What Is The Most Fulfilling Career For You?
If you pull the Four of Wands reversed in a career tarot reading and would like to know what would be your dream job, the card is all about the love of work. The reversed Four of Wands is advising you to go back to your original career. This time, make sure to grab the right opportunity. Take time to work on creating success and happiness in your life. This could be through working on your relationship or creating a routine for your family.
What Four of Wands Reversed Discloses About Starting A New Job
When you are asking Tarot for advice while starting a new job, Four of Wands reversed reveals that the change is not too welcome for you. The people with whom you would work have a hostile environment. Your colleagues may be cold and unfriendly, and may treat you as a nuisance, because of which your work may be a drag. There is a lack of motivation and enthusiasm amongst coworkers, which makes it extremely challenging to maintain a harmonious environment in the workplace. The mood of the workplace is one of boredom, frustration, and apathy.
It would help if you brought more happiness to your workplace, and make it a fun place to work as well. Try to focus on positive energy. On projects, where you were supposed to get recognition or praise for your work, there is none instead. All you get from your teammates is animosity and grudges. It would help if you made amends with your coworkers, and gave them a good reason to work with you. All your hard work will pay off in terms of future promotions, if you are able to get through this period of frustration, and not feel defeated.
What Four of Wands Reversed Says About Improving Your Current Job Position
When you are asking Tarot how to improve your current job position, Four of Wands reversed reveals that you need to make significant changes at your current workplace, or your position may deteriorate. Four of wands reversed can indicate that you are unhappy with your current job and wish for a better one. Sometimes it can also represent that you are unable to get the job you have applied for. With regards to your finances, the Four of Wands reversed points towards the fact that you need to stop wasting your money on things you do not really need. Be wise with your spending, as your money might not be enough to meet your future needs.
The Four of Wands (reversed) card is a representation of the end of the celebrations and the beginnings of your responsibilities. At the same time, it warns you to be careful of your health and to maintain a healthy diet. You are neglecting your duties to take care of your body as you are too busy with your career and other obligations. Try to relax and enjoy the time off with your family. This will help you make smarter decisions.
What Four of Wands Reversed Reveals About Your Career Strengths
If you need advice on your career strengths, Four of Wands reversed reveals a lack of focus and consistency. You may be experiencing a situation of chaos, or you may be trying to bring your career together, but this can feel like a moving target. When it comes to your finances, this card suggests feeling a bit unsteady, especially if you have shared your financial resources with others. There can be feelings of neglect or dependence, as well as a lack of overall harmony when it comes to spending or savings. This may be a result of having to be responsible and dependable in your work role. Sometimes, this card can also suggest a lack of confidence when it comes to taking the next step.
What Four of Wands Reversed Discloses About Your Career Weaknesses
Four of Wands reversed reveals that your career weaknesses are holding you back. Your ambitions may be blocked, and you may be struggling to achieve your goals. The lack of support and collaboration in your workplace may be affecting your productivity, resulting in failure to achieve your targets. You may feel isolated and alone. This card can also come up reversed when it is about your family life and career. This card indicates not having the success you wished for.
What Four of Wands Reversed Suggests About Improving Communication At Your Workplace
If you want to know how to improve communication at your workplace, Four of Wands reversed signals that you need to improve your professional relations and communication with your colleagues. You may face some problems at your workplace, which lead you to face conflicts with your colleagues and make work stressful. Avoid giving your colleagues the reason to feel irritated with you.
What Four of Wands Reversed Suggests Regarding Career Change
If you would like to know what Four of Wands reversed reveals about changing your career, this card represents moving backward and being unsatisfied with your current position. It might be that you have been dissatisfied with your current workplace and are unhappy with your work's atmosphere. This might be the right time for you to leave this place and start something new. Or you might have been thinking of changing your current position. But due to some external reasons or your friends or family's advice, you're hesitating to leave the current place.
What Four of Wands Reversed Reveals About Balancing Your Career With Your Personal Life
If you need advice on balancing your career and personal life, Four of Wands reversed reveals that you may be overconfident about your position at work. At times, you may be too sure that your job is safe and secure. This can be a dangerous attitude to have, especially if you were in a position where the responsibility of the office lay on your shoulders. Be wary of coworkers who try to take advantage of you or play favorites by giving you more work or paying you less than your colleagues. There may be some underhanded dealings that you are not aware of. Others may spread lies to discredit you.
A reversed Four of Wands can also suggest that you are feeling stagnant at your workplace. Although it may seem like your job is fun and thrilling, your role has become overly routine and monotonous. You may be trying to change your role, switch positions, or just change your job altogether, but the lack of change makes you feel frustrated and unfulfilled. If you are in this situation, it may be time to consider a promotion.