If you pull the Four of Wands in a career tarot reading, the card is all about success. It is an excellent card for those who would like to start their own business, or are thinking about doing so. Success in career matters is predicted by this card, specifically by the overall feeling that all of your needs will be met and you can live comfortably in a way that satisfies your material and emotional needs. You will find work that fulfills, and that provides for you financially and emotionally as you focus on expanding your business. If you are not yet financially stable, this Minor Arcana card advises you to take time to reflect on your resources and figure out what you can do to make sure that you are not putting too much pressure on yourself. There are always things that one might not initially anticipate. This card can also represent a celebration such as a marriage, graduation, or the birth of a child or baby. These events offer you a much deserved, long-deserved feeling of joy and fulfillment.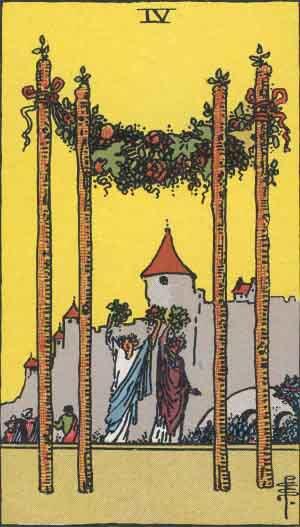 What Four of Wands Reveals About Your Dream Job: What Is The Most Fulfilling Career For You?
When you are asking Tarot what would be the most fulfilling career for you, Four of Wands reveals that it is the one with a sense of belonging. If you are searching for a job that brings fulfillment rather than feeling 'at home' in an office, the chances are high that you will find it. Work is a great area to invest in yourself spiritually. The Four of Wands may also deliver a sense of job satisfaction. This card can indicate that a job has been especially pleasant, or that the atmosphere has been especially harmonious. At work, the Four of Wands can also represent belonging to a community. The same might be true of your office and your colleagues.
This card may occasionally indicate a new business endeavour. It is excellent advice to take time out now to work on your long-term goal for your career. Since this is a good card to have, it won't take too long to achieve your goal. The Four of Wands is a great indication of a successful result in business. There is a good chance that this will turn out to be a great investment for you as well.
What Four of Wands Discloses About Starting A New Job
If you have just started a new job, Four of Wands illustrates that it is a very good thing for you. It means that you will fit well in the new environment in which you will be working. Moreover, this card indicates that you will be feeling a strong sense of belongingness or comfort zone in your work. Four of Wands represent the feeling of inclusion and acceptance in your career. This can either be because of the positive changes in your job or because of the changes in your relationships with your colleagues.
This is a very good sign that your work will be successful as you will be working with people you get along with well. Four of wands also represent that you need to celebrate your achievements. This will help you to appreciate the work you are doing, and the company will value this aspect of your personality. Thus, this Minor Arcana card suggests that you should organize a party, family gathering, or any form of celebration for the success you achieved.
What Four of Wands Says About Improving Your Current Job Position
When you are asking Tarot how to improve your current job position, Four of Wands reveals that there is a balance in career development that must be achieved. If you are looking to advance in your profession, now is an excellent time to make a move. You will be successful; however, you must remain conscious of those around you. As they say, you can lead a horse to water, but you can't make it drink. You must make sure that your coworkers, supervisors, and everyone around you that you share a workspace are receptive to change. The Four of Wands advises that you find happiness at work if you are already satisfied. It doesn't indicate that you need to search for a new job or that your job is terrible. It can simply mean that you are satisfied with your current career and are content with everyday life. In that case, make sure to find contentment in the work you select and that you feel proud of your accomplishments.
What Four of Wands Reveals About Your Career Strengths
If you pull the Four of Wands in a career tarot reading and you're wondering what are your career strengths, the card is all about positivity. When it comes to your career, if you pull the Four of Wands, you're surrounded by many positive and cheerful events. If you've been waiting for a job offer or a new job project to come your path, it is sure to come in the near future. If you own your own business, you'd experience so much of success. If you are in a stable financial condition, it would be a good time to celebrate.
Getting this card in your tarot reading indicates a celebration or a holiday with family. The Four of Wands also represents gatherings and social gatherings, which may be for business but in most cases may be for fun. These events shall be friendly to you and will help you in getting closer to your colleagues.
What Four of Wands Discloses About Your Career Weaknesses
When you are asking Tarot what are your career weaknesses, Four of Wands reveals that you have difficulties withstanding being in stressful work environments. There is nothing wrong with seeking a job in a business you like from the comfort of your living room or home, but if you want a job in the real world, you need to be ready for the challenges that come with it. Four of wands suggests stability and security in your workplace. You are at a place in your career where it's time to take a much needed vacation – but only if you enjoy the work you're doing. When you do enjoy the work, you can also find stability.
What Four of Wands Suggests About Improving Communication At Your Workplace
If you would like to know what Four of Wands reveals about improving communication at your workplace, look to supporting cards. The Four of Wands combined with other cards can occasionally signify having more colleagues around at work. The Four of Wands may also represent being the center of attention right now. If you have been working hard to advance your career, the current atmosphere will likely be a very proud one.
When this card occurs in a Tarot reading, it usually entails social recognition. These recognitions could take the form of a career award, an appreciative social gathering, or a promotion to a more senior position. If you've been working for a while, you might even be given a raise, title, bonus, or larger compensation package. You'll probably appreciate it a great deal. Any time you achieve an objective that you've been after, such as receiving an award or promotion, getting engaged, or buying a new car, you can probably expect a significant change in your circumstances.
What Four of Wands Suggests Regarding Career Change
Four of Wands suggests that if you would like to change your career, now would be an excellent time to do so. This doesn't need to be a huge job-swap, but you can use it as an opportunity to try out new things and make your own plans for the future. Even if your plans don't work out as you had hoped or you have already changed professions, you can take this card as a reminder to take some time off and enjoy the newly found freedom. Relax and unwind, knowing that these changes will bring you happiness in the end.
If you've been looking for a promotion, it may be that you're about to receive one. Alternatively, if you're in the field you've been hoping to change, you may find a role in that is waiting for you. Four of Wands can also signify a business trip to somewhere warm. You will feel comfortable and at ease while there, and you will likely get an opportunity to try out new things or try a new business as a result.
What Four of Wands Reveals About Balancing Your Career With Your Personal Life
When you are asking Tarot how to balance your career and personal life, Four of Wands reveals a happy balance. This card indicates that you are enjoying and sharing a stable environment in your workplace. You are in a professional position or will soon be in one. Whether you are an employee, self-employed, or running your own business, you have found a place where you can have fun and have a job that allows you to be your authentic self. This card is a good indication of success and a feeling of accomplishment. It indicates that you have achieved all the milestones required to be comfortable and satisfied in your working environment.