When you draw the Nine of Cups reversed in your career reading, the card signals that you may have been struggling to achieve your career goals. You are not performing on all levels at work. You may feel like a failure or that you should have made different choices. These feelings are natural. But know that the only way to change your situation is to change yourself. If you are unhappy at work, the first step is to figure out what your own insecurities are. This is no secret, and you may need to spend some time thinking of ways to address these insecurities. Are there things that you may not like about yourself? Perhaps there are some negative aspects about yourself that you need to change. Now is the time to get it done. If you don't, you are limiting yourself in the most important sense. Take the reins and make the necessary changes. The Nine of Cups reversed also tells us that things at work have not been as satisfying as you expected. You may have thought that one promotion or raise would fix the problems in your work, but now you must face the hard truth: All that work was for nothing.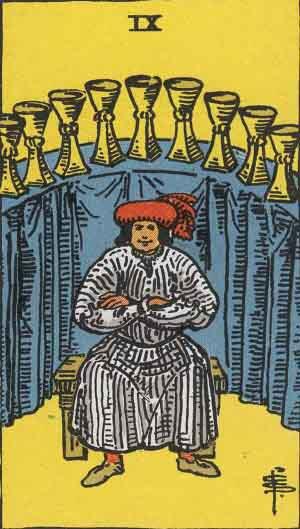 What Nine of Cups Reversed Reveals About Your Dream Job: What Is The Most Fulfilling Career For You?
Nine of Cups reversed reveals that the best career for you is, right now, being in the field where you currently are. You may be feeling a lack of enthusiasm for your current work project, and no matter how much your manager pushes for you to be more proactive, you find it hard to do so. At times, this card can also be interpreted as a sign that you may feel out of place at work. If you feel like this, you'll need to make an adjustment so that you can find contentment. It may be that you are currently in a job that you feel is holding you back from experiencing what you want, or a position in which you do not feel you are able to grow and learn. You may need to look for a new job that will offer you the opportunities to do so. Alternatively, you may have to make those adjustments.
What Nine of Cups Reversed Discloses About Starting A New Job
If you would like to know what Nine of Cups reversed reveals about starting a new job or a business, the card represents an unsuccessful attempt at starting a business or making a big move. The work may have been disappointing, and it may not have turned out as you thought it would. Any potential promises made by people may not be fulfilled. It's possible that you got the job or the business you wanted but weren't prepared to make it a success.
Whatever it is, it hasn't worked out very well. You can now reassess your situation and pick up the pieces. The reversed Nine of Cups might also represent a promotion that hasn't turned out the way you expected it to. You may have imagined that this would improve your standing at work, but it hasn't worked out quite the way you had hoped. It could also mean that you weren't prepared to handle a promotion. Alternatively, it might be that you're still waiting for this promotion to materialize and that your efforts aren't paying off, and resentment may be building up inside of you.
What Nine of Cups Reversed Says About Improving Your Current Job Position
Nine of Cups reversed reveals that when you want to improve your current job position, you are probably not making much progress. You feel disengaged from the work that you are doing currently, which is making everything very tedious and frustrating. You may feel that your dedication and passion to your current work is being taken for granted, leading you to lose motivation and even question if you should continue with your job. Although the position is very lucrative, you are not enjoying much of the benefits, and are feeling that all the money you are earning is going to somewhere else only.
You may be feeling unfulfilled and unhappy in the current situation, and the monotonous nature of your tasks is making you feel as if you are missing something. Nine of cups reversed also means that you have invested a lot of effort and time into your current job position, but instead of receiving the rewards and recognition for your efforts and results, you have to face more criticism.
What Nine of Cups Reversed Reveals About Your Career Strengths
If you want to know what are your career strengths, Nine of Cups reversed is a signal that you should look into your qualities and realize what you are good at. You might not be getting the appreciation or opportunities you deserve right now. If you own a business, this card shows that you are not yet at the peak of success. You might have all the right moves, but you are not making the most of them right now. It would help if you planned your next steps, because this card gives a sign that you should plan your next moves. Nine of Cups in a career tarot card reading denotes unsatisfactory employment or a job that you hate.
Nine of cups reversed also shows the tendency to be more frustrated and doubtful about the chances of success. The Nine of Cups reversed is not a good omen for career because it could mean that you have not worked hard enough to get where you are now. The chances of joblessness are high. This card can mean that you face delays and setbacks when it comes to projects or jobs. The Nine of Cups reversed also shows feelings of dissatisfaction, sadness, and hopelessness about work.
What Nine of Cups Reversed Discloses About Your Career Weaknesses
Nine of Cups reversed suggests that your career weaknesses (i.e., lack of ambition, mediocrity, dullness, laziness) may be holding you back. The person you are in your job may not be the best version of yourself. This card may occasionally also appear in a career reading when there is a lack of self-esteem. It can also suggest that your job may not be everything that you expected it to be. You are most likely unhappy at work, but you struggle to do or say anything about it. It may be difficult to be yourself at work as a result. Avoid taking shortcuts to get things done; they tend to lead to resentment down the road. Nine of cups reversed can also mean that you have missed out on the success you deserved from your career.
Reversed Nine of cups can indicate an unhappy work environment where everyone is unsatisfied. This might be a place where no one is willing to take the risk required to be successful, everyone is overworked and understaffed, and there is a lack of recognition for the work that people do.
What Nine of Cups Reversed Suggests About Improving Communication At Your Workplace
If you need advice on improving communication at your workplace, Nine of Cups reversed reveals that you must take responsibility for your actions. The person you've been competing with may be more skilled than you in certain areas, and they will probably use this against you to their advantage in the future. It is not your responsibility to prove yourself, nor should you demand recognition for your accomplishments. Instead, you'll need to be a person of integrity, and ensure that you are always getting your fair share of the pie. If you're searching for a new, fulfilling job, look towards something creative or artistic. There is also a chance that your current workplace will not continue to work in the future; there should be a discussion regarding your future at this time. This discussion can be stressful, however, be sure to have a clear definition of what you want.
What Nine of Cups Reversed Suggests Regarding Career Change
When you are asking Tarot whether you should change your career or not, Nine of Cups reversed reveals that in your field, you must face a lot of disappointment and loss. But if you are not very good at anything, don't give up your dreams. But start working on your skills and talents at last. If you have a project, start the project by getting a plan.
What Nine of Cups Reversed Reveals About Balancing Your Career With Your Personal Life
If you would like to know more about balancing your career and personal life, Nine of Cups reversed illustrates that your career and personal life will be balanced if you're currently employed and would like to advance in your job. Nevertheless, you might find it challenging to do both at the moment as this card suggests that your profession is sucking up all your time, leaving little or nothing for your personal life. You might not be advancing in your work even if you work hard. This is the result of making long work hours, skipping vacations, and frequently being rushed. As a result of this hectic lifestyle, your health and family life may suffer as well.
Reversed Nine of Cups signifies frustration, failure, and disappointment in professional settings. You might be frustrated at your workplace if you're not progressing there, and you might even feel that you're becoming more unproductive. Because you do not have any work-life balance, your dissatisfaction might be the cause of this. Moreover, it also hints that your work environment might be toxic, and there might be some issues with colleagues.