Through a perspective of career Page of Swords reversed is a card of manipulation, lying, and dishonesty. Are these actions coming from you? It is possible that you may be trying to get ahead at the cost of others or may be taking the credit for another person's work. Page of Swords reversed could also imply that you are being dishonest about your own abilities, or that someone else is trying to take advantage of you at work. This card may also represent being very blunt or crass with people at work, making it very difficult for you to build relationships. Those around you feel very uncomfortable being with you.
This card may occasionally also encourage you to put your ideas to work rather than just talk about them. If you've been considering entering a new industry or moving to an entirely new field, now may be a great time to do so. You have a bright future ahead of you; just make sure that you are ready to seize that opportunity and pursue it with gusto.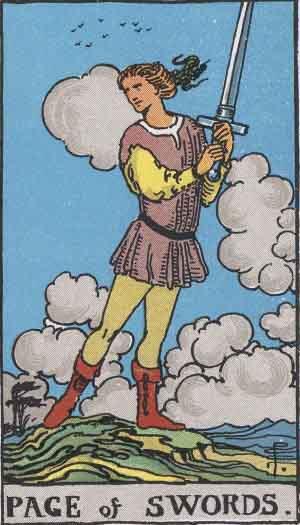 What Page of Swords Reversed Reveals About Your Dream Job: What Is The Most Fulfilling Career For You?
Page of Swords reversed reveals that you may not be pursuing your career goals as much as you should. You could have your eyes closed when it comes to your profession. You could have given up on the past failed career attempts. This card also depicts that you may be unable to come up with a clear-cut plan for your profession and what you want career-wise.
You may be dissatisfied with the current job. You may not have a clear idea of what you want to do in the future since you have a lot of confusion about the same.
What Page of Swords Reversed Discloses About Starting A New Job
Page of Swords reversed suggests that if you are starting a new job, you may find that your new colleagues are resentful of you or that your communication with them is difficult because you are too guarded and evasive. This card can also suggest a lack of passion and lack of motivation on your part. If you're not excited about your current job, it is time to do something about it. Sometimes, this card can indicate that you are a new professional that is about to start a new job, and you are feeling nervous or anxious about it, and you will have many questions and much to learn so that you can be at ease with your new work environment.
The reversed Page of Swords can indicate that your communication abilities, or lack thereof, may be negatively impacting your work, both with your colleagues and with your superiors. You may need to open up a little more and practice your diplomatic skills if you hope to avoid getting into troubles with those who report you. At work, the Page of Swords reversed may indicate that you might be in a period of limbo, unable to decide on what you need to do.
What Page of Swords Reversed Says About Improving Your Current Job Position
If you want to improve your current job position, Page of Swords reversed is a signal that this is not the right time. You might feel as if you are struggling at work, and this is making you feel more demotivated. All you require is a change in the way you approach your work. The people already working with you will feel like you are no use at all. This card in reverse is a sign that you must be honest with your coworkers, and this honesty will help you build a good reputation.
The Page of the Sword is reversed, which is an indication that your attitude is not going to be suitable for your current work. You do not like your job right now, and this is creating a lot of discord among your colleagues. Even if you have a desire to switch jobs, this card is trying to tell you that this change has to come from your end. If you have a lot of ideas on how to change the way things are done, now is the time to voice them with your superiors.
What Page of Swords Reversed Reveals About Your Career Strengths
While the upright Page of Swords is known for clear and direct communication, the reversed Page of Swords may indicate that you need to exercise caution in your communication at work. You might be prone to misunderstandings or miscommunication, so being extra clear in your messages can be a strength.
The Page of Swords reversed can suggest that you are adaptable in your career. You are open to new ideas and can adjust to changing circumstances. This flexibility can be a valuable asset in a dynamic work environment. In addition to this, the Page of Swords may indicate a desire to avoid conflict. Your ability to navigate tense situations without escalating them can be a strength in maintaining a harmonious work environment.
The Page of Swords reversed might also suggest that you have a keen eye for detail. While the Page of Swords can sometimes be overly critical in the upright position, when reversed, this attention to detail can be an asset in catching errors and ensuring quality in your work.
What Page of Swords Reversed Discloses About Your Career Weaknesses
Page of Swords reversed suggests that your career weaknesses are getting in the way of you being able to reach your potential. Your lack of commitment, indecision, insecurity, and immaturity are affecting other people and you may find that conflicts are escalating rather than coming to an end. Communication and negotiation are becoming increasingly difficult and exhausting, and on occasion, you may be in a stressful position where you have to walk on eggshells. Take your time and deal with the problems as they arise; you will get through this and learn the important life skills that you need.
This card can also suggest that you are currently not utilizing your intellectual abilities. If you someone who thrives on challenges and enjoys a tight deadline, you must channel the energies that you have into something constructive and productive. Instead of daydreaming about what you would like to do, look for the opportunities that are out there and seize your chance.
What Page of Swords Reversed Suggests About Improving Communication At Your Workplace
If you want to know how to improve communication at your workplace, Page of Swords reversed is a signal that you need to clear any misunderstandings. You must be speaking more clearly to understand the facts at your workplace. You must focus on finding the right solutions to the problems you face. Communication is the key to solve your problems.
What Page of Swords Reversed Suggests Regarding Career Change
If you would like to know what Page of Swords reversed reveals about changing your career path or position, it may portend a period of turmoil and anxiety. It may also be a sign that you lack the energy to succeed at work. While it's not yet time to throw in the towel, you shouldn't put up much effort either. Do your best and let fate take care of the results. If this doesn't describe you, a reversed Page of Swords can mean that you are being too harsh with your colleagues. You may be using them as objects instead of people.
What Page of Swords Reversed Reveals About Balancing Your Career With Your Personal Life
When you are asking Tarot how to balance your career and personal life, Page of Swords reversed reveals that sometimes you have to stop focusing on your career in order to balance it. You do not have to be the best in your career right now; you just have to focus on other aspects of life. If you feel as if you are being distracted at work, don't worry. It will be a short-lived issue. But if you are someone with a chronic illness or disability, this card can signify a lack of clarity or communication on your part. For example, if you have difficulty reading or writing, it may be difficult for you to express yourself. In these situations, you must take the initiative and look for creative ways to get your point across.