Through a perspective of career Seven of Wands reversed is a card of flexibility. It is time to lower your boundaries and work with people who are not as well positioned as you are. If you have been struggling with being surrounded by arrogant people, it is time to walk away and find a new place where your opinion matters. If you are the one being surrounded by people, stop trying to be better than everyone around you. Always be grateful and try and understand the situation. Avoid getting into heated arguments with everyone around you.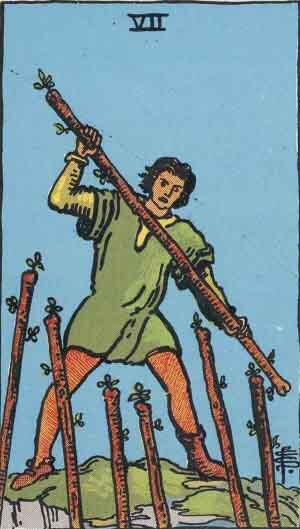 What Seven of Wands Reversed Reveals About Your Dream Job: What Is The Most Fulfilling Career For You?
If you pull the Seven of Wands reversed in your career reading while asking what would be the most fulfilling career for you, the card illustrates that you might be on an uphill battle right now. This is a sign that you need to focus on your own business and your projects rather than taking on other people's work. Your position is currently stable, but if you stay put this could quickly deteriorate. You need to quickly adapt your position, and if others are not doing so, it is easy to become the underdogs.
What Seven of Wands Reversed Discloses About Starting A New Job
If you have just started a new job, Seven of Wands reversed illustrates laziness at your workplace. If you work at a stable place, then you cannot face any conflict at your workplace or work-life balance. You might be feeling unproductive at your workplace. You might be not doing enough work or are working too hard. The people at your workplace will have issues with your hard work. This Minor Arcana reversed card symbolizes conflicts and tension at work.
What Seven of Wands Reversed Says About Improving Your Current Job Position
If you need advice on how to improve your current job position, Seven of Wands reversed reveals that the key is to make sure that you are standing out and being assertive, but making sure to avoid conflict and drama. The only exception is if there is a hostile colleague or boss, in which case you might need to defend yourself from the attacks that they are delivering.
The reversed 7 of Wands might indicate career progression in the sense that you are about to get a promotion or job offer that you have been wanting. This would be a great time for you to seize the moment and grab it with both hands. On the other hand, the card could mean that you are feeling frustrated and upset because you are waiting for a contract or decision to be completed on a project, but you feel as if the time is dragging on.
What Seven of Wands Reversed Reveals About Your Career Strengths
If you want to know what are your career strengths, Seven of Wands reversed signals conflicts, challenges, and a lack of communication at work. It might look like there are many roadblocks and challenges in the path that is preventing you from getting ahead. If you are facing such challenges, prepare to fight all out in front of people as they might be gossiping about you. This card also indicates that what needs improvement is your communication skills. You need to stop talking too much, and learn to take criticism without taking it as a personal attack.
What Seven of Wands Reversed Discloses About Your Career Weaknesses
If you would like to know what Seven of Wands reversed reveals about your career weaknesses, look at the accompanying cards. The Seven of Wands in reverse is not the best omen for careers as it might signal failure. It might be a sign that one has reached a breaking point in terms of exhaustion or anxiety. If you've been experiencing these conditions at work, you may need to seek help. The reversed Seven of Wands may also stand for defeat. It may mean that others are controlling you at work regardless if you want to engage in this behavior. It could also mean that your position is in jeopardy. No one will care if you quit or leave.
What Seven of Wands Reversed Suggests About Improving Communication At Your Workplace
If you want to know how to improve communication at your workplace, Seven of Wands reversed signals that you must keep on protecting your territory. It also shows insecurity at your workplace. You must work extra hard to give your colleagues a good feeling at your workplace.
What Seven of Wands Reversed Suggests Regarding Career Change
When you are asking Tarot if you should change your career, Seven of Wands reversed reveals that you may need to. The reversed position here means that your career path is not going well and that you are feeling overwhelmed. You could also have a lack of confidence which has been holding you back. The pressure is so great that you can have health scares or take a step backwards. Whatever the situation, the reversed position means that you will need to seek support from others to get back on the right track again. There is no need to go it alone! There is no shame in asking for help. Being able to trust your support system to get you back on track may be something that can save you from falling into a bigger pit.
What Seven of Wands Reversed Reveals About Balancing Your Career With Your Personal Life
If you want to know how to balance your career and personal life, Seven of Wands reversed is a signal that you must stop struggling. The way you treat people in your workplace will have a great impact on how other people perceive you. There is nothing to worry because if you make the right moves, you won't have a hard time finding anyone to work with you. Therefore, take a step back and evaluate your behavior. It is time to correct your mistakes to get the respect and admiration that you deserve.