Through a perspective of career Six of Wands reversed is a card of failure and defeat. There is a feeling here that you have hit rock bottom, and everything is out of your hands. Reversed Six of Wands signifies your defeat in terms of professional goals. Maybe you were on the verge of success, and you missed out on the chance. This card also signals that your confidence and enthusiasm are gone. You have to be honest with yourself and face the reality.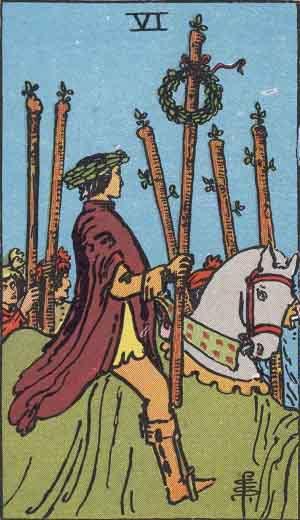 What Six of Wands Reversed Reveals About Your Dream Job: What Is The Most Fulfilling Career For You?
Six of Wands reversed reveals that the best career for you is, actually, the one that you are currently having. This reversed card advises you to appreciate what you have and appreciate your achievements.
Unfortunately, Six of wands reversed can also mean poor performance at work. This is a sign that you lack the drive and dedication to make sure that you get a promotion or a new job. It may indicate that you are being passed over and not receiving the success, recognition and rewards you deserve, or that you are getting demoted or fired, and this is making you feel more demoralized.
What Six of Wands Reversed Discloses About Starting A New Job
If you would like to know what Six of Wands reversed reveals about starting a new job, career, business, or relationship, look no further. This card can indicate that any new beginnings you have been working on will soon come to fruition. Have you recently started a new job? The effort and time that you have put in to get that new position will soon pay off. If you are looking to start your own business, the time is now. You have prepared yourself well for success. You should feel proud of yourself. However, if you flipped your Six of Wands, it can mean that despite all of your preparation and hard work, you will still have a tough time in your career. Others may believe that you are not ready for success or believe that you do not have what it takes to be successful.
You will have to fight hard for this success since the public eye can be upon you. This doesn't have to be a negative thing, as you are more ready than ever to shine. This card can also be a sign that your work is now going to the people you want it to.
What Six of Wands Reversed Says About Improving Your Current Job Position
Six of Wands reversed reveals that when you want to improve your current job position, you must be cautious. The six wands indicate that everyone in your office would be jealous of your good social life and financial status. If you are not on the same page as your team members at the moment, then you have to start working with the same guys. This decision should be in the context with your personal life.
What Six of Wands Reversed Reveals About Your Career Strengths
If you would like to know what Six of Wands reversed reveals about your career strengths, and capabilities, and career tarot card readers then you may find yourself lacking these attributes. Reversed this card means that you may have faced some setbacks at your work which has led you to feel uninspired or demotivated. This card may also show up reversed when you feel overlooked for a promotion or a raise.
If this is the case, remember that success isn't a destination – it is a by-product of showing initiative and doing the work. Just remember this: as long as you are putting forth the necessary effort, success will fall into your lap.
What Six of Wands Reversed Discloses About Your Career Weaknesses
If you want to know what are your career weaknesses, Six of Wands reversed is a signal that you should look at your work ethics and try working on them. This is the right time to get more involved in your work. The people around you will be highly appreciative if you start your work with more dedication and hard work.
What Six of Wands Reversed Suggests About Improving Communication At Your Workplace
If you would like to know how to improve communication at your workplace, Six of Wands reversed illustrates that it is time to assess your current professional status and find out the flaws you might have done. In other ways, it would mean a lack of success, and this might become a result of self-doubt, a lack of belief in yourself or any issues with your family. Try not to get discouraged, and stay focused.
What Six of Wands Reversed Suggests Regarding Career Change
If you want to know whether you should change your career or not, Six of Wands reversed signals "Don't change your job. It will hurt your confidence. Stick to your current job and work hard. Your confidence will grow. In finances, the six wands, if appearing reversed, indicates that you are not giving yourself enough credit. You keep searching for new jobs, but none of them satisfies the requirements that you think they need.
What Six of Wands Reversed Reveals About Balancing Your Career With Your Personal Life
If you would like to know what Six of Wands reversed reveals about balancing your career and personal life, you will be facing multiple conflicts or a failure at work. Six of Wands reversed indicates that you need to be extra careful about your personal safety. Try to learn from your previous mistakes and take necessary action to protect yourself. The Six of Wands reversed suggests that there is a possibility that your confidence is failing you currently and you are not able to do well at the place of your job. Confidence and trust are important factors in getting good results no matter in what field you work in.