When you draw the Six of Wands, the card signals that victory is on the horizon. This can be a literal victory, like a win in a battle or contest, or more likely, you may be headed in that direction in other areas of life. You have worked hard for this success and there is no better time than right now to celebrate your accomplishment.
This card is a strong indicator that all of your goals and desires will soon be fulfilled. Whether you have been working on an important project, have been putting effort into a particular area of your life, or have been playing a sport you have been passionate about, you will soon reap the sweet rewards of your labor. The Six of Wands signifies that you should start celebrating your successes as you cross each milestone. And when you do, you will find that everything in your life is finally coming together and working out as it should. Now is the time to pat yourself on the back and say "yes, I did it!" before moving forward on toward the next step.
The Six of Wands is about recognition for your accomplishments.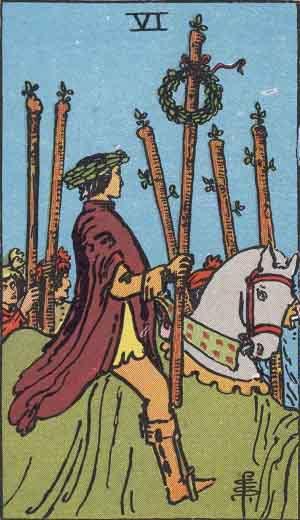 What Six of Wands Card Reveals About How Someone In a Platonic Relationship Feels About You?
If you want to know what your friend feels about you and you pull the Six of Wands, the card signals success. Your relationship with your friend will be very happy, and your bond and trust will be strengthened. The Six of Wands is an indication of how much you value your relationship with your partner. If you are single, you will get love vibes from your colleagues and family members. New friends will bring you a joyous moment and friendship.
The Six of Wands signals a successful relationship and gives you a good omen as you date and get attached. Your social relationships will be strong and this card suggests that you have a great life and have done so much that you deserve to be successful and proud. This card also shows that you are enjoying yourself in your life and you have all the elements that lead to success.
For Those Who Are Single: What Six of Wands Card Reveals About How Someone Feels About You?
For those who are single and open for a romance, the Six of Wands as feelings signals romantic feelings. You might be experiencing an ex-lover's return, or perhaps a friendship re-kindled. There is nothing to worry about being single because this card also denotes the good things are on the way to you. The six wands represent triumph and happiness in your life, in terms of love and career. If you've been seeking validation in your romantic life, and you've been waiting for the person to come into your life and make you the center of their world, you will soon be gifted with that kind of validation and love.
A wonderful partnership is indicated by the Six of Wands reading, and if you are single, you might soon meet that significant person. This person is confident and sure about themselves, and this quality will draw the attention of your potential partner. Be proud of yourself because you deserve to feel this way and can also attract this partner. If you are single, you will experience more of confidence and self-assurance. Because you are finding it easy to date someone, these feelings will help you go out and meet other people. You will be very outgoing and social, which will surely make you date many people.
For Those Who Are Just Starting a New Relationship: What Six of Wands Card Reveals About How Your Lover Feels About You?
If you are at the very start of a relationship and want to know what are your lover's feelings about you, the Six of Wands as feelings reveals that your partner feels that you are a beautiful, successful, and confident person full of positive traits, and they like you very much. Your partner loves you because of your confidence. You feel loved in return, which gives you a deeper connection. This card, however, signals you to be aware of your or your partner's intentions to take advantage of the confidence that you exude.
For Those Who Are In a Relationship: What Six of Wands Card Reveals About Your Partner's Feelings About You And What Energy Surrounds Your Relationship?
When you are in a relationship, the Six of Wands as feelings illustrates that you may have a strong relationship with your partner. You will be feeling strong and courageous when you are with your partner. Your confidence is getting through to the partner in your life, as they feel like you are a worthy person to surround yourself with. You will discover love that is lasting, as you will be appreciating your partner and their qualities. You and your partner both feel proud of your relationship and all the accomplishments you have achieved together. You value each other's company, and you are thankful for the relationship you have. It's time to treat your partner and show appreciation for all the hard work and dedication you have put in during your relationship.
What Six of Wands Reveals For Those Who Want to Know If Their Relationship Is Advancing Into More Serious Commitment Or Marriage?
When you pull the Six of Wands and you're asking if your relationship is heading into marriage or engagement, the card reveals that the proposal is soon coming. This is a sign that your dedication to your union has not only strengthened your bond, but has won you respect amongst your community. The Six of Wands says that success both in your love life and at work will be rewarded, and that any challenges in these areas will be lessened. This card can be a signal of optimism if you are worried about your romantic relationship; regardless of the circumstances, the Six of Wands assures that all of your worries will soon be resolved or minimized. Be confident and take advantage of any of the opportunities that the world makes available to you.
What Six of Wands Reveals About Your Ex's Feelings About You?
If you who are wondering what are your ex's feelings about you, the Six of Wands as feelings signals that you are possibly facing competition from other people in your life. Your ex, or someone else may be trying to steal the place you have in your partner's heart, and this is causing an emotional disturbance in the relationship. If this is the case, try not to get too involved in the matter or you will lose more than you gain.
The Six of Wands as feelings signals you are now ready to face the world again – you both have gone through a rough patch where you fought a lot, but now that the hard times have been over and you're moving ahead, with both of you feeling more confident and proud.