Through a perspective of career Three of Wands reversed is a card of stagnation. For people, who have just started something new in their career, this card indicates delays and a long gap of time in reaching their goals. This card can occasionally also mean that your current vision about your career is out of sync with reality. You might have set high expectations for yourself, yet you are falling short of those expectations, which is not giving you the motivation to keep working towards your goals. In this situation, you have to choose between changing your expectations and shifting to a realistic and achievable one.
In terms of profession, this card indicates that you are currently experiencing stagnation. This stagnation might have been initiated by you or someone in your surroundings. Either your plans didn't work out as planned and as you were expecting, your hard work is not going to be rewarded with your desired results in the coming time, or your work might have to face a lot of delays. Because of all this, you are getting frustrated and think that the time for you to progress is running out. You might be thinking about giving up and moving to a different job.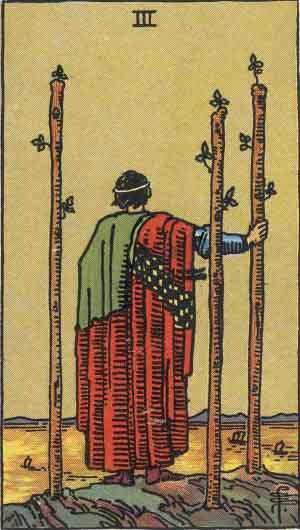 What Three of Wands Reversed Reveals About Your Dream Job: What Is The Most Fulfilling Career For You?
Three of Wands reversed reveals that the best career for you is, one that you might not like. This is a result of miscommunication, a lack of foresight, or perhaps a failure to appreciate the value of a job you currently have. It doesn't necessarily have to be a career in the travel and hospitality industry, but the message is the same. Your role is not well defined, you don't have clear long-term goals, and your company is missing a few details. As a result, you will likely end up with a low-quality job that doesn't offer the career growth you desire. The Three of Wands reversed may also suggest that your career objectives are unclear. You might not have prioritised your long term aims for your future.
This may be a result of you not fully understanding what you need to do to achieve them. Perhaps you don't have a clear sense of the sort of career you desire, or you are only looking at the short-term benefits.
What Three of Wands Reversed Discloses About Starting A New Job
When you are asking Tarot about starting a new job, Three of Wands reversed reveals that you might not like the new role and feel unprepared for it, meaning that at all costs, try to avoid being handed a task that will exceed your capabilities. It might also mean that you have not yet found the position for which you applied, so you will need to continue the search. If you are currently unemployed or in the midst of looking for work, Three of wands reversed here suggests that you have given your job search enough of your attention, and it might be time to bring a new project into focus. Reversed Three of the Wand denotes that you might be feeling stuck in your current position, without having the professional or creative freedom you want.
If you are searching for a new job, you could be worried about losing job security or a financial stability you currently enjoy. Although it may be scary to attempt something new, keeping things the way they are will not bring you happiness.
What Three of Wands Reversed Says About Improving Your Current Job Position
When you are asking Tarot how to improve your current job position, Three of Wands reversed reveals that you need to be more specific regarding what you want. It will help if you keep your goals under wraps for now because your clarity will help you to achieve your aims. You have to become more focused and concentrated if you want to get your career moving in the correct direction. You need to determine the obstacles that you need to get rid of to achieve your objectives. Additionally, you need to evaluate your current position and make a plan.
When it comes to Three of Wands reversed, your career is not in the best shape. You are losing out on numerous business opportunities because you do not project yourself as a competent professional. You need to stop being submissive and learn to assert yourself. The same thing is happening to you too. Your business might not be going through as smoothly as you want and you need to work on your current position. Moreover, you might have to leave your professional life to get into another direction.
What Three of Wands Reversed Reveals About Your Career Strengths
If you pull the Three of Wands reversed in a career tarot reading and you're wondering what are your career strengths, the card is all about your insecurity. You may feel that you are being under-valued or underpaid in your current career position. This feeling is most likely caused by insecurities and lack of self-respect. Remember that if you don't stand up for yourself, no one will do it for you. You have put a lot of effort into building your career, and you should be proud of it. You can't wait to get that paycheck every month, right? Be proud of your work, do your best and take those necessary steps to get that raise. If you are looking for a job, you might find the situation even worse. Do a self-evaluation and figure out what you are lacking to get that better position.
What Three of Wands Reversed Discloses About Your Career Weaknesses
Three of Wands reversed reveals that your career weaknesses are causing stress and unhappiness. You may be afraid of standing out, you may not feel qualified for the job that you have. There may be the fear of failure that is stopping you from taking the necessary steps to advance your career. This card often shows up reversed when the Seeker feels stuck in the wrong career path.
What Three of Wands Reversed Suggests About Improving Communication At Your Workplace
If you want to know how to improve communication at your workplace, Three of Wands reversed signals that you must clear misunderstandings at your workplace. You need to communicate better if you want to advance your career. The Three of wands reversed form suggests that when you get new projects, chances are that you might feel that everything is taking more time than you expected.
What Three of Wands Reversed Suggests Regarding Career Change
If you need advice on changing your career, Three of Wands reversed reveals that you need to be more careful about your choices and the consequences of your actions now. You could be heading into a situation that isn't suitable for you, and you may be accepting this position because you've been overly optimistic about the situation. Be wary of promises that are being made; the other party may be deceiving you. Three of wands can also suggest that this Minor Arcana tarot card can represent a lack of planning or a lack of preparation when it comes to your career. You could be experiencing stagnation and fear of change. Be careful not to allow this to affect your attitude towards your work.
What Three of Wands Reversed Reveals About Balancing Your Career With Your Personal Life
If you want to know how to balance your career and personal life, Three of Wands reversed signals the need to be responsible and focused in your career. However, being too hard on oneself can lead to burnout. Make sure to take a break occasionally to recharge your batteries. You will benefit greatly if you adopt a flexible and healthy lifestyle, as you will be able to handle any emergency you face at work. Try to keep your job as much as you can, but make sure to not take everything too seriously. Relax and have a good time at work.