If you pull the Three of Wands in your reading, the card illustrates the need to stay on a path that is purposeful and strategic for you. The card shows the possibility of making travel plans in the near future if you are planning a trip. If so, you may have multiple destinations to consider. As the card says, your options are abundant, but it isn't that simple because it involves much more than just a choice. It's about making decisions and choosing a specific thing.
The Three of Wands is a card about exploring and expanding your options. The card illustrates your capacity to expand your horizon by considering new options and making plans toward your destination. This card hints at the possibility of a life-changing trip in the near future. It signifies planning, dreaming, and finally taking the first step. This is a chance to explore new opportunities and territories.
The Three of Wands shows that you are ready to expand your horizons since it suggests traveling or studying in an entirely new place.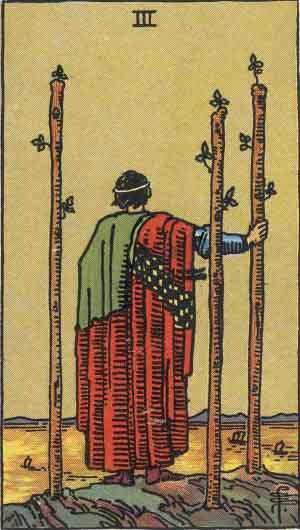 What Three of Wands Card Reveals About How Someone In a Platonic Relationship Feels About You?
If you want to know what are friends' feelings about you while drawing the Three of Wands, the card is a sign that they like you and that your relationship with them can grow to something more serious. With the Three of Wands, you are feeling very secure and comfortable in your relationship and need no stress. But for other people, the card indicates a sign of stability, love, and support. This card suggests you go far in your romantic life, as you have a secure and stable base. Your friend is supportive, and you are sharing the same idea and vision.
The Three of Wands is a sign that those who are close to you will be your friends for life. The three wands in the card mean friendship and a good relationship. Those who don't know you yet will soon get to know you once you let them know the real you. Your love life and romantic life will be filled with pleasure and excitement once you find your soulmate.
For Those Who Are Single: What Three of Wands Card Reveals About How Someone Feels About You?
If you are single, but want a partner, the Three of Wands through the perspective of feelings means you should try to find love when it feels like hard times and isolation will keep you alone. This card indicates that you will find someone who will uplift you emotionally and spiritually. You can expect a relationship to approach soon. However, that doesn't mean that you should wait around for the person you are to appear from the Universe. The best and most convenient way to get what you want is to go for it. If you have a clear idea of what you want or where you are going, it would be helpful if you took the initiative to get there. The Three of Wands in a love tarot meaning can also imply that you will have to wait for a more suitable time to take the next step.
For Those Who Are Just Starting a New Relationship: What Three of Wands Card Reveals About How Your Lover Feels About You?
If you are at the very start of a relationship and want to know what are your lover's feelings about you, the Three of Wands as feelings reveals that your partner feels you as equal. You both have similar values and principles and this is what inspires your bond with each other. Your partner wants to learn from you, and you from your partner, and that is what inspires passion in your relationship. The Three of Wands also foretells a time when you might travel together. This is not a general idea right now, but more like an idea your partner suggested doing together.
This card also signals commitment and a deeper understanding about each other's needs. The Three of Wands indicates that you want to take time for your relationship and explore the world together. The card is hinting that you are compatible people with similar interests who want to do things together, which means that your relationship is moving towards growth and maturity and you might take some significant steps towards getting closer to each other.
For Those Who Are In a Relationship: What Three of Wands Card Reveals About Your Partner's Feelings About You And What Energy Surrounds Your Relationship?
The Three of Wands signal that you have been waiting for the right moment to move on – you both are excited about your relationship and enjoy living with your partner. The card is a sign of good times, which are going to improve your relationship if you have not been very active in your relationship. These changes may be caused due to your long-distance relationship or your plans to shift to a different place. The card indicates that you are in a phase of emotional stability, which will help you both as partners.
Ahead, this card says you and your partner should be talking about your future and what you want to do next. With the three here, you can look forward to a time when there will be a greater freedom from the restrictions of your society. You will feel a lot calmer about your plan to move to the next level, which will keep your love-life active. Chances are that you are working hard for your relationship and putting in a lot of effort so that the relationship stays strong.
Feelings that surround the Three of Wands signal a strong, passionate love, especially for those who are already in a relationship. There is a feeling of growth here, and you and your partner will grow closer through your shared visions and goals. This card can also indicate the potential for a beautiful romantic getaway. A trip or a weekend away can be just what you both need to rekindle your love and reconnect with one another. The chemistry between you and your partner will be rejuvenating and will allow you to take the next step both emotionally and spiritually.
What Three of Wands Reveals For Those Who Want to Know If Their Relationship Is Advancing Into More Serious Commitment Or Marriage?
When you pull the Three of Wands it won't be long until your relationship is headed into marriage or engagement. If you have been wanting to introduce your spouse to your family or in general, it's time to let them in. The card also predicts that your relationship is going to be fun and adventurous. It is unlikely your sweetheart will say no to a trip away or an exciting project together. Overall, this card is a very good omen for your partnership, especially if you're in a relationship where you're seeking adventure.
This card reveals excitement! If you're not married or committed, prepare to take your relationship into the next level. This card predicts a milestone and/or proposal in your relationship. Couples can be feeling ready to take the leap because they are happy and comfortable in the relationship and they believe they are together for the right reasons. It's possible that they now anticipate the next steps together. There is an excitement among the party to take things to the next level. The Three of Wands is often a welcome card in a love spread as it predicts love and romance when you're already committed.
=
What Three of Wands Reveals About Your Ex's Feelings About You?
If you who are wondering what are your ex's feelings about you, the Three of Wands as feelings signals that your ex is still holding a grudge against you and may not be ready for a reunion with you just yet. The Three of Wands as feelings signals that your ex might still have feelings for you, but it is up to you to make things work. You might have to make changes in your behavior, especially if your ex has been the one dragging you two into conflicts and not listening to your opinions in long discussions. However, you must remember that no matter how much you want to reconcile, the ex might refuse to do so. In that case, you must leave things as they are. If the above statement did not fit the circumstance for you, the Three of Wands tarot love meaning can signal the possibility of a third party entering your life. This can be in the form of a new friend or a new love interest.