When you draw the Two of Pentacles reversed in your career reading, the card signals that you may be spending too much time and money on things that are no longer serving you. You might have a side hustle that has turned into a career, while your core job should be paying for your expenses. Or you may have a part-time job that you are not able to balance, leaving you to struggle with debt. Before you know it, you may not be able to continue like this and the Two of Pentacles reversed advises you to examine what it is that is keeping you from making these adjustments. You must also figure out how to scale down.
The reversed Two of Pentacles can also represent bad investments or missteps in your career that are coming back to haunt you. Be cautious about what you are investing in, since even a small mistake can result in a huge financial loss. The Two of Pentacles reversed suggests that you are overthinking or over-planning your tasks, making you miss out on things at work.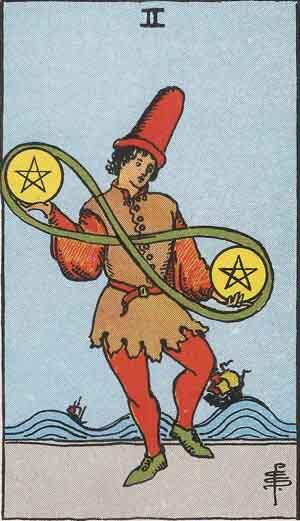 What Two of Pentacles Reversed Reveals About Your Dream Job: What Is The Most Fulfilling Career For You?
If you pull the Two of Pentacles reversed in your career reading while asking what would be the most fulfilling career for you, the card illustrates that your workplace would become too overwhelming for you to handle. This card suggests that you should take time out to focus on your personal goals. You might be struggling to balance your job with your relationships or family obligations, and in that case, you should first balance everything before your career.
What Two of Pentacles Reversed Discloses About Starting A New Job
Two of Pentacles reversed suggests that if you are starting a new job, your current one is collapsing or you are on shaky ground at work. You may be struggling to manage your workload, your co-workers, or the demands of your boss. Alternatively, you might find that you are the only one who is doing any work, and no one else can complete the task. If the former applies, you might consider whether working alone is a sustainable model for you, and whether it's worth the sacrifice if this is all you can achieve. The reversed two of pentacles can also represent being unprepared for the challenges of work. Instead of developing skills, you are developing unhealthy habits and behaviors that are a detriment to your professional development. You may need to go back to school to refresh yourself or invest in learning a new skill.
Two of pentacles often indicate that you may need to prioritize your professional development if you find yourself struggling at work. When the reversed 2 of Pentacles appears in a reading, it generally indicates that you are being overlooked or passed over for a promotion or position due to your shortcomings or lack of experience. It can also mean you're struggling to balance professional and family life.
What Two of Pentacles Reversed Says About Improving Your Current Job Position
Two of Pentacles reversed suggests that if you want to improve your current job position, you might have to pick and choose which battles you fight. It might also mean that you are fighting too many battles simultaneously, which is taking its toll. Sometimes, this card can also point to a lack of focus, which can result later in mistakes that may cost you in the long run. If you are a business or self-employed, you might see that you are overextending yourself, which might leave you feeling exhausted. As a result, your self-discipline and motivation may begin to falter. On the other hand, if you are looking to change your career path, check whether your current job has all the things that you require. Alternatively, this card also suggests that you might become an over-worker, working at a stressful pace without any time for self-care.
Also, sometimes, you might lose sight of what you are meant to do and get distracted by every new project that comes your way. If you are unsure of where to focus your energy, it would help if you prioritized your work.
What Two of Pentacles Reversed Reveals About Your Career Strengths
Two of Pentacles reversed suggests that your career strengths are no longer serving you. You're stuck at a job you dislike, but you're reluctant to leave it because you fear not being able to find another one that will provide the stability and consistency you desire. It may even be because you simply feel that you are overworked, and you are overburdened, and the more you do, the more will be required of you. Alternatively, you may have lost so many opportunities because you were so heavily preoccupied with tasks at hand. You will need to start prioritizing and putting things in order again, in order to regain your focus and regain success in your career.
What Two of Pentacles Reversed Discloses About Your Career Weaknesses
Two of Pentacles reversed suggests that your career weaknesses are becoming more apparent, and you are finding it especially difficult to juggle things. You might have a job that requires lots of multitasking, but your attention and focus are becoming increasingly fleeting as time goes on. Sometimes this card can also suggest that one's financial situation is not going well, as there is a general feeling of instability and stress that one is experiencing. Sometimes this can be due to job instability, which can exacerbate the other problems. When this card shows up in a Tarot spread, make sure you are being practical and organised about your finances. It's likely that your financial situation is worsening if it isn't improving.
What Two of Pentacles Reversed Suggests About Improving Communication At Your Workplace
Two of Pentacles reversed suggests that if you would like to improve communication at your workplace, you could be finding it more difficult to do so. You might be on opposite sides of a debate, each of you failing to see the point of the other person's view. If you have a lot of competing demands on you, you might be feeling overloaded and unsure of how to go on and find a solution to the problem. This card indicates that you have not prioritized your work duties. It might also be a sign that you are overspending or overcommitting yourself, and you need to work out how to strike a balance.
This Minor Arcana card from the Suit of Pentacles might also be a sign that you need to simplify your life and get rid of things you never used or don't serve you any more. Doing so will give you back some peace of mind and enable you to work better and concentrate on what is important. You must find a way to prioritize your work and concentrate on the most crucial tasks, no matter how difficult they might seem. Reversed
What Two of Pentacles Reversed Suggests Regarding Career Change
Two of Pentacles reversed reveals that if you would like to change your career, do so, but you are not willing to follow through on this desire. You may also not have quite enough resources to make this idea a reality. The reversed Two of Pentacles is also hinting at financial insecurity; you may have been experiencing money issues in the past, and they are still troubling you. Take some time to go through your financial documents and discover whether you can take some measures to rectify the situation. At times, this Minor Arcana card can also be a sign that a colleague's behaviour is negatively affecting your job.
Maintain your composure and distance while dealing with this challenging situation, and act with reason and intelligence. When reversed, the Two of Pentacles can also indicate that you are neglecting your financial obligations and debt. It may be time to prioritize your financial situation and be fully responsible, even if it hurts.
What Two of Pentacles Reversed Reveals About Balancing Your Career With Your Personal Life
Two of Pentacles reversed reveals that if you would like to balance your career and personal life, things are getting more out of balance than ever. There could be financial stresses as well as relationship and community burdens. The reversed Two of Pentacles suggests that there are two competing priorities here. On the one hand, you might be experiencing too many demands on you financially and career-wise. On the other, you might be giving too much of yourself emotionally and in your work relationships. This could lead to exhaustion and burn-out, which can lead to a loss of drive, motivation, and productivity. If you find yourself unable to carry on, you'll need to take a step back and take a break. You don't need to do everything at once.