Through a perspective of career Two of Pentacles is a card of hustle. It indicates that at the present moment you are working really hard and putting a lot of effort into your job so that you can achieve your long-term goals. This card usually appears when you are working on projects with your colleagues and are being assisted by them. This card also shows that for the time being, you don't have much space to manage your time and projects well, which might become a problem soon.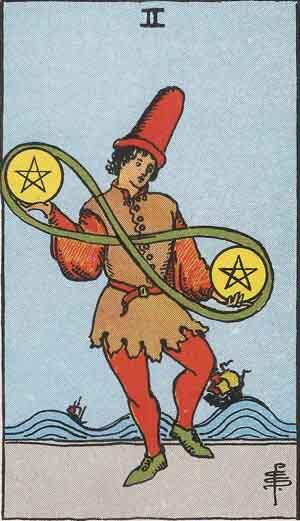 What Two of Pentacles Reveals About Your Dream Job: What Is The Most Fulfilling Career For You?
If you pull the Two of Pentacles in your career reading while asking what would be the most fulfilling career for you, the card illustrates that you are juggling multiple careers at a time, or you are not learning to multitask as well as you should be. You will also receive more work than you can handle as this card suggests that you are a specialist in one particular profession. However, the card also suggests that you must be ready to learn new things at all times. You must keep on learning and researching to be good at what you do. If you are looking for new job opportunities, the Two of Pentacles also illustrates that you must be fully absorbed in your current role right now.
What Two of Pentacles Discloses About Starting A New Job
If you pull the Two of Pentacles in a career tarot reading and you're just starting a new job, the card is all about learning the ropes. You'll be learning the business of your position in an entirely new field, or you'll need to get deeper into the details of your field. Both will be very different and can be overwhelming, but this is normal. Just try to focus on what you can control, namely, your perseverance. You can do this. The card can also indicate that you are juggling too many projects, so you'll need to make some decisions. Do you put the most important thing first? Or vice versa? This card is all about prioritization and making sure that you are not spreading yourself too thin. How can you get better at this? Just focus on one thing at the moment.
What Two of Pentacles Says About Improving Your Current Job Position
Two of Pentacles suggests that if you want to improve your current job position, you need to be more productive and resourceful. You may consider delegating some of your work if you feel that you are overburdened, this way you can improve your job position but do not lose control and focus. If you own your own business, this card suggests you manage your time wisely and be resourceful, as you have a lot of things on your plate right now.
What Two of Pentacles Reveals About Your Career Strengths
If you want to know what are your career strengths, Two of Pentacles signals your skills. You probably are very good in making creative plans, but your inability to execute them to an actual result is becoming a reason for your frustration. Two of pentacles also suggests that if you are already facing an issue with your career, you are not able to cope up with your work life. You are always on the verge of breakdown, and it's becoming a reason for your frustration. The stress is too much for you, and you are lacking energy to work more.
This card shows that you are a multi-tasker and always ready to do many things at one time. You handle many projects at a time without losing focus on them. This quality has helped you a lot to grow and reach your desired heights. At the same time, this card also shows your skill in prioritizing tasks and completing them one after another.
What Two of Pentacles Discloses About Your Career Weaknesses
When you are asking Tarot what are your career weaknesses, Two of Pentacles reveals it can be a situation where you are not putting in much effort toward your career. You may be so busy with everything that you have not given the time to your job. The Two of Pentacles might suggest that you have multiple projects going on at once, which is creating work overload. Be careful that you do not continue this pattern. If your job is giving you too many demands, now is a time where you may need to reevaluate what is working and what seems to be falling short. Sometimes, the Two of Pentacles also shows that you lack motivation and do not spend the time required to do your job well. If you are not learning your craft, you cannot hope to improve in it. It may be time to make a career change, or to focus more energy on your current job.
What Two of Pentacles Suggests About Improving Communication At Your Workplace
If you pull the Two of Pentacles in a career tarot reading and you're wondering how to improve communication at your workplace, the card is all about importance of being able to listen to the needs of both parties involved, and finding a comfortable middle ground. Be mindful of your own needs when communicating with others, as well. You may be willing to compromise on your own issues to ensure that needs are met. Learn to strike a balance between everyone's needs so that everyone can succeed.
What Two of Pentacles Suggests Regarding Career Change
If you want to know if you should change your career, Two of Pentacles is a signal that you shouldn't. The things that are stopping you from making money will be solved in time. Instead, be prepared for challenges. This card does not signify job loss or retirement, but it suggests that you need to be ready for the new and unexpected. For example, if you're waiting for word on a new contract or that new job offer, it could be delayed or canceled. Prepare yourself for eventual changes. Two of Pentacles is common with business owners and company heads who are constantly juggling responsibilities. You will need to prioritize and delegate tasks, especially if your business is not going well. Be careful not to overcommit yourself or to delegate tasks to someone who isn't qualified to succeed. If you feel overwhelmed or overburdened, try not to panic. Take time to prioritize at first and ask for help if you need it. This will ensure your business's success, and you may even find that you have more time for the things that matter most to you.
What Two of Pentacles Reveals About Balancing Your Career With Your Personal Life
If you want to know how to balance your career and personal life, Two of Pentacles is a signal that you should really focus on your finances. This card represents having to manage your money and finances in general. It suggests that you should prioritize your finances by learning better time management skills. It also suggests that you should be careful not to make any risky investments. This card's general meaning is to balance your job and your finances.