If you pull the Chariot in your health reading, the card illustrates that you should adopt a healthy lifestyle and make it a priority to live a happier, healthier lifestyle. The Chariot represents a desire to live a healthy life. This is a powerful card if you want to improve your spiritual abilities or have been struggling with illness or mental health problems. To achieve these goals, you must take charge of your health and give yourself the right to do everything you need to be well. It could also mean a significant pregnancy, birth, or a significant event in your life.
This Major Arcana tarot card indicates that you might already be at that significant moment in your life. If this is the case, it is imperative that you focus on yourself rather than focusing on every single task involved in the event itself. This card may also represent fertility or a pregnancy, or some other significant event in your life.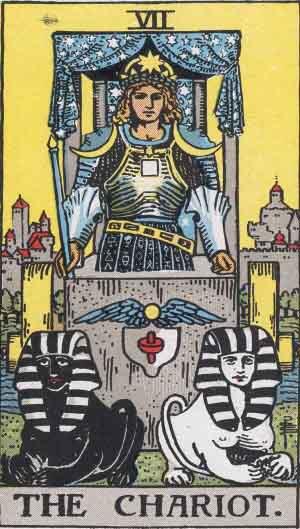 What The Chariot Reveals About Your Physical Health
When you're wondering about your physical health, the the Chariot is all about the positive. It is a card of self-control and discipline. The same is true of your emotional or mental health. If you face struggles of some kind, you'll need to practice moderation and self-discipline. Sometimes we struggle with wanting a certain outcome and going out of our heads to try and control the forces around us. When you see the Chariot in a reading, pay close attention to the message. Meditate if that feels natural to you. Let the power of your will push past any obstacles you find in your path.
What The Chariot Reveals About Your Mental Health
When you would like to know about your mental health, the Chariot signals that you might get the required clarity if you have been struggling with mental health issues for a while. You should take this sign as a suggestion to seek professional help and get the right treatment. The upright chariot tarot card suggests that you must be very patient and focused on your health. As your confidence level gradually increases, you will be feeling better about yourself as well as the things you face in your daily life.
This tarot card also suggests that you must stay away from unhealthy habits and make yourself fit so that you can have a healthy mind as well as body. The upright Chariot tarot card further suggests that you must be disciplined in your health regime and follow the rules as they help you remain away from any health issues.
What The Chariot Reveals About Improving Your Health
If you want to improve your health, the Chariot is a signal that you will need to take a step forward. It's not a time to give up, but it is a challenge to push yourself to do the little things that you can do to make a change. Are you trying to lose weight or stop smoking? If so, the Chariot encourages you to use positive reinforcement as you do these things. Stay motivated and you are sure to succeed.
What The Chariot Reveals About Moving Past Your Health Issues
If you want to move past your health issues, the Chariot is a signal to get moving. Even if it means putting your health at the bottom of the list for now, push forward to find a way to get your needs met. Are you ready to begin the healing process? If so, try meditation, exercise, and making healthy food choices. The good times are just around the corner! If you've been neglecting yourself, the Chariot is inviting you to focus on yourself and your own health, wellness, or spiritual journey. You may be feeling overwhelmed or drained in other areas of your life. Taking care of yourself can be the key to getting all that you desire.
When You're Wondering If There's Anything About Your Health That You're Ignoring, What Does The Chariot Say?
The Chariot suggests that what you are ignoring about your health might be getting in the way of your vitality. If you've been fighting a cold or feeling run-down lately, why not treat yourself to some self-care? Perhaps you've been eating poorly or overdoing things at work. You can tackle your issues now, whether they are mental, physical, or spiritual. Take the reins by taking action!
When You're Wondering If There's Anything That's Holding Your Health Back, What Does The Chariot Say?
When you are asking Tarot if there's anything that's holding your health back, the Chariot reveals that there might be. Your health and vitality are suffering because of the negativity in your life, which you cannot control. But you have the power to take command and run all situations. If you take control, you'll be able to find solutions and change your current course. You always have the option to change your course if you do not like the outcome. The Chariot is a positive indication if you have been wanting to start a diet, get into better shape, or learn a new sport.
There is little doubt that the road to wellness begins with a firm belief in the ability to succeed. The Chariot's message is one of optimism. You have all that it takes to make a significant change in your life. Your desire, determination, and self-control are enough to get you through the challenges ahead. In order to reach your goals, you must believe in yourself.