If you pull the The Magician in your health reading, the card illustrates that it is time to embrace holistic approaches when it comes to health. You will find yourself being more active than you usually are. It will be hard for you to sit still because your body is telling you it needs movement. This can be applied not just to your body, but also to the your physical and emotional well-being. Look for ways to bring joy and vitality into all parts of your life. It's time to embrace a more spiritually conscious approach to health, too, because the Magician upright card is definitely linked to mental wellness. It's a common misconception that you can push through pain and physical suffering. However, your mental strength will be your greatest asset. Acknowledge the good things in life, be thankful for the gifts you have, and keep things positive!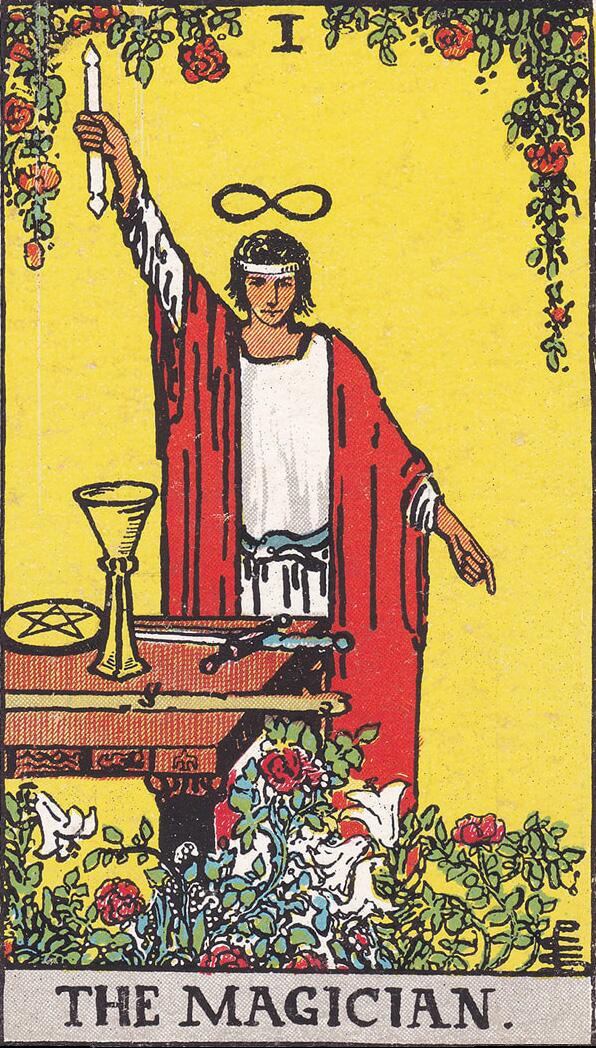 What The Magician Reveals About Your Physical Health
If you're wondering what's the state of your physical health, the Magician reveals that it's excellent. Because this card is all about manifestation, it could also be a message that you are creating something that will positively impact your health. If you're having trouble losing or keeping weight, the Magician encourages you to put your attention on creating the kind of energy and momentum that will carry you through the long term.
In addition, try to keep your mind, body, and soul in balance. You'll need to create a healthy routine that includes at least a little exercise at least five times a week to maintain fitness, and this should include healthy food selections. Maintain a positive mental attitude by setting goals, asking what you want, and fulfilling your objectives so you can achieve success. Furthermore, this upright Major Arcana tarot card depicts the power of our minds in influencing our health and vitality. It advises you to try to keep your motivation and energy levels high at all times.
What The Magician Reveals About Your Mental Health
If you're wondering what's the state of your mental health, the Magician signals a positive change. This doesn't just apply to you but also to those around you. The Magician is a "yes" card, so it encourages a lot of positivity and optimism when it comes to your health.
The Magician is a good card to get during a spiritual and health reading or a tarot reading because the message is one of positivity and abundance. You can expect positive changes to happen to you soon, regardless of your current state of health. The Magician urges you to trust your instincts and not let your fear mongering stand in the way. The biggest lesson is to surround yourself with people who uplift you spiritually and financially.
What The Magician Reveals About Improving Your Health
If you want to improve your health, the Magician signals you're on the right track. You believe in yourself, and you have faith that what you are doing will bring you results. Continue doing what you're doing – it's already working! Self-improvement is an ongoing process – keep on pushing.
What The Magician Reveals About Moving Past Your Health Issues
If you're hoping to move past your health issues, the Magician illustrates what is needed to manifest a positive outcome. You must remain consistent, focused, and dedicated to your goals. If you're seeking a promotion or otherwise endeavoring to make meaningful changes in your career, a similar focus on yourself is necessary. The same is true of your exercise and nutrition plans. Don't give in to any temptations to have a second helping of cake or a beer. Instead, adopt a mindset of gratitude for what you already have. You have what you need to succeed and should only give your attention to what you'll need to manifest a positive outcome.
The Magician Tarot card represents achieving your highest potential physically, emotionally, or spiritually by using your mind, will, and concentration. It also represents the mastery of one's powers. Because it is a Major Arcana card, it can have a great deal to say about overall wellness. The Magician Tarot card in health and spirituality readings denotes that you can be about to experience a significant improvement in your health.
When You're Wondering If There's Anything About Your Health That You're Ignoring, What Does The Magician Say?
If you want to know if there's anything about your health that you're ignoring, the Magician signals that you'll need to listen to your intuition. You should make an appointment with a doctor or other medical advisor to get some advice. The Magician is also an indication that you need to work on yourself spiritually. Are you letting negative energies from the outside get you down? If so, start removing toxins from your life and cleaning up your home energy.
When You're Wondering If There's Anything That's Holding Your Health Back, What Does The Magician Say?
The Magician suggests that if you would like to know if there's anything that's holding your health back, don't hesitate to ask someone (traditional or non-traditional) for guidance. Also, if you want to look after your health, start taking good care of yourself. You have to maintain a balance in your life to keep your health in good condition. On the other hand, this Major Arcana card gives you a sign that you should focus more on your spiritual side as well. This will help you manage your mental health and understand your soul.