The Judgement reversed signals the need to take a critical look at your life and make changes where needed. The time has come for accountability and to face the consequences of your actions. You must decide if you can live with past mistakes or if they truly represent who you are.
The reversed Judgement card is a call to take a critical look at your own life. Is it in balance? Are you making the right choices for your life? Are you living a life that is worthy of others? Do you have someone that you let go of and gave up on long ago? Now is the time to take inventory, and if there are areas of improvement, then get in action. It could also mean that you are making life-altering decisions. You must wait for the answer to come from the heavens before taking any action. The Judgement reversed tells you that you are close to completing a cycle in your life and are ready to move on. You may have experienced a lot of turmoil in your life that has been giving you a great purpose and drive.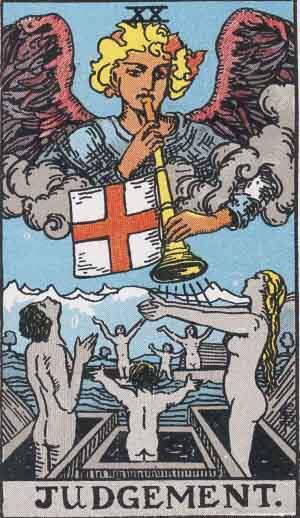 What Judgement Reversed Reveals About How Someone In a Platonic Relationship Feels About You?
If you want to know what your friend feels about you and you pull the Judgement reversed, the card signals that your relationship might be in an uncomfortable phase. There is a lack of honesty or communication in your relationship. It could be that one of you has been dishonest about how you feel, and the two of you are suffering due to that. Sometimes, the card can also point to a time when one of you will leave the relationship, and the other will suffer as a result. If it's you, know that there is no point in forcing someone to be with you unless you're ready to be with them. Also, you need to be careful that you are not putting others through the suffering that you have gone through.
For Those Who Are Single: What Judgement Reversed Reveals About Your Future Love Life?
When you are single and looking for a romance, the Judgement reversed as feelings illustrates that you may have gone through a lot of introspection or self-reflection, which has led you to evaluate shortcomings, and may also have created a better understanding of your relationships with other people. This card may suggest that people in your life may now be holding this in good stead, and this can be used for your benefit to create a better and more stable relationship than the one that has let you down in the past.
Reversed Judgement in love indicates that you must get clear about your judgment to find a fulfilling love and relationship. The Judgement (reversed) tarot card love meaning indicates that you should take all the time you can to understand your emotions.
For Those Who Are Just Starting a New Relationship: What Judgement Reversed Reveals About How Your Lover Feels About You?
When you are embarking on a new relationship and you want to find out what your lover feels about you, the Judgement reversed as feelings illustrates your partner's emotions – the person you are paired with right now may be having second thoughts about your relationship and is thinking about whether it's right for them or not. With this card, you may feel that your partner is being unfair. It may be the perfect example of jealousy, envy, or a lack of trust.
If you feel you are not getting the love you deserve, the Judgement reversed can mean a change in your romantic life. You could experience a break-up, divorce, or a separation, or the other person may be evading responsibility for the situation, thus you could be the only one who suffers the consequences. Examine how you are feeling about the situation and whether you are responsible for the troubles.
For Those Who Are In a Relationship: What Judgement Reversed Reveals About Your Partner's Feelings About You And What Energy Surrounds Your Relationship?
If you are in a relationship, the Judgement reversed as feelings is all about the past. You may have faced a break in the relationship, like a breakup or separation which may have left scars. The card may suggest that you will have to heal these wounds and make yourself ready for building a relationship again. Sometimes, this card may indicate that the past wounds are getting the last toll before a relationship regains its strength. The relationship may be trying to make up for the past mistakes. If this is not the case for you, think about whether you are ready to face the past again and take responsibility for what happened.
The Judgement reversed as feelings sometimes signals a relationship is difficult to maintain. There can be some toxic dynamics in the relationship that is putting a strain on you or your partner. It can be about a feeling of jealousy, or possessiveness, or controlling behavior. One person in the relationship is feeling dissatisfied or unsatisfied with the relationship. This person can be you or your partner.
What Judgement Reversed Reveals For Those Who Want to Know If Their Relationship Is Advancing Into More Serious Commitment Or Marriage?
The Judgement reversed means that you or your partner are acting in ways that are hurting your connection. You should seriously consider whether this is the right partner for you. With that, be careful with your words and actions. Avoid giving your partner any reason to doubt you. Also, think twice before you make any romantic proposals. You may be being misunderstood.
The card also indicates that you or your companion may not be taking accountability of their actions. This can be a sign that one of you may be having a hard time taking responsibility of their actions and may even be blaming the other for the problem.
What Judgement Reversed Reveals About Your Ex's Feelings About You?
The Judgement reversed as feelings is all about resentment and recrimination. You may have done something that you feel your ex partner might not forgive you for, and this might create a feeling of resentment between the two of you. There will be a lot of arguing, a lot of hurtful words, and it might even turn into an argument. This person might even hate you.