When you draw the Star, the card signals that it's time to go out and start anew. You are about to enter a new phase of your life, one that is full of hope, faith, and belief. You are sure to reach a deeper understanding and maturity as you dive into the new realms awaiting you.
If you are wanting to change your life, The Star encourages you to be bold and take risks based on faith in your abilities. The Star is often seen as a healing card and is also about forgiveness, redemption, and wholeness. With the right frame of mind, you can accomplish anything.
The Star often shows up when you are embarking on a new adventure. You are looking to create space in your life for a new and exciting endeavor such as travel, romantic escapism, or a business investment. You are ready to jump in with both feet and have a whole new perspective on life. You don't care where you go or what you do so long as it is an adventurous journey.
The Star often appears when a connection with the Divine is being highlighted.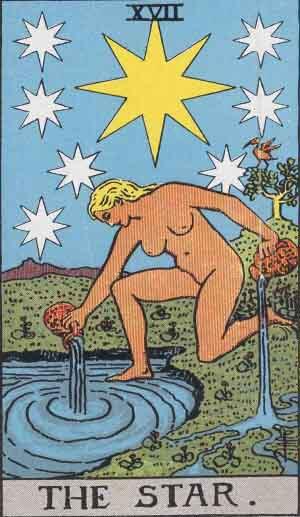 What The Star Card Reveals About How Someone In a Platonic Relationship Feels About You?
If you want to know what are friends' feelings about you and you draw the Star, the card is a sign that they admire you. However, it is also a warning sign to be more cautious about your choices while being with others. Your self-worth will be a deciding factor here. The Star suggests that you make no compromises on your self-worth; it's vital that you stay confident and positive in order to attract the right partners. The Star in tarot cards asks you to be mindful of those around you. It can foretell a period of tranquility and renewal in your romantic life if you are committed; however, it warns you to be cautious of those who may try to take advantage of you.
For Those Who Are Single: What The Star Card Reveals About How Someone Feels About You?
If you are single, the Star can mean that you will meet someone who is mature, sincere, and loyal. This person should have a kind and considerate nature and will treat you the way you do them. He or she will make the effort to develop a relationship with you and won't just quickly move in after a false start.
The Star as feelings is also about hope, hope that you will meet someone new in your life. This card, however, may indicate that you have unrealistic expectations or hopes for a certain person.
For Those Who Are Just Starting a New Relationship: What The Star Card Reveals About How Your Lover Feels About You?
If you are only starting a new relationships and you want to know what your lover feels about you, the Star through the perspective of feelings reveals your lover has positive feelings for you. And your partner is feeling inspired by you. Your relationship is in the correct path. If you are already in a relationship, now is the right time to celebrate your relationship, as it is making you both feel motivated and inspired. Celebrate everything together.
Your lover is feeling deeply attached to you and they love you like crazy. Also, they love you unconditionally and love you exactly as you are. Your lover feels that you are their soulmate and you both complement each other. You need to feel the same feelings as your lover does. Don't try to change them to fit the needs of your love life. Always give them the time that they need to get used to you.
For Those Who Are In a Relationship: What The Star Card Reveals About Your Partner's Feelings About You And What Energy Surrounds Your Relationship?
If you are in a relationship, the Star as feelings signals that there is nothing you need to worry about. It suggests that you are in a healthy and loving relationship with your lover. Now is the time to take the next step. If you are not ready for marriage, the Star advises you to take your time; you will come out ahead in the long run. If you're not looking for love, The Star can also be a sign that your single status is bringing you new perspective and an awakening of your spiritual needs. You have found something within you that was missing, and it is bringing you a deeper sense of empathy and understanding towards others.
The Star as feelings signals love. It's time to reconnect with your partner. The Star encourages you to focus on the good in your relationship and avoid any negativity. Do you feel a sense of distance in your relationship? This tarot card provides a feeling of hope that things can change. Sometimes, we need to put in a little bit of extra effort if things are falling apart, but it can also be the opposite.
What The Star Reveals For Those Who Want to Know If Their Relationship Is Advancing Into More Serious Commitment Or Marriage?
When you pull the Star and you're asking if your relationship is heading into marriage or engagement, the card reveals a positive answer. The Star is a sign that the positive forces at play in your love life will lead to your commitment ceremony or marriage. Your relationship may have been troubled, filled with conflict, or on shaky ground before. But now is the perfect time to take things to the next level, even if you've been hesitant to do so before. The Star tarot love meaning suggests that the relationship will be a success if you and your partner have chosen to marry. By becoming one person, you'll create a more stable balance and allow yourself to grow into a stronger, more stable combination. As a couple, you may be more secure, connected, and passionate than ever. A new generation is being raised within you, and you will play an important role in the lives of these children.
What The Star Reveals About Your Ex's Feelings About You?
If you are wondering what are your ex's feelings about you, the Star as feelings signals that your past partner is still very much in love with you. The Star as feelings signals that your ex wants you back into the relationship.