Three of Cups in your reading illustrates that you will be celebrating with your friends and family. You might have already planned a few festivities such as a wedding or a birthday party, and they seem to be on the way. Whatever reason is behind the celebration, invite your loved ones and enjoy the time together with them.
The Three of Cups also shows a sign of friendship. There shall be a lot of harmony and camaraderie between you and your friends and family. As you all get together, you shall appreciate each other's presence, their support, love, and warmth. Remember the good times you had in the past and start appreciating the positive relationships you have with your friends. Be proud of your relationships and enjoy the time with your pals in good mood. The Three of Cups also signals that you are ready to forgive and forget any past disputes. Forgiveness and letting it go are some of the most powerful characteristics of the Three of Cups. You shall be able to go out and meet new friends and enjoy each other's company.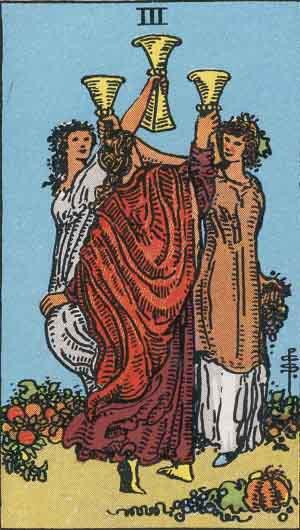 What Three of Cups Card Reveals About How Someone In a Platonic Relationship Feels About You?
When Three of Cups appears in your reading and you're asking how your friend feels about you, the card reveals that the person likes you a lot and wants you in their life. Your friend will be very glad to be an important person in your life.
With the Three of Cups tarot love meaning, it might be difficult to choose between your friends, even if you have to decide between them. This card might also reveal that your friend might feel uncertain about the bond they share with you. All you need to do is make sure your actions are aligned with your true intentions and remain friendly with your friend at all costs.
For Those Who Are Single: What Three of Cups Card Reveals About How Someone Feels About You?
Those who are single, the Three of Cups as feelings is all about pleasure and indulgence. If you've been struggling to find love, now is the time to get away, spend some quality time. If you're single, you might find that a love interest or a friend is willing to take things to the next level. If you're interested in someone, don't be afraid to pop the question. There is no harm in giving love a chance!
The Three of Cups is especially significant if you're single since it is a sign that you will shortly come across someone with whom you'll fall immediately. This person could be a companion or a buddy who is in your circle of friends. Since this individual is someone you already know, this may make this union especially satisfying. The Three of Cups is a good indication that you'll be meeting someone special in the coming days or weeks.
For Those Who Are Just Starting a New Relationship: What Three of Cups Card Reveals About How Your Lover Feels About You?
If you are at the very start of a relationship and want to know what are your lover's feelings about you, the Three of Cups as feelings reveals that your partner has feelings of love for you. As for your feelings for your partner, you both very well understand the magnitude of your love for each other. Right now, you are probably celebrating with your partner's happiness. This card illustrates the joy you and your partner get when you share a happy moment with your dear ones.
This card suggests that love is most powerful when it comes in groups. You get to have more fun and pleasure in your love life when you are surrounded by your loved ones as it creates a better atmosphere to experiment and appreciate in your love life. Enjoy and have fun in the company of your partner.
For Those Who Are In a Relationship: What Three of Cups Card Reveals About Your Partner's Feelings About You And What Energy Surrounds Your Relationship?
The Three of Cups as feelings illustrates that your partnership is all about warmth, exuberance, happiness, and closeness, especially when you are in a relationship. It denotes that you and your partner are finding it simpler to work together and get along. This card frequently also suggests events or occasions that involve getting together with family, close friends, or even former partners. Right now, you could be having a lot of fun. When it comes to your emotional connection, the Three of Cups represents genuine feeling and devotion. If you and your spouse have been considering starting a family, get ready to grow because the Three of Cups denotes a pregnancy. If you are in a relationship, the Three of Cups serves as a sign that it is beginning to feel more stable and traditional.
What Three of Cups Reveals For Those Who Want to Know If Their Relationship Is Advancing Into More Serious Commitment Or Marriage?
The Three of Cups card is generally a very fortunate omen for couples as it portends that the time is coming for you to settle down. When this happens, you can anticipate a time of excitement and joy. It may also portend a coming of an era, such as an engagement, marriage, or the beginning of a new chapter in your life. It's a celebration, so you can anticipate a fantastic time with your family and friends.
What Three of Cups Reveals About Your Ex's Feelings About You?
The Three of Cups tarot love meaning can indicate that your ex partner will soon start seeing you in a new light again. This can mean many things, but for now, try not to take it as a criticism of yourself. Take this time to find a new romantic interest, and if you choose to take this opportunity to patch up your relationship with your ex, you can find healing and happiness. The Three of Cups also signifies happy and prosperous gatherings in your social life. If you have been wanting to start a social group or have been considering having a party, now is a good time to consider doing that.