When the Two of Swords appears in an upright position, the card is all about clarity, decisions, and communication. If you're at a crossroads about what steps to take in your life, the Two of Swords shows up as a reminder to stop and think critically. Ask yourself these questions: What does my higher self want? How can I serve my highest good? What do I need to do in order to bring myself into alignment? Do I trust my intuition right now? In order to achieve balance and closure, you must first understand what is in alignment with your Higher Self, and find your answers by listening to your inner voice. Then, you must look back to see what you've already done in order to move forward and learn from your past experiences.
Sometimes, the Two of Swords shows up when you need to confront difficult or painful issues. Even if you already feel like you've had enough, this card tells you not to give up. Try to gather all the information that you can before making any big-changing decisions. Also, consider all the options before you; there might be another way out.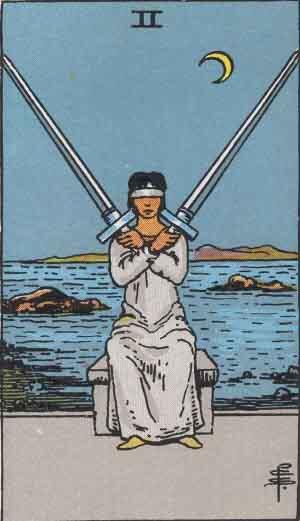 What Two of Swords Card Reveals About How Someone In a Platonic Relationship Feels About You?
When you are in a platonic relationship and you draw the Two of Swords while asking how that person feels about you, the card reveals that the person is not comfortable around you right now. This person might be with you and pretend to treat your feelings as their own, but you can't feel that. The other person might have a crush on you or is getting jealous. This person also needs time for them to adjust.
This card reveals that the person doesn't want to show any expression of their feelings to you, and prefers to wait and see how things develop.
For Those Who Are Single: What Two of Swords Card Reveals About How Someone Feels About You?
The Two of Swords as feelings is all about finding a balance for those who are single. Because this card is associated with the unconscious, it can be tricky as to what you should feel. A love connection may have the potential to stir up strong feeling, and one might be overwhelmed by these urges. The 2 of Swords in a love Tarot spread might also be a sign that your love life or your romantic relationships are particularly confusing or even painful right now. The Two of Swords is a Minor Arcana card of emotional overload, and it may occasionally represent the need to cut off contact with certain individuals, a choice or sacrifice in order to avoid more heartbreak.
As you navigate your relationships, you'll need to evaluate each of them to ensure that you can make the choice that will give you the most satisfaction. The Two of Swords as feelings is all about avoiding conflict and keeping the peace.
For Those Who Are Just Starting a New Relationship: What Two of Swords Card Reveals About How Your Lover Feels About You?
The Two of Swords as feelings signals your new partner's confusion about you. If you are just starting a new romance and are interested what your lover feels about you, this card represents hesitation. Your lover is confused about some things, and they are unsure of what they want in a relationship.
You must be cautious about your intuition at this point. You would receive a sign from your instincts that tells you to refrain from moving too fast and to make the appropriate compromises to take your relationship to the next level. Right now, the two of you are just putting up the pretense of acting together, as you are both holding back from giving your whole self to each other.
When communicating, you may find that you are unable to clearly say what you mean because you are unsure of what the other person is thinking and experiencing. When it comes to romantic relationships, if you pull the Two of Swords, it may be a sign that your relationship is experiencing some communication problems right now. One person may not be able to express what they are thinking, or the sentiments they have, even though they may feel as though they are sharing everything with their potential partner.
For Those Who Are In a Relationship: What Two of Swords Card Reveals About Your Partner's Feelings About You And What Energy Surrounds Your Relationship?
The Two of Swords as feelings is all about confusion, and this is the main message if you are in a relationship. If you see this card, it may also be an indication that you and your partner have been drifting apart. It may be hard to see clearly where you stand, and whether you are truly compatible. Because of this, it can be quite difficult to make a decision on the best course of action for you and your relationship. Now would be a good time to take some time for yourself to meditate and get your thoughts together. If you need some breathing room, you can also opt to spend some time with your family, or on vacation.
What Two of Swords Reveals For Those Who Want to Know If Their Relationship Is Advancing Into More Serious Commitment Or Marriage?
The Two of Swords reveal that it will take some time before you are certain if the person you propose to is the right fit for you. If you are wondering, if your relationship is progressing into more serious commitment, such as marriage or engagement, the Two of Swords tarot love meaning in a relationship denotes that it could be a period of uncertainty for you. The decision that you make must be one that you feel strongly about if you are prepared to move forward with it, especially if you are ready to commit to that person in a serious way. It could be a time of confusion, even if the person you are with loves you very much.
Even if the person you're with loves you very much, you may feel like you are in the middle of a difficult decision. This decision can be a confusing one, since you'll be taking a big leap. You'll want to know that you made a solid decision and a well-educated one.
The Two of Swords point to decisions made without understanding the consequences. Currently, the relationship is in a stalemate of sorts. If you and your partner have not taken the time to talk about your fears and insecurities, those fears can be keeping you apart. Maybe you don't have the same values or goals or you may have different morals. If you can take the time to get the conversation going, you may be able to work out the solutions you need.
What Two of Swords Reveals About Your Ex's Feelings About You?
The 2 of Swords here tells us that this person is very confused about his or her feelings. If you are asking what are you ex's feelings about you, this person is unable to make up their mind. The person is confused because they don't know what they want, and also because of other external factors. At times they want to be single, but then they find themselves feeling alone, and they want to be in a relationship again.
The Two of Swords Tarot card represents conflicts and obstacles, making it a difficult one to deal with this situation. This card is a reminder that it is your life and you have the right to make whatever decision you want. On the other hand, it indicates that you are too preoccupied with your past and that you are struggling to move forward with your life.