Page of Wands in your career reading signals fun times ahead. This is a good omen for new projects or the end of a job you may have been dreading. These changes can be welcomed with a smile. You may be excited about the future and perhaps dreaming of the adventures that life is sure to bring. If you are ready for new challenges, they will come your way.
Now is a good time to evaluate your current circumstances and decide what changes you will be making to your career. This is the time to discover what motivates you and what makes you want to succeed. Now is also a good time to consider starting a new career path. This is a creative venture that is sure to be successful. You possess the determination and skill to succeed in whatever you set your mind to.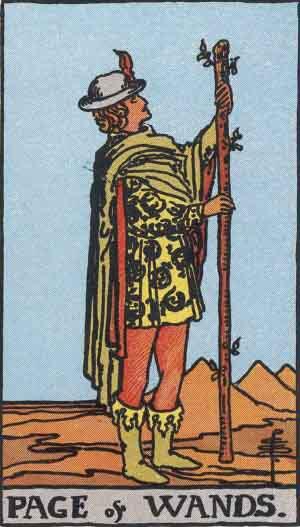 What Page of Wands Reveals About Your Dream Job: What Is The Most Fulfilling Career For You?
If you pull the Page of Wands in your career reading while asking what would be the most fulfilling career for you, the card illustrates that you have the potential to have a career in a competitive field. You seem to be constantly dreaming about starting your own business, or even starting a career in which you can do both. This card suggests you take a leap of faith and go for your dreams. Your life is going to change as you start the new career choice.
What Page of Wands Discloses About Starting A New Job
When you are asking Tarot about starting a new job, Page of Wands reveals that you will receive your job offer and this means that you will be excited and enthusiastic about your new position. This Page tells you that you will be a great addition to your team and that you will have more fun and enthusiasm than anyone else in the office. The Page of Wands can also mean that you are in the process of establishing yourself as competent and skilled in your chosen field. So, you should feel very proud of yourself as you are now a rising star in your industry.
Page of Wands denotes that your career can be at its best right now. So, you can hope to have new opportunities and better prospects soon. This Minor Arcana card in your reading session will help you to make decisions on your career that will give you happiness and a sense of fulfillment. These decisions are going to benefit your career and your financial future. Page of Wands depicts the importance of taking risks and acting now. But, this does not mean you will not benefit from your choices in the future.
What Page of Wands Says About Improving Your Current Job Position
If you're hoping to improve your current job position, Page of Wands illustrates a new career path that may be in your favor. If you've been thinking of studying something like art, or music, or even creative writing, you should probably take the leap. A career in these areas is sure to offer you a new perspective on life that might be exactly what you were looking for. If you feel like you've been struggling to find something that fulfills you in your present position, you should look for new opportunities.
What Page of Wands Reveals About Your Career Strengths
If you need advice on your career strengths, Page of Wands reveals the traits that you possess that make you special. This card suggests you focus on your natural talents and use them to make your life better. In the context of career, you are full of energy and passion and you can use them to make your dreams come true.
What Page of Wands Discloses About Your Career Weaknesses
If you want to know what are your career weaknesses, Page of Wands is a signal that you should focus on improving communication skills, as your approach towards work matters a lot. This card also indicates that you are a very ambitious and energetic person. You should use this quality in your field, as it would help you in achieving your goals. You should keep in mind that working hard is not enough. You need to keep on exploring ways to improve your skills and utilize them to the fullest. This card indicates that you are an enthusiastic and motivated person of yours, and if you keep on exploring new exciting things, you will enjoy every moment of your work.
What Page of Wands Suggests About Improving Communication At Your Workplace
If you would like to know what Page of Wands reveals about improving communication at your workplace, look at the work you have done lately. You are likely to be very talented and creative, but you may have quite a few communication issues. Your ideas are probably well-formed but not well-communicated, which can lead to misunderstandings and frustrations at work. While this is unpleasant, you don't need to remain silent about your concerns. Instead, you should use this as inspiration to talk about what you want to change and how you can better communicate your thoughts. If you are looking for work, the Page of Wands represents that you may have great talents, but you should make sure that you also communicate your skills clearly. Someone may be impressed by your abilities, but you will not be employed if your resume does not clearly show your talents.
What Page of Wands Suggests Regarding Career Change
If you need advice on changing your career, Page of Wands reveals that the time is now. The Page believes in taking risks and following your dreams. Consider what you want out of your career and start making plans to gain that. If you are currently looking for a job, this can be a sign that you should move forward with a more direct approach. The Page of Wands can also mean a promotion or a new business venture is near. Have you been feeling stuck in your current role? You have the power to make this work. Do something different!
What Page of Wands Reveals About Balancing Your Career With Your Personal Life
When you are asking Tarot about balancing your career and personal life, Page of Wands reveals that you will soon be ready to take a big step in your life and begin a new chapter. If you have been considering switching careers or leaving your position, this card tells you that now is an excellent time to do so. Go for the position that you are passionate about, and prepare for long days, uncertainty, and surprises in your path ahead. No matter what happens, you will use your creative abilities to succeed in your ventures. This card also serves as a reminder to make yourself aware of the opportunities that are available to you. Don't be afraid to take a stab at something new. Your natural confidence and enthusiasm give you an advantage over others.