When the Page of Wands appears in an upright position, the card is all about your passion, fire, and energy. This energy can bring you a lot of good experiences and opportunities. You are very impulsive and adventurous. You enjoy every moment of your life, and you don't care much about the outcome. You are an adventurer and love to explore new places, maybe you even love to climb mountains and hike in the woods. You are always ready to explore the unknown. You do not know what may come next.
The Page of Wands is a sign of a free spirit, and you believe in yourself and all your capabilities. You love to be out in the open where you can take all the chances you wish. You love adventure and are ready to explore the world with no fear and no restriction. Don't be afraid of failure, and don't look down on yourself just because you are new to the field where you are going.
The Page of Wands is a sign of potential.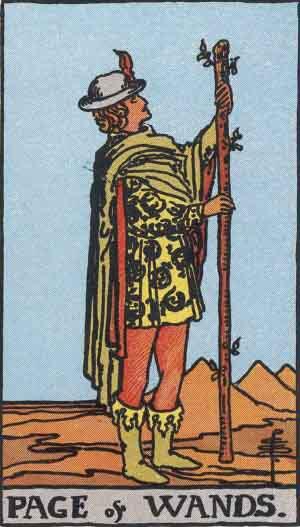 What Page of Wands Card Reveals About How Someone In a Platonic Relationship Feels About You?
If you want to know how someone in a friendly relationship feels about you and you pull the Page of Wands, the card discloses that the person will be friendly towards you. If you are single, the person you like will become a good person who will appreciate you and be loyal to you. Your relationship with your friends will be fun. In a love tarot reading, the Page of Wands is also an indication of someone who is adventurous. Chances are that you will get lots of adventure in your friendship and will be crazy and playful with your potential partner.
This person will be a fun-teller and will always remind you to have fun with everything you do in life. If you get romantic or go out with your partner for a dinner date, you can be sure that you are with a very lively and entertaining person. This card also states that the person you are dating is a person who is going to take you on adventurous and fun dates. Be ready to spend more time with this person in order to make your relationship feel exciting.
For Those Who Are Single: What Page of Wands Card Reveals About How Someone Feels About You?
The Page of Wands as feelings is all about excitement and the anticipation of finding love, especially if you're single. Your confidence in yourself, a natural talent for self-expression and love of adventure and travel is what is attracting the love you want most. The Page of Wands as feelings is all about action and enthusiasm. Perhaps you have been a bit too busy to look for love recently. Do you have a zest for life? Do you love to go out and meet people? This card comes as a perfect reminder to focus on the things that make you happy and meet people as a by-product.
For Those Who Are Just Starting a New Relationship: What Page of Wands Card Reveals About How Your Lover Feels About You?
If you are only starting a new relationships and you want to know what your lover feels about you, the Page of Wands through the perspective of feelings reveals that your lover feels you as a person with new and unique qualities. The feeling of respect that your lover has for you and also your courage and confidence to take up any challenge and fight for what you believe in is a quality your lover feels about you. Your lover wants you to be the best version of yourself and want you to be proud of yourself.
For Those Who Are In a Relationship: What Page of Wands Card Reveals About Your Partner's Feelings About You And What Energy Surrounds Your Relationship?
For those who are in a relationship Page of Wands as feelings signals a period of new energy and passion. Even though some might be hesitant to share their feelings, the relationship is one that the Seeker feels is deeply connected with them and they are comfortable sharing with their partner. In the Seeker's past relationships, they may have walked into the relationship with their hearts not being fully open, making it harder for them to develop a healthy and loving partnership. In order to heal from this, the Page of Wands is suggesting that healing from past traumas needs to take place before both parties are willing to fully give their hearts.
What Page of Wands Reveals For Those Who Want to Know If Their Relationship Is Advancing Into More Serious Commitment Or Marriage?
The Page of Wands reveals that you will soon receive some type of good news, if you're wondering if your relationship is advancing into marriage or engagement. However, you should still remain patient as it is likely that any news will be in the form of gossip or rumors. The Page of Wands is a sign of romance and has an element of fun to it. This does not necessarily mean that you or your partner will have to be all work and no play; just a little bit of fun can be beneficial for both of you. Your love life can be full of surprises when you are in a relationship because the Page of Wands brings good news, but it is likely that they will be romantic ones.
What Page of Wands Reveals About Your Ex's Feelings About You?
If you who are wondering what are your ex's feelings about you, the Page of Wands as feelings signals they might have feelings for you. Chances are that your ex is excited to see you back in their life and would love to be with you again. This is a general reading of the page of wands tarot love meaning. But with regards to questions about how the ex will feel if you make a move, the Page of Wands indicates that this person might move very fast and that you might quickly find yourself in the same situation all over again. Are you sure you want to go there again?