Through a perspective of career questions, Seven of Cups reveals that the opportunities in the field of your current profession are abundant right now. But the problem is you are unable to evaluate the suitable opportunities. You have to create a vision for yourself. This vision has to be about the future you want. In your dreams, you also have to imagine what it would be like to have all these opportunities with the vision you have got for yourself. This will help you to make your decisions wisely.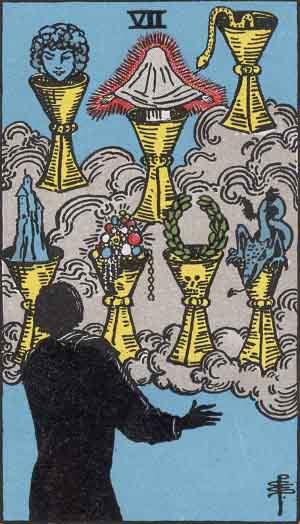 What Seven of Cups Reveals About Your Dream Job: What Is The Most Fulfilling Career For You?
Seven of Cups reveals that the best career for you is, in fact, something that comes to you unexpectedly. This is a good card to draw if you have recently lost a job or your job is on the line. If you are self-employed, it is likely your best option is to start your own company. If you're not yet at that point in your career, Seven of Cups suggests that there may be a job opening that you weren't even aware existed. Are you thinking of starting a new career? Do you have a passion for something you may not have thought much about? Now is a great time to get to work! If you can't find the job you're looking for, try searching for it differently.
What Seven of Cups Discloses About Starting A New Job
If you're in the process of starting a new job, Seven of Cups illustrates that you may be experiencing a bit of a choice when it comes to your career. Are there options that you have not considered? There may be a new position available to you that would seem perfect, but you're hesitant to take the leap without knowing all there is to know about the situation. Although there's nothing wrong with that, sometimes we need to trust where our intuition is taking us. You might want to look into the other possibilities to get a fuller picture of the decision that you'll need to make before making any significant commitments. In regards to your current job, Seven of Cups can suggest that you're open to switching to a new position with greater flexibility or control. Do you believe you have the flexibility to be a success in your line of work? If so, take a chance on something bigger and brighter.
What Seven of Cups Says About Improving Your Current Job Position
Seven of Cups reveals that when you want to improve your current job position, you need to think out of the box. This card often shows up when you are being offered a new, exciting position, but you aren't sure what you should do. This card may suggest that you are being lured with promises of higher pay and exciting projects but will have to face the reality of a completely new job with many compromises. Or, you may be thinking about quitting your job altogether to strike out on your own. Are you dreaming of starting your own business? You have the chance this time. Try not to think that you have to be successful right away. Be patient. You have a lot of resources to work with right now. Set up a budget, look for alternative income streams, think about the best way to approach your goals. Think of every angle. There may be some learning involved while you work, but you will get there.
What Seven of Cups Reveals About Your Career Strengths
If you want to know what are your career strengths, Seven of Cups signals that you are creative, but you are unable to use this talent in your current professional life path. You may have many ideas, but you are not able to act on them or explore them further. This card indicates that you have many opportunities available to you, but you are holding yourself back to do nothing. Seven of Cups also signals that there are a lot of options available to expand your career in the field of art, design, and entrepreneurship. It's you who is holding yourself back from exploring these options.
What Seven of Cups Discloses About Your Career Weaknesses
If you want to know what are your career weaknesses, Seven of Cups signals those weaknesses and their causes. The card reflects your anxieties. You might not be able to make decisions because no one is guiding you. You might not have a proper plan. Lack of planning is your problem. This leads to no results. So, be extra careful with your decisions. In the worst case, you might get into more troubles because of your lack of planning. Seven of cups suggests you look into the things you are planning to do. Are they making you happy? Look at your career in a broader perspective. Are you considering all the factors before making your career plan? Are you ignoring the opinions of people who are already in your position?
What Seven of Cups Suggests About Improving Communication At Your Workplace
If you would like to know how to improve communication at your workplace, Seven of Cups illustrates that you should stop over-complicating the problem. If you're involved in a project, you need to be more specific about your goals, or else you could simply end up doing more than you intended. You must be realistic about how much you can accomplish. Now is the time to consider your possibilities. The tarot card Seven of Cups illustrates that you should be sensible about your objectives or you can simply come up short.
If you're involved in a project, you should be more specific about your goals. In the context of career, Seven of Cups cautions you about being a generalist, and not making any strategic choices when it comes to your career. It denotes daydreaming about a variety of careers, and not being clear about your interests or long-term objectives. It may also suggest a lack of direction or ambition.
What Seven of Cups Suggests Regarding Career Change
When you are asking Tarot whether you should change your career or not, Seven of Cups reveals that you must search for something better, then. You might be having conflicts with your current profession. Seven of Cups is a sign that some hidden opportunity is available to you. You must search for ideas and opportunities.
Seven of Cups reveals that you need to be careful and don't make any hasty decisions. You need to analyze the best possible option. Do analysis. And keep in mind that it's not the time for you to make decisions. Try your level best to make your decisions because things may change in the future.
What Seven of Cups Reveals About Balancing Your Career With Your Personal Life
If you want to know how to balance your career and personal life, Seven of Cups is a signal to look for new opportunities. Instead of dreaming about everything, you can take your plan to the next level by looking for new job or business proposals. You may face new challenges regarding job balance or a promotion after Seven of Cups. You have to think very clearly about what kind of moves are required in the future to keep your long-term interest. This card might also represent the future job search, and if you are a student, the card might represent a new school, a degree, or a possible new career path.
The Seven of Cups (upright) denotes opportunities that will open up in the future. If you are at a suitable level in a career, you might get the opportunity to take on a new position or a new project. If you are not in the position you want to be, it could be that you are having trouble finding a new job. The universe is giving you the right offer right now, so take advantage of the opportunity without considering risks.