When the Seven of Cups appears in an upright position, the card is all about taking a step back from an existing issue and reflecting on all the possibilities available in one's life. You must have been feeling that there are multiple options and avenues open in front of you, but you are not choosing any. This card indicates that you are not taking advantage of these opportunities. The card also depicts that one must choose what is working best for them and what is not. You may be stuck between two options, and you prefer remaining within the comfort zone you know.
But the card indicates that it's time when you need to explore more. There is always a risk if you remain within your comfort zone. So the card is advising you to explore the unknown. Seven of Cups indicates opportunities, but you are not going for it. The other possibility is that you are getting distracted with other things. Instead of deciding, you might be daydreaming about opportunities as if they were already yours. At this point, the choices seem more like a dream and a fantasy than real possibilities.
The Seven of Cups also indicates illusions and deceiving thoughts.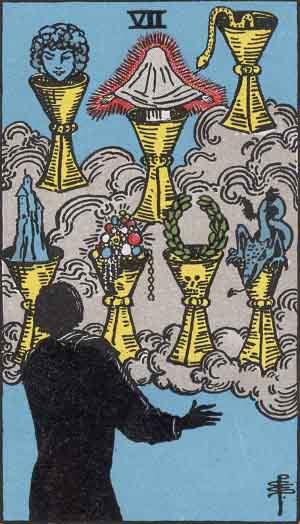 What Seven of Cups Card Reveals About How Someone In a Platonic Relationship Feels About You?
If you want to know how your friend feels about you and you pull the Seven of Cups, the card discloses that your friendship is going very well. You have many options, which you can choose from to make your love life a happy one. This card indicates that you are currently in a very good phase in your life and will meet new people very soon who will add attraction and spice. The choices you make now will shape the future of your love life. However, if you are single, the Seven of Cups card indicates that you are having too many choices. In order to make your love life more interesting, you need to learn to prioritize your commitments. It also represents the fantasy of someone whom you have been obsessed with for a long time, but because of some reason you didn't have the courage to approach him. However, be careful and check this person's motivation. They may feel attracted to you for your money and possessions, not your personality and qualities. Make sure you don't get duped and make the right judgments.
For Those Who Are Single: What Seven of Cups Card Reveals About How Someone Feels About You?
If you are single, but want a partner, the Seven of Cups through the perspective of feelings means that your desires will be fulfilled. You can have all the feelings that you want if you are willing to accept what your soul is offering. Now is the time for you to be open to your heart and be in love with everything that you do and everyone that you meet. There is no need to force anything and nothing is meant to be.
This card comes up as a reminder for the single people to be realistic and understand the situation they are in. The card also provides an opportunity for you to look outside your comfort zone. You have a significant number of options before you to bring about changes in your life. Seven of Cups is a tarot card that represents opportunities and alternatives. If you are feeling stuck in your life and cannot find a decision, the Seven of Cups will tell you the right decision to make.
For Those Who Are Just Starting a New Relationship: What Seven of Cups Card Reveals About How Your Lover Feels About You?
When you are embarking on a new relationship and you want to find out what your lover feels about you, the Seven of Cups as feelings illustrates that the relationship is not compatible. This doesn't imply that the end for the relationship is approaching or that things are broken forever. The connection is being strained or it's being broken. In other words, some efforts are necessary from your side to ensure that your relationship goes on.
You can feel a sense of excitement and a thrill while searching for love, but as you move towards commitment, the level of excitement is being drained. The card indicates that you are exploring your emotions without any logical explanation and it is becoming difficult for you to distinguish a desire from love. You have fallen in love with something and want to express your feelings, but you lack the capacity because you don't want to have complications. The desire and the love are mixed up and becoming difficult to distinguish.
For Those Who Are In a Relationship: What Seven of Cups Card Reveals About Your Partner's Feelings About You And What Energy Surrounds Your Relationship?
If you are in a relationship, the Seven of Cups as feelings is all about wishful thinking. You may be feeling disconnected from your current relationship, or perhaps thinking about the connection in a way that isn't realistic. If you are single, the Seven of Cups may reveal that you have unrealistic expectations of what love has in store for you. If you are ready for a relationship, you may want to consider focusing on yourself. Now is the time to get your self-love and confidence up. Otherwise, you may have to settle for a relationship that will be shallow and perhaps abusive.
You may find that you are feeling left out of the relationship, or the partnership may feel more intense while others may feel more distant. Sometimes, the partner in the relationship may feel as if they are just a means to an end for the other person, and you may find that the connection ends there if this is the case. It is important that you take some time to connect with your partner and communicate what you need (and want) from the relationship, and the future that you can see for yourselves.
What Seven of Cups Reveals For Those Who Want to Know If Their Relationship Is Advancing Into More Serious Commitment Or Marriage?
If you pull the Seven of Cups and you are wondering, if your relationship is progressing into more serious commitment, such as marriage or engagement, the card reveals that you will be presented with diverse different options in your love life. But you need to be very careful right now. The decisions you make in your love life will have consequences.
The card reveals that you will be confronted with a plethora of choice. From this card, one might think that the main problem is that you are not clear on what you want and are unsure of your future course of action. You should consider talking to those you love about your intentions. After clearing up any confusion, it will become easier for you to decide which path to take. This card suggests that you look at the world around you and be wise in your decisions. Take your time to decide, and think about all the possibilities before settling on one. The choices that you make are not permanent, but they have repercussions. If you do not move forward with your plans, it might come to a point where the consequences will be more than you can handle. If this happens to you, don't make any hasty decisions and make sure that you think more. You can always change the course of your life if you know what you want to do.
What Seven of Cups Reveals About Your Ex's Feelings About You?
If you are asking what are you ex's feelings about you, Seven of Cups tarot love meaning can indicate that you will need to put on a performance in order to attract your ex-partner. There will be some effort from their end. Sometimes, this card can also mean that the person you want to date doesn't know you exist, or that the person you want to date is already committed, or they have a new partner. Your ex might not have forgotten you and they might not be that hurtful, but your ex-partner still has a lot of baggage and might not be suitable for you.