When you draw the Temperance reversed in your career reading, the card signals that you must maintain equilibrium at work. It represents your profession is going good, but on the other hand, you are also facing issues that can turn your work life upside down. You have to be extra cautious and careful about every detail you do at your workplace. It also reflects that you may be working too hard and putting too much effort into your work that it is harming your health. So, take breaks and relax. It also indicates that the person's behaviour at work is getting to be too crazy for others, which can also be an issue. This card also suggests you change yourself if you find you are acting weird at work.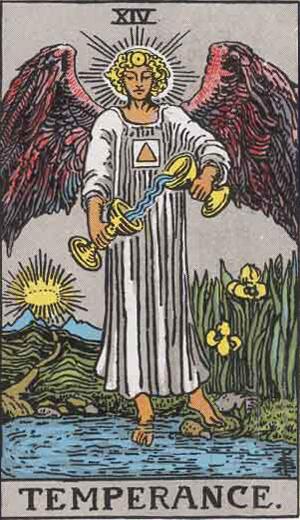 What Temperance Reversed Reveals About Your Dream Job: What Is The Most Fulfilling Career For You?
If you pull the Temperance reversed in a career tarot reading and would like to know what would be your dream job, the card is all about balance, and moderation. Temperance is a Tarot card that represents a 'new beginning' in every area of your life. Temperance has two meanings when it comes to 'new beginnings'. In one sense, it means to have new plans and objectives. This can be a sign that you are changing roles or switching careers. However, there is another side to the Temperance Major Arcana tarot card that suggests that a 'new beginning' is not necessarily the only option. In fact, instead of changing your circumstances, you are choosing to remain in your present situation and do the work that you have been given.
What Temperance Reversed Discloses About Starting A New Job
If you have just started a new job, Temperance reversed signals some kind of stress in your current position. This card indicates some internal conflict between you and your current company. You might be frustrated with your current work condition, or your colleague might be causing a disturbance at your workplace, creating stress. There could also be unclarity about the goals of your current company, or you don't know how to use all the resources available in your hand to make your dream workplace a reality. For your career, you must understand the balance between your personal and professional life, as unbalanced lives are not going to help you in achieving your dreams.
Besides all these problems, Temperance (reversed) card also indicates that you can't figure out a suitable balance between your private and professional life. You are not spending quality time with your partner, and your family. Even after having a good time, as you were planning out your career, you are not doing the proper work to keep your family life in balance, resulting in a lot of stress for you.
What Temperance Reversed Says About Improving Your Current Job Position
If you want to improve your current job position, Temperance reversed is a signal. You must be very patient at this moment. You must not give your time to some project for betterment of your position as it will not bring you any benefit in the end. Temperance reversed indicates that you may not be getting the motivation from your current work. You must be feeling out of place at this time.
What Temperance Reversed Reveals About Your Career Strengths
When you are asking Tarot what are your career strengths, Temperance reversed reveals that you may need to be more even-tempered with your work. Temperance also suggests that you are putting too much on your plate. You need to take things one-by-one, and not try to accomplish too much. The upside of this is that you will be a lot more productive, so you might find that the best way to improve your career is by working longer hours. If you find this doesn't resolve the issue, seek expert help.
The Temperance Reversed card can mean that you might feel overworked right now. This can be manifesting as feeling exhausted, unable to get everything done, and having too many projects running at the same time. You may be working long days, spending your nights finishing up work, and attempting to do more. You could be giving them your all, and then falling asleep as soon as your head hits your pillow. Take things one by one though, and don't try to accomplish all of the projects at once.
What Temperance Reversed Discloses About Your Career Weaknesses
Temperance reversed reveals that your career weaknesses are also affecting your work performance. You may face a conflict between your work and your personal life. This often happens with your work tasks which you end up working too many hours. With this excessive working, you're also losing control on your life. Your personal life is also suffering from the effects of your work. You need to evaluate your situation and come to a compromise where you give both your life and work tasks a bit more attention.
What Temperance Reversed Suggests About Improving Communication At Your Workplace
Temperance reversed reveals that if you would like to improve communication at your workplace, you will likely find yourself frustrated. There is a lot of stress around speaking up about your work, and even if you are skilled at expressing what you see, you often don't get your point across. As a result, you may also be under a lot of tension. Sometimes, this card can also represent a lack of restraint, as well as a tendency to act impulsively instead of carefully. If this is the case, try to be more cautious with your actions, and make sure to do things tactfully and with consideration to others. Avoid making snap decisions, and instead think things through carefully before acting.
What Temperance Reversed Suggests Regarding Career Change
If you need advice on changing your career, Temperance reversed reveals that you are experiencing issues with balancing your professional and personal life. You may be feeling a lack of fulfillment in regards to your job and business, and you may be finding it hard to strike a suitable harmony between the two. You may be choosing to work for a business that you don't care for because you believe it will be better for both your business and your professional life. You can be so focused on making money that you may be ignoring your own personal well-being, and on occasion, your personal goals could suffer.
Instead of making haste and rushing into things, try to regain control over your life. Before you make a significant choice, evaluate if it will be beneficial for both you and your employer. When it comes to professional relationships and collaborations, the reversed Temperance advises you to avoid mixing business with pleasure when it comes to your career. Avoid rushing into new business partnerships and instead make sure that you do sufficient research. Be aware of how business decisions will affect your personal life. To maintain your emotional equilibrium, it might help to have a routine.
What Temperance Reversed Reveals About Balancing Your Career With Your Personal Life
When you are asking Tarot about balancing your career and personal life, Temperance reversed reveals that your work priorities are currently out of balance, and it has created a lot of frustration for you. You might be stressed out, resentful, and unable to focus. At the moment, if you're only sacrificing yourself, you should be more ambitious. Sometimes, this card also suggests that you are putting too much into your work, and you might be feeling a lot of burn out due to it, and consequently your family life suffers. It is essential that you take some time for yourself before your life's balance goes totally out of control.
For work, Temperance reversed might be a sign that you are overly ambitious, and you will burn yourself out quickly, forcing yourself to be in two places at once. Be careful of the time and amount of energy you spend on work so your personal relationships do not suffer. This can be especially true if there is a lot of emotional pressure on you. If you are afraid of losing your job, now is the time to put forth a lot of effort and show how capable and dependable you are.