Through a perspective of career questions, Ten of Cups reveals the positive outlook on one's career. If you recently set up your business, it will turn profitable, and the foundation that you laid will sustain for a long time. Ten of Cups reveals the positive outlook on one's career. If you recently set up your business, it will turn profitable, and the foundation that you laid will sustain for a long time. Ten of cups is also about the establishment of a family. If you've been in a relationship for some time and are living happily together, you can be sure that this relationship has the potential to grow into something permanent. If you've been debating on starting a family, your wait is over. This card reminds you that in everything, you will get support from your family, and if you have any problems, you will be taken care of.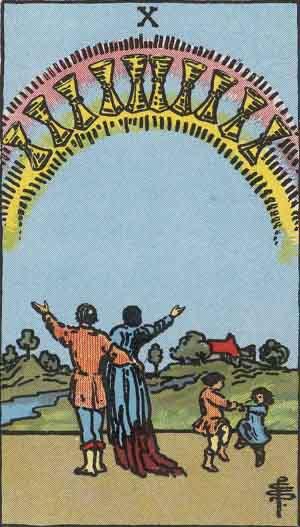 What Ten of Cups Reveals About Your Dream Job: What Is The Most Fulfilling Career For You?
If you would like to know what job would be the most fulfilling for you, Ten of Cups is all about family, but also about careers in hospitality and administration. If this doesn't quite describe your career, think about whether your job is something that you do in order to provide for your family. Perhaps you are the primary caretaker of an elderly parent, helping in their gradual retirement in one form or another. Or perhaps you are a stay-at-home parent who works remotely. Whatever the circumstances, it is likely that you give more of yourself to this job. Make sure you are not the only one that works hard, and that you also enjoy your work. If it's not the family aspect that makes your work so fulfilling, consider what other aspects of your work are fulfilling. What parts of the job give you pleasure?
What Ten of Cups Discloses About Starting A New Job
If you're in the process of starting a new job, Ten of Cups illustrates the positive transition you'll experience. It's a positive card for all aspects of your career since it symbolizes a harmonious and easy relationship with your coworkers. The Ten of Cups may be a sign of a new business or profession. Regardless, it emphasizes harmony and positivness. Should you be contemplating taking a job in a new industry, your instincts will be to pick up right where the last person left off. The Ten of Cups also represents stability in your workplace. If you've been looking for a job, this could be the time that you land one.
What Ten of Cups Says About Improving Your Current Job Position
Ten of Cups suggests that if you want to improve your current job position, you'll have plenty of professional support. This card represents a supportive team, a peaceful workplace, and stability in the field of your work. The Ten of Cups may also represent a positive balance between your work and your family. You could be about to take a significant step forward in your professional career when the Ten of Cups emerges in a career reading. Congratulations and welcome to the family firm! The ten cups, and what they stand for, is also an excellent omen for financial success. Ten of cups can be seen as the warmest welcome of all.
What Ten of Cups Reveals About Your Career Strengths
Ten of Cups suggests that your career strengths and talents will be recognized and rewarded. You may find that the projects you participate in are successful, and those you are working with are very appreciative of what you do. This love of collaboration can make you feel particularly joyful and inspired. If your work is in an intellectual setting, this card can also suggest that you will share in the intellectual efforts of your coworkers. Take a moment to reflect on what it is that you bring to the projects and teamwork within your workplace, and determine what you can do to further strengthen your relationships with coworkers and the people you work with. If you're an entrepreneur, Ten of Cups can signify collaboration and success with a partner.
What Ten of Cups Discloses About Your Career Weaknesses
When you are asking Tarot what are your career weaknesses, Ten of Cups reveals that you may be overly dependent on your family. Family can be your rock for support and stability. This is not always a bad thing; it can be healthy to know that certain parts of your life always come before your career. However, it is important that you maintain a good balance so you don't sacrifice your professional life by doing things that are not compatible with it. If you are worried about this, look for a business partner or contract that allows you to put your family last.
What Ten of Cups Suggests About Improving Communication At Your Workplace
If you would like to know what Ten of Cups reveals about improving communication at your workplace, or in your business, look at the supporting cards. When Ten of Cups shows up in a career reading, it is often indicative of strong relationships and teamwork. Should you be looking for work, you will have an excellent chance of being hired in a position that uses your interpersonal skills. Ten of cups can also mean a happy retirement for you and your coworkers.
What Ten of Cups Suggests Regarding Career Change
If you want to know whether you should change your career or not, Ten of Cups signals a positive answer. This card signifies plenty and contentment, which means that your career will bring you plenty of resources and opportunities for growth. This card indicates that you are very much content with your career. When something unexpected happens in your profession, it doesn't affect you that much because you already have a stable base financially and emotionally. The Ten of Cups card also denotes the achievement of milestones in your professional life. You might be receiving promotions or giving birth to a child. This will make you feel very fulfilled and proud of yourself.
What Ten of Cups Reveals About Balancing Your Career With Your Personal Life
Ten of Cups suggests that if you would like to know more about balance your career and personal life, the Tarot card ten of cups tells you about that this might take some planning on your part. This card might also imply that it would be beneficial for you to take some time off work to spend more quality time with your loved ones. If you work in a family business or are a part of a team, it is possible that this card signifies the creation of a workplace which creates a sense of connection between all parties involved. This, if done well, will help everyone to feel respected and supported at work.