If you pull the The Emperor reversed in a career tarot reading, the card is all about a lack of control in a business that is failing. With The Emperor reversed in your tarot, there is a sense that things are out of your control, where power and control are key. The reversed Emperor might signify that you are currently in charge of an organisation and that you are lacking the authority and power that you would normally have. Power dynamics could be uneven between you and a colleague or a superior. Sometimes, this card can also depict a manager or an entrepreneur that has lost their control over the organisation that they've been responsible for.
This card may occasionally depict a situation in your work where it seems as if people are trying to take advantage of you. It may also signify that you are feeling helpless and drained of energy because you have to deal with a company that is not working. It may also be an indication that your current position only seems to be paying you lip service, with no regards to your efforts or your experiences. This could be making you feel drained of all your energy.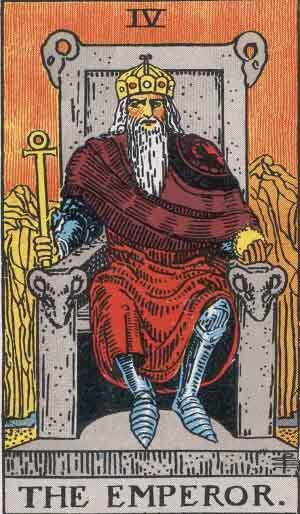 What The Emperor Reversed Reveals About Your Dream Job: What Is The Most Fulfilling Career For You?
When you are asking Tarot what would be the most fulfilling career for you, The Emperor reversed reveals that you only desire to be a successful manager. This card can suggest that you desire to be a leader, or that you're prepared to embrace this role. It can also be a sign that you need to look elsewhere for fulfilment. To be of value to your community, you may need to start thinking about your own self-care. Are there parts of yourself that you need to focus on developing to increase your sense of self? The Emperor Reversed could also be a sign that you're attempting to manage your professional life while attempting to balance work and home life, or that this is causing you a lot of distress. You may need to make a lot of course corrections at home in order to take care of your work. When The Emperor is reversed, it may be a sign that a manager feels a little tyrannical or controlling at the office. If this is the case, then you must address your feelings of power and authority. This may be the root cause of why you are allowing yourself to behave this way.
What The Emperor Reversed Discloses About Starting A New Job
If you pull the The Emperor reversed in a career tarot reading and you're just starting a new job, the card is all about alignment and creating a harmonious relationship between you, your colleagues, and your superiors. You may have more independence than you expected, as well as the autonomy to reach your full potential in an area that you can make your own. Or you could be feeling frustrated or overburdened by someone else's rules and regulations. Sometimes, this card can also indicate a loss of control. If this resonates with you, try to take a step back and examine whether the current situation is something that you can alter, or whether instead, it's just another part of your journey.
What The Emperor Reversed Says About Improving Your Current Job Position
If you would like to know what The Emperor reversed reveals about how to improve your current job position, this Major Arcana reversed card represents a lack of authority and lack of self-control, which is a serious problem. This person is emotionally immature and doesn't know who is in charge, and they lack leadership skills. The Emperor reversed suggests that you don't know how to handle yourself in the workplace and that you are completely overwhelmed by the many tasks and projects you have to do. You are at your breaking point, and you have gone completely out of your mind.
Even though you have been working very hard to complete the tasks, you still don't have the control you need. You may feel helpless and confused about how to complete more work, so it is time to ask for help. You cannot handle all the tasks by yourself and could lose your job if you are working on your own any longer. Now is the time to take a break, find someone to help you complete your projects, and manage your workload. You'll be much happier when you achieve this, and you'll be less stressed.
What The Emperor Reversed Reveals About Your Career Strengths
If you would like to know what The Emperor reversed reveals about your career strengths, you may get some interesting answers. Reversed The Emperor can indicate a dictator or a tyrannical workplace. It can also indicate a lack of self-control, which can have a negative effect on your job. If your line of work requires a lot of independence, you may find yourself in a lot of distress. Instead of following the rules and regulations, you may end up breaking them. You may also feel overwhelmed by a certain sense of powerlessness at work. It can seem like no matter what you do, nothing seems to work. You might be a workaholic and find it hard to focus on your work.
Don't be surprised if your boss starts acting like your dominating father or father figure. The reversed Emperor might indicate that you are in a workplace that is excessively masculine. You may find yourself dealing with tyrannical and demeaning coworkers or being bossed around by your colleagues. In some cases, this card can also be a sign of poor leadership.
What The Emperor Reversed Discloses About Your Career Weaknesses
If you would like to know what The Emperor reversed reveals about your career weaknesses, it means that you have been a victim of others' bad habits at your workplace. They may have taken credit for your work, not put forth their efforts, or shown little interest to help you. Sometimes, it can just mean that there is an authoritative person at your workplace who is misusing their power over your projects or tasks. He or she might be very strict in their working style and may not be particularly friendly when you want to share your ideas and get some help.
You need to be aware of this and handle them carefully because they can be very harmful to your career. This reversed Emperor card is here to warn you against the people at the workplace who could be harmful for your professional life for a while. If you see anyone acting out of character, beware of them. Also, it is a sign that you must take charge of your work environment and create a friendly, comfortable, welcoming place. If your office is becoming very chaotic and unorganized, start organizing it. This will help you understand things much faster and will save your time as well.
What The Emperor Reversed Suggests About Improving Communication At Your Workplace
When you are asking Tarot how to improve communication at your workplace, The Emperor reversed reveals that, if you have been having trouble getting your point across in a business environment, you may need to change your approach. It may be that your attempts to be reasonable or logical are being ignored by your colleagues. Alternatively, it may be that you are too overbearing with your authority and demanding more than is appropriate. While this type of approach may be suitable in some circumstances, you should examine whether you are using the proper methods or whether you have been too harsh or unsympathetic.
The Emperor reversed in a career Tarot reading denotes your employment is not working in the context of your profession. You may feel like your position is jeopardised by a single misunderstanding or mistake, the repercussions of which are not yet clear. There might be a lot of pressure placed on you to find solutions to a problem. The people around you are doing their best to make you look bad. The best thing you can do in these circumstances is to gather your strength and wait things out.
What The Emperor Reversed Suggests Regarding Career Change
If you would like to know what The Emperor reversed reveals about changing your career path, look at how well you are doing now and whether you are happy with your current position. The Emperor reversed indicates that you have an idea of what you want to do but are not making the changes you require to make to get there. Despite having the desire and willingness to make a change, you don't have the patience or the resources necessary to make it happen. Perhaps you feel as though you are being forced to take on a position you were not intending to accept. This may also be because you have not given enough time to your career to understand the opportunities available to you. Be patient and find what you are meant to do.
If you have been searching for work, The reversed Emperor suggests that the time is not yet right and that you should give this matter more attention and work through your issues before you can find what you are looking for. Try to give more time to your career because you are currently in your job or career path. You can be in a dead-end position for a variety of reasons, but it could be that you simply need to look for better opportunities.
What The Emperor Reversed Reveals About Balancing Your Career With Your Personal Life
If you want to know how to balance your career and personal life, The Emperor reversed is a signal that you're approaching a period of tension and frustration at your workplace. Lack of communication and failure to understand each other's viewpoint are the main causes of the conflicts. These issues could be frustrating to you. You may feel helpless as you can't change these conflicts, but you can bring your side of the situation and resolve it.