If you pull The Emperor in your reading, the card illustrates that you are the master of your own kingdom and that you are responsible for establishing your position. You are the one to take all the risks, so you must be prepared to pay the price of your success. You have built up a great empire, but now you must grow the kingdom further. It must be noted that you should not neglect your subordinates to make a better empire. You cannot control everything and if you try to do so, you will have more work than you can handle.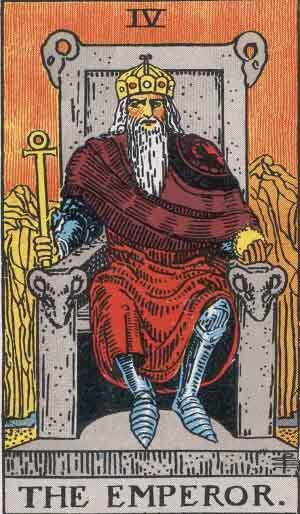 What Emperor Card Reveals How Someone in a Platonic Relationship Feels about You?
When The Emperor appears in your reading and you're asking how your friend feels about you, the card reveals that your friend is a great person to have in your company, but they might not yet feel that fire. You'll need to be open about your feelings to draw a mate if you, of course, want to have one. The Emperor tarot card reminds you to show self-control and take action if you want something. When The Emperor represents someone in your love question, it could be you. The authority and dominance you display may sometimes make others feel uncomfortable.
For Those Who are Single: What Emperor Card Reveals about How Someone Feels about You?
For those who are single, the Emperor card as feelings is all about authority, control, and protection. You want to be in a strong, stable partnership. The Emperor as feelings is all about discipline and duty: what you put out there now, you will reap later. Being too clingy is not advisable because love can only thrive on equality, not dependence. One of the most important tarot cards, the Emperor is also a sign of responsibility when it comes to love. It's time to put in the effort and show your potential partner the love and care you deserve.
For Those Who are Just Starting a New relationship: What the Emperor card Reveals about How Your Lover Feels about You?
If you are at the very start of a relationship and want to know what are your lover's feelings about you, the Emperor as feelings reveals that your partner is feeling protective of you. Their warmth towards you is due to their feeling of responsibility towards you. This card also indicates that they are feeling committed to you. If you are in a relationship, it indicates that you have a partner who keeps you stable in your life.
However, you both need to respect each other's space and boundaries. The Emperor often shows up when you have a partner with whom you want to have everything, as the other person in your life tries to make you dependent on them, and even makes you feel bad if you try something new. Give your relationship time, and if your partner wants to be dependent on you, it's fine. But don't hesitate to experiment and do the things that make you happy at the same time.
For Those Who are in a Relationship: What the Emperor Card Reveals about Your Partner's Feelings about You and What Energy Surrounds Your Relationship?
If you are in a relationship and you draw the Emperor, feelings that surround the card signal a domination drive. While this is beneficial for some people, such controlling behavior can also be the source of conflict in a relationship. You may choose not to be bound by your partner's rules because you know they are unrealistic or not to your benefit. Instead of feeling resentful, come up with your own boundaries. Do not be afraid to show your stubbornness at this time, but make sure it is in a way that will not affect your partner or future relationship.
What The Emperor Reveals for Those Who Want to Know if Their Relationship is Advancing into More Serious Commitment or Marriage?
If you pull the Emperor and you are wondering, if your relationship is progressing into more serious commitment, such as marriage or engagement, the card reveals a deep and powerful connection. The Emperor tells us that the relationship will be stable, and this is something you can be assured of. The commitment you feel for your spouse will be genuine and sincere, and your partnership will bring stability and fulfillment to your life. In a relationship, you will find that the rules and regulations you have set in place will be strong and capable of keeping your family together. With it, if you couple is already committed, you may find that your connection is stronger than ever. Your commitment to your spouse is a strong one and is often looked up to. This will give you a deep sense of happiness and joy. The Emperor upright also denotes a strong sense of fatherly strength. Any relationship that the two of you share will be one that focuses on respect, support, and discipline for one another.
What the Emperor Reveals about Your Ex partner's Feelings about You?
When you are asking about your ex's feelings about you, the Emperor as feelings illustrates that your ex is still committed to you and feels protective of you. If you feel like your relationship is heading the wrong direction or the spark has died, the Emperor indicates that this is your perception, not the actual facts. The Emperor is the card of discipline, power, and domination, and the same rules apply to relationships too. The Emperor advises you to reinvigorate the connection and bring it to a new stage. If you have other suitors, the Emperor's tarot meaning in love represents that your partner will handle them well and will not lose heart easily.