When you draw the Emperor reversed, the card signals the need to be assertive and take control of your life. You may find that you are feeling a bit out of control, and you don't know how much power you have. You might be feeling like no one is in charge, and no one is paying attention to you. This has led to your feeling powerless and not able to take control of your own destiny.
The Emperor reversed may also suggest that there has been a disconnect between your inner and outer you, or between your rational and emotional parts. There may be a loss of self-understanding and a loss of faith in your own abilities. This can stem from a lack of discipline, and a tendency to lose control over your situation. You may be experiencing feelings of rage, anxiety, a loss of willpower, or even sadness.
When you get The Emperor reversed, look to restore your confidence in yourself, and remind yourself you are responsible for your own actions and choices. Look to rebuild your inner self-belief so that you can regain your sense of power and control.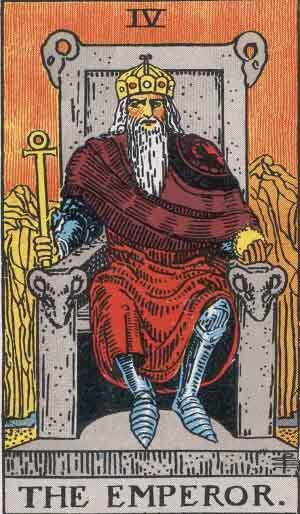 What The Emperor Reversed Reveals About How Someone In a Platonic Relationship Feels About You?
In a friendly relationship the Emperor reversed discloses that your friend is not letting you come too close to them. You need to take the initiative and take steps to make your relationship work. Don't be scared to express yourself. Try to be the aggressive one and push your boundaries to prove to the person that you care about them. This will surely help you win their heart and heal your wounds as well.
On the other hand, the Emperor reversed also discloses the person is overprotective towards you, and this behavior can be quite suffocating sometimes. The person's feelings towards you are not clear, and there are chances that they are overprotective and possess controlling behavior. However, this card can also indicate that the person is overprotective and overbearing because the person is feeling the need to protect you, and not because of the feelings of control.
For Those Who Are Single: What The Emperor Reversed Reveals About Your Future Love Life?
When you are single and looking for a romance, the Emperor reversed illustrates you are controlling or even domineering. This card indicates a relationship where decisions are made primarily by one partner, and sometimes, it also means that you are trying to keep your partner under your control.
The Emperor reversed may indicate a person in your life with whom you are feeling pressure about age, profession or other things. They are trying to stop you from having a fulfilling life, thus making you feel as if you don't have choices. This card, however, suggests you should take a break from these relationships for a while and focus on yourself if you want to find someone new. For those already in relationships, make sure they are mutually compatible in other ways too.
Alternatively, you may have had your share of partners, but now you may be ready to settle down and want a serious relationship.
For Those Who Are Just Starting a New Relationship: What The Emperor Reversed Reveals About How Your Lover Feels About You?
The Emperor reversed through the perspective of feelings reveals that your partner feels a little insecure about you. Your partner feels as if you are more than he or she has wished for, and this creates a jealousy in them. Because of this problem, your relationship is not very successful, and even you are not too happy with each other.
Avoid making big plans and promises which you do not keep, it will damage your relationship and make you feel as if you don't trust each other. Trust your partner completely and let them do their best; if they give their 100%, they will love you as you are as well. Don't put too much pressure on your partner, but keep communicating and understanding each other well.
Often with the Emperor reversed through the perspective of feelings reveals that you or your partner feel overprotective, controlling and even domineering. This card represents the selfishness of your partner. In your relationship, you need to make compromises. The Emperor in the reversed position tries to show you the mistakes that you cannot avoid and what you may have done yourself to make the commitment stronger, and for you both, being committed to one another is a commitment that will last in your life.
For Those Who Are In a Relationship: What The Emperor Reversed Reveals About Your Partner's Feelings About You And What Energy Surrounds Your Relationship?
If you are in a relationship, the Emperor reversed as feelings is all about possessiveness and jealousy. The reversed Emperor can also suggest that you or your spouse are abusing your authority over one another. Be wary of putting too much weight on your partner's feelings and opinions, or they may feel trapped and resent you for it. Additionally, it can mean that the relationship is becoming too dependent on the need for structure and authority. This card may also indicate that you may need to take a more authoritative role in your romantic affairs. Make sure to be firm and direct in your dealings with others. Do not be afraid to express your desires and demands if you hope for a partner to meet them.
The Emperor reversed as feelings is all about toxic power dynamics. Instead of making decisions with mutual understanding and respect, you are feeling out of control as your partner tries to exercise power over you. The Emperor reversed often appears with infidelity.
What The Emperor Reversed Reveals For Those Who Want to Know If Their Relationship Is Advancing Into More Serious Commitment Or Marriage?
Emperor reversed might be indicating difficulties in controlling your emotions in a romantic setting. You or your spouse could be acting out in front of others, engaging in risky activities, or exhibiting a lack of maturity. You might either be trying to prove something to the universe or you might be trying to please your partner by acting in a particular way, without any regard for how it makes you come across to everyone else. The reversed Emperor tarot card might suggest that one partner is exerting their dominance over the other and interfering in their personal life. As a result, it creates conflict and chaos in the relationship. The card warns you that you must exert your dominance with tact and respect. The card appears reversed when the person loses control or is afraid to take a stand for themselves, or that the authority that you normally seek is missing.
If your relationship is currently in a phase that requires you two to take extra care of your emotional welfare, for instance marriage or kids, you might be dealing with issues regarding this.
What The Emperor Reversed Reveals About Your Ex's Feelings About You?
When you are asking about your ex's feelings about you, the Emperor reversed as feelings illustrates that your ex might still love you, but they might have been feeling trapped in the relationship because of your behavior. Your ex might have thought that they were bound to you, and they did not have anywhere else to go. Your ex-partners can feel a sense of resentment toward you. The reversed Emperor tarot love meaning reflects the importance of treating your partner right, even when you are single.