If you pull the The Hierophant reversed in your career reading, the card illustrates a significant change in position or office you are not liking. Be true to yourself. Is it okay to change jobs or positions for the sake of money or prestige? Be proud of what you are doing, and never compromise who you are to get where you want to go. As for your career, look into any companies or positions that have been offered to you lately. Make sure you are not accepting them in place of avoiding them because you know they won't align with who you are. You can also be putting too much stock in a promotion or position that you don't need. It is likely that there are things that you could be doing better that would make you more successful in the position you have. If you've pulled this tarot card in the past position, it's likely that a change is about to happen, even if you don't like the change. You can still be in the process of making that change. You will need to start focusing more on the path that you are supposed to be on rather than what you are not.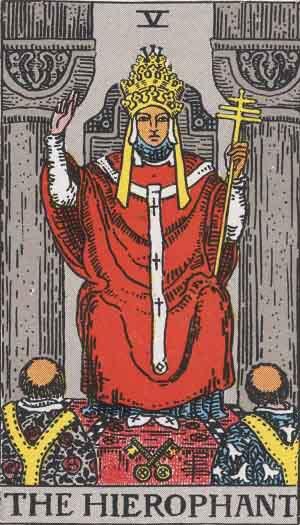 What The Hierophant Reversed Reveals About Your Dream Job: What Is The Most Fulfilling Career For You?
If you pull the The Hierophant reversed in a career tarot reading and would like to know what would be your dream job, the card is all about self-employment. Working on a new project, a new business, or on an existing business can be particularly satisfying. There are many ideas that are presented to the public, but not many people manage to put them into reality. So, be on the lookout for a new project. It will have the potential to succeed if you put in the required effort and are ready to learn new tactics. The Hierophant (reversed) tarot card also says that you will have lots of opportunities to do self-development. You will be surrounded by great minds, and if you are willing to put in the required energy and time, you'll find it all very rewarding. Sometimes also, this reversed tarot card indicates that not all the guidance will be uplifting and it will be more like a reminder of your past failures. So, make sure you do not act on the advice of the reversed Hierophant tarot card, especially if the advice is coming from a trusted person.
What The Hierophant Reversed Discloses About Starting A New Job
If you're in the process of starting a new job, The Hierophant reversed illustrates that you should take your education seriously, but beware that it could also be a trap. While it does mean that learning will be beneficial to you, be wary of the person who teaches you this information, and whether or not their goal is to sell you something. You can also get the message that you would be wise to move to a different, better environment if you're thinking about doing so. At work, the reversed Hierophant might indicate that some authority figure in your workplace is attempting to corrupt you or attempt to use you.
You may feel as though the rules or the conventions aren't quite what everyone else is following, or that the organisation doesn't care about customers. Regardless of how you feel about it, you will need to accept the reality of the organisation or the rules and regulations. Since the card is inverted, this might indicate that you'll be more inclined to challenge these conventions if you're in a position where you have the power to do so.
What The Hierophant Reversed Says About Improving Your Current Job Position
When you are asking Tarot how to improve your current job position, The Hierophant reversed reveals that you need to keep your head in the game. The reversed version of this card advises you to remain faithful to your task. It also suggests you focus on the fundamentals as this can help you achieve your desired results. Also, this Major Arcana reversed card advises you not to make any hasty decisions regarding career choices as they may backfire on you. To achieve success, be loyal to your job and follow the rules made by your superior.
Similarly, The Hierophant (reversed) card suggests you refrain from any behavior that can get you in trouble at work. Instead, it advises you to adapt your behavior and avoid any activity, which will get you in trouble. Furthermore, you should look for a better position or opt for a better career path when The Hierophant reversed is encountered. This reversed Tarot card alerts you not to give up on yourself and instead focus on the fundamentals like studying, learning, or improving your skills and abilities.
What The Hierophant Reversed Reveals About Your Career Strengths
The Hierophant reversed reveals that your career strengths are not as evident as they should be. It might be that you do not clearly understand your core traits and values, or the way that these apply to your work. When it comes to your own development, you can find that you are avoiding learning and growing, or that you are holding onto the traditional ways you know, rather than evolving with the times. You may also find yourself in a stale job, where you have been in the same role for a long time. It's important to be honest with yourself, and understand your own strengths and weaknesses. You may need to reassess yourself, and determine your strengths and weaknesses so that you can improve your work.
What The Hierophant Reversed Discloses About Your Career Weaknesses
If you would like to know what are your career weaknesses, The Hierophant reversed illustrates that your career is in shambles and you don't really know what to do to make it better. You might feel out of touch with your current position or be completely unsure of how to change your career. This might be due to your lack of experience or commitment to learning. Alternately, it might be due to your inability to express your viewpoint or ideas. The Hierophant (reversed) might suggest that the current position is causing you a lot of stress which is making you feel more frustrated.
You might feel that your current position is not giving you the respect and opportunities you deserve. You could feel that the current corporate environment is completely anti-creative and that your ideas are not being valued. As The Hierophant (reversed) can represent the workplace as a place where everyone is constrained in their roles and cannot express themselves they may come to you for advice on ways to feel more comfortable and free.
What The Hierophant Reversed Suggests About Improving Communication At Your Workplace
If you want to know how to improve communication at your workplace, The Hierophant reversed is a signal that you must start the effort. You might be having issues communicating with your coworkers at the moment, and it seems to have become a source of problems. If you're the one who has to face people with your ideas, then make your words clear, and explain things to the masses so that everyone understands the same. If you run a company, keep the communication channel open with your customers and employees. Listen to their concerns, and work on delivering the things you had promised.
What The Hierophant Reversed Suggests Regarding Career Change
If you pull the The Hierophant reversed in a career tarot reading and you're wondering if you should change your career, the card is all about staying put. You may get the sense that there is something you're not seeing that you should try. However, if you decide to take the plunge, do so slowly and deliberately. There may be something that the broader world is not seeing about your work which is going unnoticed by those around you. If you're going through a period of transition, the Hierophant reversed may show up as a sign to take some time for reflection. Consider whether things are still working for you and if you've mastered the skills you need to be successful. If you feel unsure about whether to stay or go, the answer is,'stay and grow.
What The Hierophant Reversed Reveals About Balancing Your Career With Your Personal Life
When you are asking Tarot about balancing your career and personal life, The Hierophant reversed reveals that it might be better for you to let go of your traditional job. You may need to do some switching, get a job that you enjoy, or make a career change. The Hierophant reversed may be a signal that you may be lacking direction in your work. You will need to start looking for a profession that you connect with on a more meaningful level. At work, you may discover that you are no longer engaged or enthusiastic. This card occasionally even suggests quitting your profession altogether if you are sick of it! You must discover a way to make this interesting again.
Reversed, the Hierophant Tarot card might signify an old-fashioned, traditional, conservative, or even outdated organisation or approach to work. It might also reveal the absence of authoritative, religious, or spiritual guidelines. When it appears in a professional setting, it can also mean that you might be suffering from workplace clashes.