If you pull the Nine of Wands reversed in a career tarot reading, the card is all about survival. You may have been knocked down recently, but you have managed to hang on and not succumb to adversity. You avoided defeat. However, the reversed Nine of Wands suggests that you are not learning from your past experiences and you're not willing to change. You may have come close to defeat before. But this time, you're just too stubborn to let things go. This is not to be admired, and you might want to consider the possibility that you are hurting yourself by not accepting defeat.
In a work situation, you may not be accepting the help you need. If someone has volunteered to help you, you can be pushing them away, making them feel they shouldn't have taken the time. You may want to stand on your own two feet. You might be taking too much responsibility for everything or blaming others for mistakes that you've made. On the other hand, perhaps you have just a lot to learn from previous experiences.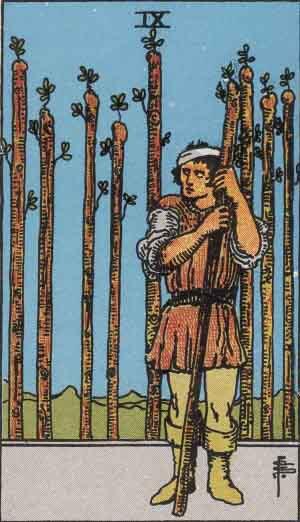 What Nine of Wands Reversed Reveals About Your Dream Job: What Is The Most Fulfilling Career For You?
If you pull the Nine of Wands reversed in a career tarot reading and would like to know what would be your dream job, the card is all about endurance and perseverance. You might have fought a lot of battles before reaching where you are now. Sometimes, the Nine of Wands reversed denotes a breakthrough to a better workplace where you get the things that you deserve, like flexible working hours. It is also a sign that you need to take up some personal initiative, even if it means the possibility of being scolded or getting into trouble, to protect your work.
What Nine of Wands Reversed Discloses About Starting A New Job
If you have just started a new job, Nine of Wands reversed illustrates problems with office politics. The reversed nine of wands depicts conflicts between people and coworkers. So you can be a target for gossip and office politics. The ongoing conflict will take turns to your disadvantage.
You might also be frustrated with the nature of your job or with the number of assignments that you have to fulfill. The workload as well as the lack of resources available for you might sound terrible to you. But you have your support team, which will definitely help you. You just need to find the root and correct the miscommunication. Reversed nine of wands indicate that there is a battle going on between you and your boss. They might be frustrated or angry because of the workload you are carrying. Try to be more cautious while communicating with your boss and be clear about your assignments.
What Nine of Wands Reversed Says About Improving Your Current Job Position
If you want to improve your current job position, Nine of Wands reversed signals that you need to take action. If you are facing conflicts with your colleagues, start a fight to resolve the issues, or if you can't do that, leave. The challenges that are making work difficult will eventually get less important, and you can be relieved from the problems gradually. If your confidence is low right now, make sure you practice assertiveness and self-advocacy. Avert the danger lurking behind every corner – stay alert!
What Nine of Wands Reversed Reveals About Your Career Strengths
If you need advice on your career strengths, Nine of Wands reversed reveals that you may have difficulty seeing your capabilities. You could discover that you are under-utilized or under-performing at work. It can be difficult to stand out when everyone is working hard and doing their best. You could be tempted to give up if you feel like your efforts are going unappreciated. Be vigilant about your surroundings, and be on the lookout for coworkers that undermine you or distract you from your responsibilities. You may be putting up a good show, but people around you may be aware of it.
Also, the Nine of Wands reversed meaning indicates exhaustion at work. Everyone is under a lot of pressure right now. It's a good time to take a little break and do something fun. Taking some care of your mental health will give you back the strength you lack.
What Nine of Wands Reversed Discloses About Your Career Weaknesses
If you want to know what are your career weaknesses, Nine of Wands reversed is a signal you are very insecure about your skills and abilities. You feel as if there is something you lack a lot to be successful in your field. This belief is very wrong. You are not lacking anything. You have done a lot of research on the field and know everything about it. But because of your insecurity, you are letting the opportunities pass you by. This makes you feel as if you are wasting your time.
What Nine of Wands Reversed Suggests About Improving Communication At Your Workplace
If you want to know how to improve communication at your workplace, Nine of Wands reversed is a signal that you have to take action. The obstacles in the workplace have been getting bigger. You must figure out the best way to handle the same without facing more problems. It will help in giving you a better perspective about the project in front of you.
What Nine of Wands Reversed Suggests Regarding Career Change
Nine of Wands reversed suggests that if you would like to change your career path, you should consider doing so. You might not be ready to give up what you have been doing quite yet, but you should explore other opportunities. It is likely that your path is blocked so that you cannot move forward. Alternately, you might be leaving an open path uncluttered for your future. It is important to understand that change is a natural process, and you should not resist it. The nine of wands reversed is not a positive career tarot card, so be cautious if you are still in an established job. Insecurity and pessimism may also be dragging down your work performance.
What Nine of Wands Reversed Reveals About Balancing Your Career With Your Personal Life
Nine of Wands reversed suggests that if you would like to know more about balance your career and personal life issues, you may not be getting the full picture. Sometimes, this card can suggest that you may have to stretch yourself thin, working yourself beyond exhaustion if you are currently having too many projects or commitments. Sometimes, this card suggests that you will be forced to choose between two work offers.
The Nine of Wands reversed meaning in work suggests that you may be experiencing exhaustion at work and have trouble pushing yourself to achieve all that you set out to do. While this is frustrating, try to see it as an opportunity to get to know who you truly are. This may be a time to spend more time with family and loved ones. Remember that your own needs are just as important as anyone else's and that you will not be of much use to anyone if you are exhausted and unmotivated. The Nine of Wand tarot card reversed can also indicate excessive pressure or feeling under attack at work.