When the Nine of Wands appears in your career reading, the card is all about perseverance. The Nine of Wands appears in your career reading, the card is all about perseverance. The Nine of Wands stands for struggle and suffering without a struggle. This is something that everyone goes through at various points in their lives. Whether you are dealing with a business venture that did not turn out as you expected, or another kind of conflict, things are not going as planned right now. You need to find a way to adjust so you can still accomplish what you set out to do. There is no use in getting upset right now, as the results will never change. Instead, focus on finding a solution to your problems that works for both you and those that you are working with. One of the most important attributes of a leader is adaptability. If you are unsure of what to do, don't fret! Just find a way so you can be successful.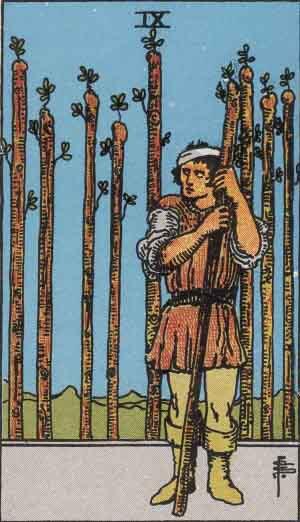 What Nine of Wands Reveals About Your Dream Job: What Is The Most Fulfilling Career For You?
If you pull the Nine of Wands in your career reading while asking what would be the most fulfilling career for you, the card illustrates that it would be something requiring all of your energy and patience. It's time to focus on the things that are important rather than on the things that do not add value to your life. Sometimes, the things that add a lot of value to your life are the most rewarding experiences. This is a hint for you that you may be overworking yourself. So set your priorities and cut the tasks based on merit.
The Nine of Wands indicates that you are in a position in which you are under a lot of pressure. For most of us reading this, it is normal because everyone wants to advance in life and to be better than the previous generation. But there is a point where everything is becoming too overwhelming. You must give yourself time to rest and relax.
What Nine of Wands Discloses About Starting A New Job
Nine of Wands suggests that if you are starting a new job or are about to start a new job, you will be under pressure right away, and things must be fast-paced. You may have to multitask and take on a lot of responsibilities in your work. This card suggests you may soon feel overwhelmed and unable to complete the task or hold on. Instead of panicking right away, you should put in a little more effort, and you should be able to complete the task or finish it in a short amount of time.
What Nine of Wands Says About Improving Your Current Job Position
If you're hoping to improve your current job position, Nine of Wands illustrates that you are wasting a lot of time fighting a losing battle. Are you the only representative of your department? Are your coworkers giving you the cold shoulder? This card suggests you need to change your attitude. One of the most common root causes of conflict at work is ego. Are you the 'big fish' in the pond? Are you so proud of your accomplishments? Are you overly confident? Are you willing to go the extra mile for your coworkers? Now is the time to bring a more humble and generous attitude to your workplace. Treat them as you would like to be treated. If you're looking for a new job, take the time to prove yourself as a capable professional. This will not only help you succeed in your new endeavor, but will also be a breath of fresh air for those who have been working with you.
What Nine of Wands Reveals About Your Career Strengths
When you are asking Tarot what are your career strengths, Nine of Wands reveals that you have a strong will and determination. This makes you a fighter, and you are not going to give up easily. It also implies that you have so far managed to maintain control over your stressful situation. However, this Minor Arcana tarot card from the Suit of Wands tells you about your stress and the cause behind your stress and that you will have to be careful while dealing with the same. This card also shows that you can't compromise with what you want. Your dedication and commitment is what you expect from yourself, and you are ready to sacrifice a lot to get what you want and achieve your goals.
You are always looking out for new things and opportunities that can help you in your professional life. This card also indicates that you are putting in all the effort you need to maintain your strength, independence, and courage to withstand all the challenges standing in your way. You know that you can't keep everything under control, and you will be under constant pressure. Still, you need to work even under this constant pressure.
What Nine of Wands Discloses About Your Career Weaknesses
If you need advice on your career weaknesses, Nine of Wands reveals that you are being over-looked for in your chosen profession. This may be in reference to your failure to progress forward in your current position, or it may be a sign that you're not being hired for a position that you are otherwise ready for. It may also be a sign that you need to think about the way in which you're approaching your career, since it may be tiring you out, or depleting your motivation and drive.
The Nine of Wands also represents a time when you have been working unceasingly on your career, but despite all your hard work, your efforts haven't yielded the desired results. This may be due to a lack of discipline or dedication. The Nine of Wands can also indicate the need to look at your relationship with your colleagues and supervisors. Your stubbornness and lack of compromise could be costing you a lot of respect and cooperation. To avoid these difficulties, make sure to do your best, but also look for a way to work harmoniously with others.
What Nine of Wands Suggests About Improving Communication At Your Workplace
When you are asking Tarot how to improve communication at your workplace, Nine of Wands reveals that you are having issues with the language barrier. You must work hard to communicate more clearly at work. It might also be a sign that your job is at risk of being eliminated. This situation is not one you can control, but it is one you need to deal with as soon as possible. The Nine of Wands represents your need to tackle this difficulty rather than avoiding it. The best thing you can do is face the issue head-on. You may need to work on improving your confidence and communication skills, or you can look for new employment.
What Nine of Wands Suggests Regarding Career Change
Nine of Wands suggests that if you would like to change your career path, you do not have much to lose by trying something new. This Minor Arcana tarot card foretells that the universe is giving you 'least resistance' to get a better job, to start your own business, to develop new skills. Nine of Wands often shows up when the Seeker is scared of trying new things or is unsure of themselves in new situations. Nine of Wands encourages you to just do it. We only waste so much energy worrying about what might happen. The best thing to do is just follow a dream. If you are an entrepreneur, prepare yourself to face a battle. Nine of Wands signifies that you will have to put in the hard work to make your dreams come true. If you are being held accountable, take a deep breath and fight it out. You can do it.
What Nine of Wands Reveals About Balancing Your Career With Your Personal Life
If you would like to know what Nine of Wands reveals about balancing your career and personal life, then this is the card for you. Because this card indicates both success and struggle, you are likely to be juggling both. You are working hard to accomplish your professional goals while also being a parent, a partner, a friend, or a housekeeper. It is easy to lose sight of what is most important when you are so busy with everything that needs to be done. The Nine of Wands reminds us that we can always do more, but in doing so, we have to know where we are going. When we focus too much on the path, we lose sight of our ultimate goal.