If you pull the Nine of Wands in your reading, the card illustrates that you have been under a lot of pressure at work or home with all your responsibilities. Your work is very serious and you are struggling to keep it all together. You might feel overwhelmed right now. Even if you have a lot on your plate, hold your ground. No matter how much pressure you are under, you need to remember that time is ticking, therefore find a way to prioritize. The same can be said for any home and family-related responsibilities.
The Nine of Wands says you are persevering in the face of significant opposition or difficulty. For you, this card signifies the triumph of your work or life's purpose and how you are overcoming your obstacles. You have been working hard in the past to achieve this present moment. You might be questioning why you are here and why you chose this path in life. This card shows that you have found your passion.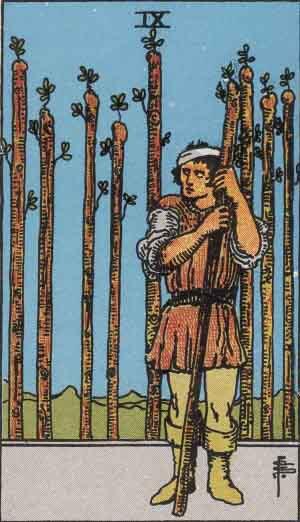 What Nine of Wands Card Reveals About How Someone In a Platonic Relationship Feels About You?
You need to take good care of yourself, if you want to know what are your friend's feelings about you while drawing the Nine of Wands. Because according to the Nine of Wands relationship interpretation, this card means that you need to make sure that the relationship with your friend is not too demanding for you. You are working hard on your friendship, and that is the reason for all your achievements. And the card wants you to remain confident and not let anyone break your confidence.
But the Nine of Wands warns you that this card also represents your friend's jealousy and insecurity. It reminds you of your partner's insecurity and their need to feel more in control of things. But this card is not only about your relationship and how it makes you feel but also about your own insecurities and how you handle your emotions because the Nine of Wands also means that you are putting too much stress and responsibilities on your friend or your relationship. And sometimes you just have to give yourself and your friend some rest.
For Those Who Are Single: What Nine of Wands Card Reveals About How Someone Feels About You?
The card reveals that you are aware of the many responsibilities that come with being single. You have put effort into putting yourself out there and you have made yourself vulnerable. Now you are ready to make your choice if a soulmate arises. The card reveals that you have built a sturdy and steady foundation for yourself which you now have to maintain, and no one is going to come and help you with it. You believe in who you are and nothing is going to change that. It also illustrates that the person that you are presently dating now might require a lot from you and you can't let them help you with your problems. You also have to be patient with your romantic life and take time to figure things out.
For Those Who Are Just Starting a New Relationship: What Nine of Wands Card Reveals About How Your Lover Feels About You?
If you are at the beginning of a relationship and want to know what are your lover's feelings about you, the Nine of Wands as feelings is all about jealousy. Your partner may resent you at this moment as you may be feeling on top of them, or you may feel jealous that your partner's ex still remains in their life. This may be a time of insecurity in the relationship for both you and your partner. If you are single and recently started seeing someone new, this may be your worst moment as the singles community can be a competitive one and can make you feel as if you are lacking in something, and your potential partner may be thinking that you are scared to take the relationship forward. This can make you feel unsure about yourself and your capabilities.
For Those Who Are In a Relationship: What Nine of Wands Card Reveals About Your Partner's Feelings About You And What Energy Surrounds Your Relationship?
The Nine of Wands as feelings signals a time when the couple may face challenges. If you are in a relationship, these challenges can be something as simple as exhaustion, or they can be more serious like abuse or breakups. If it appears in a love reading that you are not willing to walk away, be very careful of those who are trying to manipulate you. You or your partner may be experiencing some tough love right now. The Nine of Wands is also a good omen for taking care of your mental health. If you are experiencing mental health concerns, seek professional help.
What Nine of Wands Reveals For Those Who Want to Know If Their Relationship Is Advancing Into More Serious Commitment Or Marriage?
If you pull the Nine of Wands and you are wondering, if your relationship is progressing into more serious commitment, such as marriage or engagement, the card reveals that you may already be dealing with some challenges. Your relationship may feel like it is going through some serious strain right now, whether from your outside life or your personal insecurities. You must not shy away from these problems now. Sometimes, as couples, we are able to hide these problems from our partners if we don't want to deal with them, but this is rarely beneficial to the relationship. There is a need for trust and honesty. A healthy relationship shouldn't be one where partners don't speak out about problems, but rather one where they do.
Build your confidence. It will help you move forward even when the time gets difficult. The Nine of Wands signifies a strong sense of self-belief, which is what will help you build your confidence up. As you see yourself through your partner's eyes, you will also be able to see his/her good qualities more clearly.
What Nine of Wands Reveals About Your Ex's Feelings About You?
When you are asking about your ex's feelings about you, the Nine of Wands as feelings illustrates that your partner will be standing by your side at the moment and they are ready to restore the wounds from the past. The Nine of Wands depicts a time of strength and self-confidence that will help you in the romantic aspect of your life. You will be feeling empowered in your relationship and will feel that you can handle any problem with your partner.