When the The Hanged Man reversed appears in your career reading, the card is all about delay. Are you looking for a promotion? Are you hoping for a raise or a bonus? If so, you would do best to be patient. It is likely that you will not get what you want just yet. If you're unemployed or struggling with work, things may not be better on the horizon. Take a break if you can during this time, and make it clear to your colleagues that you aren't rushing into a decision about the future. The universe will provide when you're ready.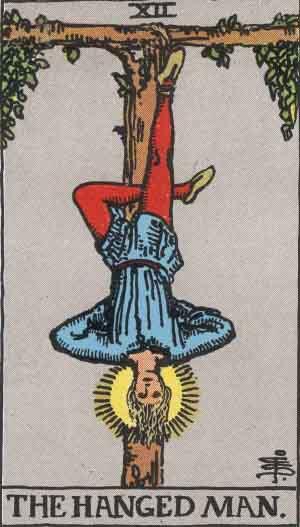 What The Hanged Man Reversed Reveals About Your Dream Job: What Is The Most Fulfilling Career For You?
If you pull the The Hanged Man reversed in a career tarot reading and would like to know what would be your dream job, the card is all about change. You need to let go of what you have at work and embrace the new opportunities that are coming your way. Things may not be working as they were. It is time to take a step back so that you can see the new road that is being laid out for you. It may be difficult, but you must make the changes before others do it for you. Let go of the past and be open to new changes.
What The Hanged Man Reversed Discloses About Starting A New Job
If you're in the process of starting a new job, The Hanged Man reversed illustrates that your patience may be tested given that things are not progressing as quickly as you desired or hoping to see results soon. It is not the time to quit, but it would do well for you to consider your options if you are feeling annoyed and unfulfilled. Your patience, understanding, and calm mind could be put to good use now to assist someone that is unhappy or confined to their position. You may discover that everything will proceed much more smoothly if you adopt a patient attitude.
What The Hanged Man Reversed Says About Improving Your Current Job Position
If you would like to know what The Hanged Man reversed reveals about how to improve your current job position, look no further. The Hanged Man reversed is a signal to quit waiting around and do what needs to be done to get back on track. It is time for self-evaluation, self-employment, or just plain self-preservation. This card might also suggest that your current career is taking you in the opposite direction. You might find that instead of growing in a new direction, you are being forced to take detours, or the route you imagined when you started is not the one that is being served. Either way, The Hanged Man reversed is a reminder to quit waiting and instead take action.
The Hanged Man reversed is not a terrible card to come up in a career tarot reading, especially since it might be serving as a 'wake-up call' to change course because either you are heading in the wrong direction, or your current job is not what you expected it to be.
What The Hanged Man Reversed Reveals About Your Career Strengths
When you are asking Tarot what are your career strengths, The Hanged Man reversed reveals that your career may be suffering from stagnation. It's likely you have lost interest in a particular area, and you are unsure what to do next or whether you should go for your ambitions. It might be wise to seek the advice of a mentor or coach to see what you should do next. Your career may be on hold or even stalled right now. It may be challenging to keep yourself motivated or to focus on your work-life balance when nothing is moving forward.
When this card occurs in your readings, it might mean that you don't have enough to create a solid career for yourself. It could be that you work for someone else or that you have a lot of work, but it might also mean that you are awaiting for any sign of pay or promotion to feel secure enough to take up the task. This card may occasionally also allude to the fact that your profession might be boring or uninteresting. It may be time for you to look for a new job if you are feeling this way.
What The Hanged Man Reversed Discloses About Your Career Weaknesses
If you pull the The Hanged Man reversed in a career tarot reading and you're wondering what are your career weaknesses, the card is all about them. You may have lost the opportunity to take advantage of the time to practice new skills or grow your career. This is not a terrible thing though; it just means you have to be proactive in improving your situation. If you don't take the time to learn new skills and advance your career, you will be left behind. Reversed, the Hanged Man can also symbolize stagnating or no progress in your career. Are you in a dead-end job that you feel is stifling your creative potential? Take the initiative to look for a new one. Maybe you've been waiting a while for a promotion, but when it doesn't come it feels like you are standing still? The time has come to take a stand. Stand up to this stagnation; don't wait around for something to change. It is in this time when people with potential can grow and expand outside of the 'norm'. Go out on your own and explore opportunities for growth.
What The Hanged Man Reversed Suggests About Improving Communication At Your Workplace
If you want to know how to improve communication at your workplace, The Hanged Man reversed is a signal that you need to be more open. You may feel restricted at the office, and this may be holding you back from completing your tasks and communicating openly about them. This card also indicates that your actions are now too rigid because you are now unable to change your plans. If your job has been challenging, this card also states that you are still hanging tight to the old ways of working. You need to learn from this experience and change if you value your job, your life and your career significantly.
What The Hanged Man Reversed Suggests Regarding Career Change
If you need advice on changing your career, The Hanged Man reversed reveals that you must take a step back now. If you are feeling stuck in your current vocation, you must stop. It is possible that your anxieties and fears are clouding your judgment; it may be time to seek professional counseling. Or that you have been exaggerating your workload or putting too much into your position. This might create a dangerous work environment or hurt you. You need to take a break. You might not realize that you have been feeling uninspired or unproductive due to stress or pressure. When you stop, you can re-evaluate your position and possibly re-enter the work place.
The Hanged Man serves in reverse as a suggestion that someone might be attempting to sabotage you at work, or you might be doing something damaging to your future chances of advancement by being overly eager or desperate for a particular job offer. It can mean that you are unable to let things be and are continuously attempting to exert control over situations that are out of your ability to change.
What The Hanged Man Reversed Reveals About Balancing Your Career With Your Personal Life
If you want to know how to balance your career and personal life, The Hanged Man reversed is a signal that now is an excellent time to consider taking a break from your work if you are having serious work-life balance problems. This doesn't necessarily mean leaving your job, but this card can also suggest taking some time on your project or in your career to see whether you can come up with a more effective solution since it can be difficult for you to make constructive changes right now. The Hanged Man reversed suggests that if you are experiencing burnout or job stagnation, it's time to take care of yourself.
However, you must do so thoughtfully and with caution. You might be experiencing stress, anxiety, or despair. When you allow yourself to deal with these problems on your own, you must remember to prioritize your health first. You must take care of yourself and give yourself a breather from your work. It is not a good time to take unanticipated leave since it might lead to more problems in your career.