Through a perspective of career questions, The Hanged Man reveals that now is the time to take a break. Whether it's a vacation, a job transfer, or a long hiatus, the Upright Hanged Man suggests that taking some time away from your current position may benefit your future. You may be feeling creatively blocked or unmotivated. Alternatively, if you've been thinking about switching jobs or careers, the Upright Hanged Man suggests that the time is now to give it a try, leaving your comfort zone behind. Make the leap, and focus on the things you want to learn. Don't worry about failure. If the position doesn't work out, you'll have the chance to try again in the future. You can always learn more about this path.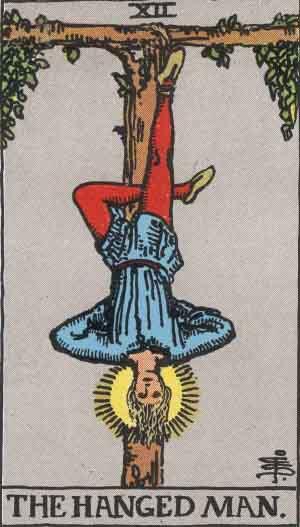 What The Hanged Man Reveals About Your Dream Job: What Is The Most Fulfilling Career For You?
The Hanged Man suggests that the most fulfilling career for you is one in which you are temporarily stalling your ambitions. This isn't necessarily due to laziness but can be a choice. Perhaps you have a skill that is unique to you and your industry. However, because you may not have a clear vision of exactly what you wish to accomplish, you are instead choosing to take some time to evaluate your options. You are choosing to put your career goals on a short-term pause.
It may be helpful for you to take a bit of a break; perhaps you have been working excessively hard at your current job? Consider changing career direction and looking at what your options are. You may not always have the flexibility to simply go on holiday, but you may still benefit from taking some time away from your career. You can also look at opportunities for innovation and improvement. You may be able to spot things that would be successful if they were implemented earlier.
What The Hanged Man Discloses About Starting A New Job
If you have just started a new job, The Hanged Man illustrates that you are going to be at that job for a while. For those who have been with the same job for some time and are thinking of changing their careers, The Hanged Man indicates not to leave that job. You may feel as if you would get something more exciting afterward, but all that is going to happen is that a stale, boring existence will continue. Because you have been at that job for a while, you may feel that you do not want to lose the job and the security of regular income. You are worried about the repercussions if you leave that job now, rather than when the time is right.
The Hanged Man hints that the time is ripe for you to leave your current position and venture into something different. It might be better for your mental health and your professional development to take the hit now. Instead of doing the work that you dislike, try to think about other options. However, if you do not like the change, you can always quit afterward.
What The Hanged Man Says About Improving Your Current Job Position
The Hanged Man reveals that when you want to improve your current job position, you need to take a step back for a moment. You need to observe the direction your current path is leading you and the effects that it is having on you, your colleagues, clients, and resources. Doing so will help you make the most strategic and effective decisions to move your direction in a positive way. You might decide to take a break for now so you can reevaluate your options and figure out the best way forward. You might choose to leave your job and strike out on a new one, or you might take a sabbatical leave while you think this through.
This tarot card from the Major Arcana deck indicates that if you have been thinking of changing your current job trajectory, now may be a better time than ever to take actions and move forward. The Hanged Man is a symbol of waiting. And as we all know, sometimes the best thing to do is wait. It may also be a sign that you are stuck in a job or career that you are no longer passionate about.
What The Hanged Man Reveals About Your Career Strengths
When you are asking Tarot what are your career strengths, The Hanged Man reveals that you might have to push yourself a little bit to advance at your current position. Oftentimes, we are so afraid of change that we resist it. This is usually because we are so afraid of failing that we give up before we've even tried. The Hanged Man, however, is not advising you to throw caution to the wind and embrace failure as a learning experience if you are going to succeed. Accept that this is the path that is best for you, and the universe will guide you on your journey, even if it takes you longer than you'd prefer. If you are looking for work, the same applies.
It could simply mean that you need to explore new options before returning to work. Alternatively, this might be an opportunity for you to stay at the same company, but do so under a new title or in a new position that better suits your skills. If you are a business owner or own a firm, this can be an indicator that you need to make a course adjustment.
What The Hanged Man Discloses About Your Career Weaknesses
When you are asking Tarot what are your career weaknesses, The Hanged Man reveals that you may be experiencing burnout as a result of being forced to take time to unwind and recharge your batteries. Now is the moment to stop thinking about work and your career. This time can be a chance to step back from your career as you have time. You may have realized that this has also meant putting your career first, and being unimpressed with work-related promotions or bonuses. It is time to take a breather.
The Hanged Man card may also represent being required to work overtime. While it is not a bad thing, it can feel draining for you. The Hanged Man may also reveal that you may lack self-discipline and may be too easily distracted and forgetful. There can be a time when you are so busy trying to complete things, that you forget who you are. If you feel stuck, take a step back and look at your life. Where can you make some space? Perhaps there is some work you can delegate to others. What tasks can you hire someone to do for you? Make a list of what you can do for only yourself, to re-centre your energy.
What The Hanged Man Suggests About Improving Communication At Your Workplace
The Hanged Man suggests that if you would like to improve communication at your workplace, start now by simply listening more carefully than giving advice. Even if you are sure that you have all of the necessary information, it is possible that others are finding it difficult to hear what you are saying. If you would like to advance in your profession, the Hanged Man advises you to consider your objectives carefully and make your long-term and short-term plans. It's your duty to take the time and put in the effort that is required to see your vision to fruition.
The Hanged Man suggests that if you would like to improve communication at your workplace, you could try to listen more closely to what others say and give it a try. The Hanged Man is a card of patience. It implies that you need to be patient to see your plans being successful. You should continue working hard until you think that everything is ready and things are falling in place for you. You may work hard and complete everything you want to do. You may want to take a break from your routine work. You are on the verge of becoming a great person. Don't be frustrated at this point.
What The Hanged Man Suggests Regarding Career Change
If you need advice on changing your career, The Hanged Man reveals that you will need to take a break from your current position for a while. It is advised to take some time off to ponder your decisions instead of making them immediately. This is particularly good for people in careers in which they are expected to work long hours or to get things finished on time as in the case of business. The Hanged Man tells you to assess your options and not make any decisions right away.
Your current situation will become clearer when you have some breathing room. You will be able to see a new horizon if you have been working on something without any results. Moreover, this card tells you that you have been waiting for your project to go through, hoping for a positive result, which will elude you. Therefore, you must keep waiting for the results. In the meantime, try to focus on other projects or hobbies that will energize you.
What The Hanged Man Reveals About Balancing Your Career With Your Personal Life
When you are asking Tarot about balancing your career and personal life, The Hanged Man reveals new perspectives and fresh ideas, both with respect to your career and your relationships. Look at things from a new perspective, and use your time off to your advantage when you return to work. If you have been considering a career change or a more flexible schedule to spend time with family or friends, you can now make those adjustments without putting too much pressure on yourself. You may be considering new methods to balance your work and personal life. If you have been considering a move, try something new, or a new approach, The Hanged Man might signify the opportunity or time to take action.
In a career reading, The Hanged Man signifies a time away from work to explore your creativity. This time away could be to sharpen your skills or just to relax a little. It can also be a signal that your body is telling you it needs a break from stress. This might be because you are too busy, the workload is too much, or the conditions are too harsh.