If you pull the Hanged Man in your reading, the card illustrates that you have put your plans on hold or suspended them. You are ready for a break and the opportunity to reevaluate everything in your life. In the tarot, the Hanged Man symbolizes the power of patience and the value of timing and serendipity. It can also signify that you could have avoided a significant event that has been hanging over you, but you wanted to change your perspective and enjoy the moment. The Hanged Man is non-aggressive, and he is not concerned with what is happening around him.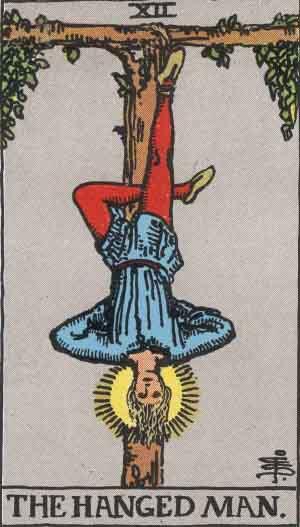 What The Hanged Man Card Reveals About How Someone In A Platonic Relationship Feels About You?
If you want to know how someone in a friendly relationship feels about you and you pull The Hanged Man, the card discloses that this person might feel abandoned and uninterested in taking part in your life. If the card appears, it implies a stalemate situation and makes your relationship unstable with no clear signs of resolution. The best thing you can do right now is to give that person some time and space and eventually take a pause to connect with that person on other terms.
In short, the Hanged Man discloses that this person does not want to commit to you. They may feel bored or maybe that one of you has recently started dating someone else, and you two are afraid of rejection and are holding out on the other one. The Hanged Man shows the importance of communication. Talking openly and honestly will bring light to your current problem. If you are not in a relationship, the Hanged Man tarot love meaning indicates you need to take yourself into consideration when it comes to matters of love. Try giving yourself and your needs some time.
For Those Who Are Single: What The Hanged Man Card Reveals About How Someone Feels About You?
If you're currently single, The Hanged Man tarot card tells you to remain patient and to wait for the right person to come along. It may not be you! The Hanged Man suggests that the partnership that results from your wait is one that is built on trust, honesty, and love.
The Hanged Man as feelings for those who are single reveals that it is time to take a complete break from dating before things turn bad. The Hanged Man is all about patience, but that doesn't mean that there is nothing you can do. If you put your mind to it, you can figure out a way to give your love life a much-needed boost. Should you not be patient, love might come to you like a dashing suitor. There's no telling if you'll find love through meeting someone or through self-love, so it's up to you.
The Hanged Man tarot card is helpful in situations where you desire to put certain things on hold while you wait for the cosmos to shift. This can be a sign that you're too involved with others emotionally or that you are excessively busy with your commitments to others. You must understand that love ought to be the end goal of our endeavors rather than the beginning. The Hanged Man suggests that you take a step back and concentrate on yourself so that you may focus on your love life when it is in your best interest.
For Those Who Are Just Starting A New Relationship: What The Hanged Man Card Reveals About How Your Lover Feels About You?
If you are at the beginning of a relationship and want to know what are your lover's feelings about it, the Hanged Man as feelings is all about letting go. When you are hanging onto something, your lover feels there is no point of holding on. If your first date goes well, and you are keen to hold on to that feeling, it's best you go back to your senses. Instead of going with the flow, you are holding your romantic feelings back and not letting your partner know your feelings. You must take a step back and think about your plans. You want your relationship to grow, but this is not the right time for it.
The Hanged Man as feelings is all about patience, especially at this moment. Your lover has feelings for you, but it may take some time to get all the intimacy they need. There might come a time when you have to opt for a break and give your partner the time they need.
For Those Who Are In A Relationship: What The Hanged Man Card Reveals About Your Partner's Feelings About You And What Energy Surrounds Your Relationship?
If you are in a relationship, the Hanged Man as feelings is all about patience. This patience may come with compromise. Compromise is crucial in any partnership, and without it, there can never be any harmony. However, the Hanged Man does not advocate being passive. On the other hand, he suggests a sense of surrender to a higher power. This may mean a romantic surrender to your partner. The Hanged Man is a very spiritual card, so you may find both meaning and fulfillment in this process.
The Hanged Man as feelings is all about sacrifice. Sometimes, this means that both of your partners need to be single for their own mental health, and you are ready to take a break from your relationship. On one hand, you are prepared to give your relationship a lot of attention and commitment, but for some reason, you are not ready for a commitment of that kind. You may be ready to take some time off and focus on individual growth.
The Hanged Man tarot card (upright) in love and relationship speaks of sacrifice and the need to make big sacrifices in order to achieve a long-term goal. The card suggests that you should be very patient and understanding with your romantic life. Sometimes, this card is about understanding the fact that sometimes in life, we have to choose between two things, and the result depends on our commitment. You or your partner have to make a choice and be consistent in your actions.
What Does The Hanged Man Reveal For Those Who Want To Know If Their Relationship Is Advancing Into More Serious Commitment Or Marriage?
If you are in a relationship and you want to know if it's advancing into something more serious such as marriage, the Hanged Man shows that it's not the right time for it. Your relationship is currently in a state of suspension. You might be wondering how to take the next step, but it would look too complicated for you to make this choice right now. This could mean that you two are on a break. It could also mean that you're not in the right phase of the relationship and will need to take some time and space to re-evaluate your relationship before moving forward.
You must ensure that you and your partner both give each other the space to figure this out and give your relationship the time it needs to breathe and recover. Sometimes, this can be a good thing; it allows the two of you to come to a fresh conclusion on how best to work together. If you are unmarried and you want to build up a serious relationship, the Hanged Man advises you to stay in the present when you are out meeting people. You will learn a lot by simply putting yourself out there and letting people get to know you.
What Does The Hanged Man Reveal About Your Ex-partner's Feelings About You?
When you pull the Hanged Man on feelings position and you want to know what your ex partner feels about you, the card signals that there are chances that your ex is not upset with you. In such a situation, your ex will be happy to start over and let you back in their lives, but if your ex-partner is not willing to start the process, it is suggested you let them go because you both deserve to be happy in your life and you cannot make your partner happy if they are making you miserable.
With the Hanged Man Tarot card in a love tarot reading expect someone who is independent and has their own life to be represented by. This person usually finds it challenging to connect with their partner, but despite their lack of interest in the relationship, it will be important for them to stay in the relationship for the mutual benefit. This card in a reading also indicates that you should go on dates or make plans with your single friends instead of waiting for someone. This will allow you to interact with people and make new friends.
The card signals a period of time that will pass very smoothly and without much drama. There can be no doubt that you are still very much connected with your ex and you likely had a falling out over some major life change that has impacted your relationship. In The Hanged Man's love tarot spread, your ex was understanding, patient, and supportive as you navigated through this change. You may have realized that to be happy in a relationship, you need to compromise (which is the key to a healthy relationship). And because of this, your partnership and your self-worth.
When you are single, The Hanged Man represents either being taken aback by the dating world following a breakup or, conversely, choosing to sit out the dating game for a while and focus on other things. There is likely no rush to jump into a new relationship or back into the old one, as you may not be quite ready for another relationship after the heartbreak of your past.